Candelaria Church Massacre: Brazil Marks 20th Anniversary of Police Murders Of Homeless Street Children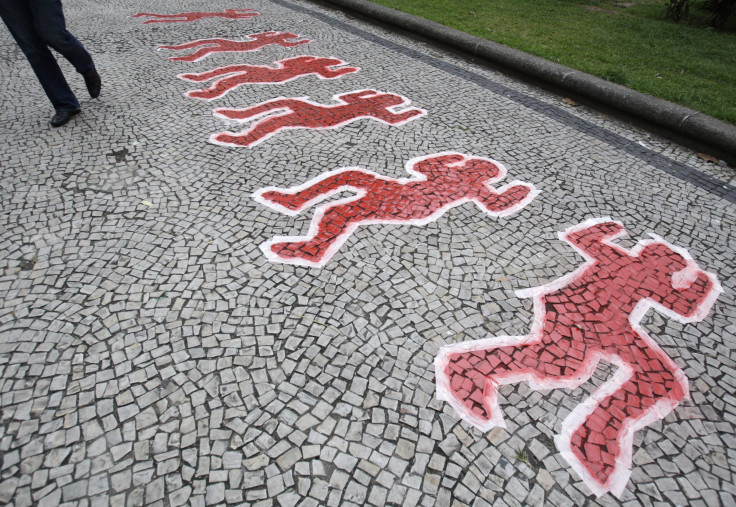 Brazilians are marking the 20th anniversary of one of the most horrific crimes in that country in recent memory -- the massacre of eight homeless street children and teenagers by police in the front of the Candelaria Church in the center of the teeming city of Rio de Janeiro. More than 60 children survived the indiscriminate shooting on the night of July 23, 1993. According to reports, of all the children who lived and slept outside Candelaria Cathedral – one of the city's best-known landmarks -- during the attack, only eight were older than 15, while the remainder were between the ages of 5 and 14.
Of the nine people (some of them off-duty military police officers) believed to have perpetrated the murders, only three were ever convicted and imprisoned, according to a report from Amnesty International. Nelson Oliveira dos Santos Cunha received 261 years in jail in November 1996; Marcos Aurelio Dias Alcantara got 204 years in 1998; and Marcos Vinicius Borges Emanuel was sentenced to 300 years in 2003 (a full decade after the monstrous crimes). But Santos Cunha and Alcantara have since been released from prison, while Emanuel got a pardon in June of last year. In 2013, an appeals court overturned that ruling, rendering Emanuel a fugitive from the law.
The motive for the unspeakable crime remains a mystery – some sources claim the police were seeking revenge for an earlier confrontation with the youths; but a more sinister theory holds that the police were paid by local business owners to murder the children in order to "clear" the area. In a report for the Council on Hemispheric Affairs, a Washington-based NGO, research associate Leonardo Faria Chusán wrote that Brazilian "death squads" are largely designed to "cleanse" the streets of homeless people, even children.
"Because their police salary is so low, many officers are easily drawn to death squads as a 'second job' to supplement their financial needs," Chusan wrote. "Death squads are known to conduct jobs that may involve murder in order to protect shops, restaurants and other tourist centers, as well as preserve the safety of neighborhoods from suspected criminal activity. Unfortunately, street children become the targets of these death squads because shopkeepers and wealthy citizens view them as threats to public safety and commerce and label them criminals and thugs who freely roam the streets."
Moreover, according to BBC, it is believed that the five dozen or so survivors have since all perished, many by violent means. One survivor, a woman named Elizabeth Cristina Borges de Oliveira Maia, was shot to death in front of her home in 2000 -- just before she was scheduled to testify in an appeal hearing against Manuel. Another survivor, Sandro do Nascimento, was killed by police after he took passengers on a bus hostage. A report in Britain's Independent newspaper from 2000 noted that of the 62 survivors of the massacre, 44 were already dead and most never made it beyond adolescence. Many were reportedly victims of the drug trade or of the senseless violence that permeates the mean streets of the metropolis or from the effects of the HIV/AIDS virus.
Now in 2013, pilgrims, activists and others gathered for a special Mass to honor the victims at Candelaria Church, ahead of World Youth Day. However, the memorial has been overshadowed by the visit of Pope Francis to the country.
The Candelaria massacre unearthed various ugly realities of modern Brazilian life – a huge wealth gap, police corruption and extreme violence, the spider web of drug gangs running the poor favelas, and deeply entrenched racism against blacks. "The anniversary of the crime is cause for reflection on the persistence of police violence in Brazil," Amnesty said in a statement. "In the case of Rio de Janeiro, after two decades, there has been a succession of extrajudicial executions of the same type."
Despite the enormous economic advances Brazil has enjoyed over the past two decades, poverty and police corruption remain firmly in place. Making things worse for Rio's children 20 years after Candelaria is the widespread proliferation of crack cocaine. Yvonne Bezerra de Mello, a social worker and teacher who has worked with local children, told the BBC that today, it would be impossible to do this kind of work due to the growth of consumption of crack cocaine. "With crack, they're like zombies," she said. "I think there is [now] the same amount of kids neglected. There [are] a lot of street kids in Rio. They go to the streets because they can't come home. That happens, still today."
Still, de Mello believes that the country's attitude toward the homeless and street children has improved since the horrors of Candelaria, through the efforts of activists and children's aid groups, both inside and outside of Brazil. "A lot changed [for street children] because people like me made a lot of noise," she told Al Jazeera.
According to a government, more than 5,000 homeless children currently live on the streets of Rio. But Professor Irene Rizzini of the Catholic University of Rio says that figure is an understatement and notes that despite fewer homeless children on the streets that in decades past, they remain in danger, particularly from police harassment and even from the facilities designed to help them. "These shelters, the way they are in Rio, are more of a problem than a solution," Rizzini says. "Kids report constant violence and neglect … that is why they do not stay in them. ... Candelaria reminds us that we are not safe."
But now, as Brazil prepares for the World Cup in 2014 and the Olympics two years later, there are renewed fears that policemen may again abuse vulnerable street children in order to create a "cleaned-up" version of cities like Rio for the global TV audience. Indeed police brutality has never gone away in Brazil,. Amnesty estimates that some 2,000 people in the country are killed by police forces every year. "Our police still have blood on their hands, and are allowed to act with impunity as extra-judicial killings remain rife in Brazil's major cities," said Atila Roque, director of Amnesty International Brazil.
According to the United Nations, between 2003 and 2009, the police in Rio de Janeiro and São Paulo have been responsible for at least 11,000 "resistance killings" where police retaliated after the victims allegedly opened fire on them. "The persistent police violence against Brazil's urban population – with the young, poor and black disproportionately affected – points to the urgency of carrying out prompt, impartial and independent investigations into such incidents and ensuring those responsible are brought to justice in fair trials in civilian courts," added Roque.
"Unless this happens, impunity will fuel still more police violence, leading to a vicious cycle affecting the daily lives and safety of thousands of citizens."
FOR FREE to continue reading
✔️ Unlock the full content of International Business Times UK for free
offer available for a limited time only
✔️ Easily manage your Newsletters subscriptions and save your favourite articles
✔️ No payment method required
Already have an account?
Log in
© Copyright IBTimes 2023. All rights reserved.