Candy Crowley Will Be First Female Debate Moderator In 20 Years; Is it Too Little Too Late?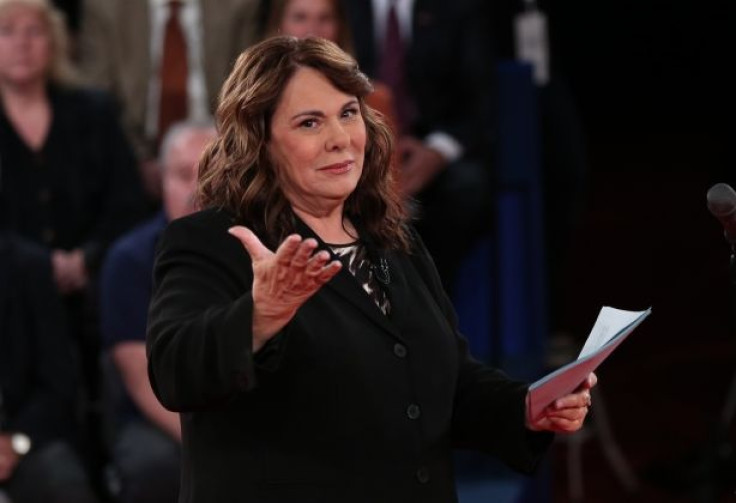 Candy Crowley, host of CNN's "State of the Union," will be the first woman to moderate a presidential debate in 20 years, the Commission on Presidential Debates announced Monday morning. PBS's Jim Lehrer and CBS's Bob Schieffer, old hands at debates, will moderate the other two, while Martha Raddatz from ABC will moderate the vice presidential debate.
The commission's announcement came after they were pressed to choose a female moderator from an unusual source: three teenagers from New Jersey. Two weeks ago, Emma Axelrod, Sammi Siegel and Elena Tsemberis, students at Montclair High School, posted an online petition called "It's Time for a Female Moderator," after that learning that no woman had moderated a presidential debate since Carole Simpson in 1992.
The petition, created on Change.org, has already amassed 122,344 signatures - 82 percent of the young women's stated goal. After hearing news of the commission's choice of Crowley, the trio updated their page with a triumphant message to supporters. "Through this campaign, millions of Americans learned that two decades passed without a woman moderating a U.S. presidential debate," said Emma Axelrod. "We are so proud to have helped educate Americans on this issue, and are extremely happy that women and girls watching the debates this year will see a potential role model up on the stage moderating."
The Obama team, which has been noted for courting female voters in recent months, also released a statement in support of the decision. "We're pleased with the selection of the moderators by the debate commission, and look forward to vigorous and substantive debates this fall," said Jim Messina, campaign manager for Obama.
But not everyone feels completely vindicated by the moderator assignments. "Last week, high-level women in the television news industry, who spoke only on condition of anonymity, wondered whether women would be selected to moderate the two traditional debates," wrote Brian Stelter for The New York Times. "They noted that those assignments have the highest prestige and authority. And on Monday, those assignments went to Mr. Lehrer and Mr. Schieffer, longtime moderators."
For her part, Crowley expressed nothing but excitement at her opportunity. In a statement released through CNN she said, "As someone who is in awe and grateful every day to be in a country where freedom of the press, free speech and free elections are a way of life, I am wowed, amazed and excited by the opportunity to moderate a 2012 presidential debate."
© Copyright IBTimes 2023. All rights reserved.
FOLLOW MORE IBT NEWS ON THE BELOW CHANNELS