Canelo Alvarez Trainer Hints At Gennady Golovkin Trilogy Fight
Canelo Alvarez's trainer Eddy Reynoso hinted at his next opponent and what weight class he would fight at.
Ever since Canelo moved up two weight classes to defeat Sergey Kovalev, the boxing world has been anticipating his next moves. Some believe that the redhead champ has no plans of going back down to middleweight. However, his trainer Reynoso shed light to what's ahead of Canelo.
In a recent media scrum, Reynoso was pressed by reporters to at least reveal what Canelo wants to do next in his career. According to Reynoso, Canelo is planning to face one of the biggest names at 160- and 168-pound division.
"Our plan is to fight at 160 (and) 168 (lbs) there are a lot of names," Reynoso revealed.
Reynoso didn't wait for reporters to ask about Canelo's nemesis Gennady Golovkin. Even though Canelo himself insisted that he doesn't want to fight "GGG" anymore, Reynoso quickly mentioned that Team Canelo is considering "the Golovkin trilogy" fight soon.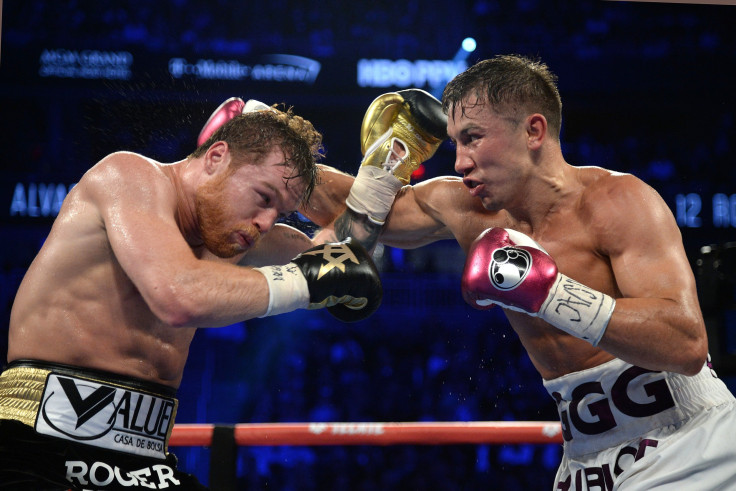 In terms of the weight difference, Reynoso admitted that they are aware of the fact that "it's dangerous" for fighters to cut weight. However, Reynoso is also confident that his fighter will have enough time to be competitive should they decide to go down at 160 or 168.
"We've seen it in the past that it's dangerous for fighters to back down on weight especially two divisions," Reynoso said.
When asked about his thoughts regarding Canelo vacating his previous titles when he moved up to face Kovalev, Reynoso clarified that they have never gave up nor vacated any of the titles. As far as Canelo's team is concerned, the Mexican superstar is still the champ at 168, 160 and 175-lb divisions.
A few days ago, Golden Boy Promotions CEO Eric Gomez already admitted that he wants to see Canelo fight Golovkin once again. According to Gomez, aside from the controversies, the fight with Golovkin is still the most interesting fight for Canelo at this point.
Gomez even noted that Canelo vs. Golovkin rivalry was "big" because both fighters have unique styles that made their first two fights "good, tough and close."
"Those (Canelo and Golovkin) are big because of the styles. Two very good, tough, very close fights," Gomez said.
"The fans love it because of the styles. It was all action. IT was back and forth, both guys landed big punches. They match up very well," he continued.
© Copyright IBTimes 2022. All rights reserved.
FOLLOW MORE IBT NEWS ON THE BELOW CHANNELS