Canelo Alvarez vs. Gennady Golovkin In 2017? Oscar De La Hoya Talks GGG Fight And Liam Smith In Exclusive Interview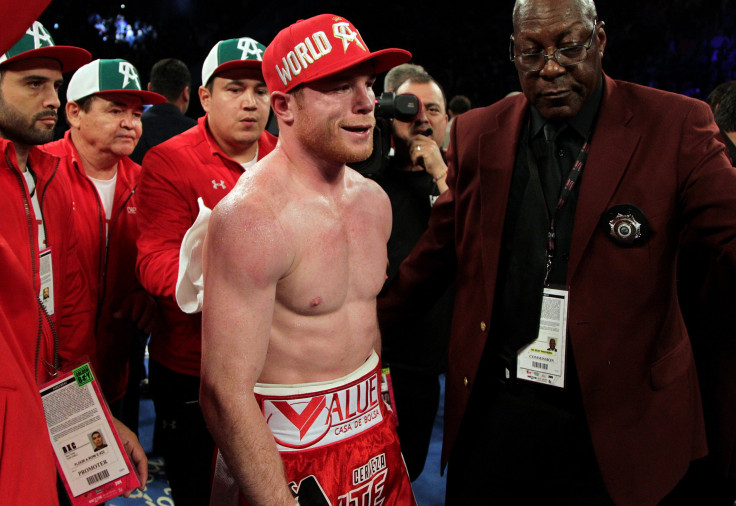 Much of the boxing world was disappointed when it was announced on June 24 that Canelo Alvarez would take on Liam Smith, not Gennady Golovkin, in his next fight. But while Alvarez-Golovkin won't come to fruition in 2016 as many fans had hoped, Golden Boy Promotions president Oscar De La Hoya promises that the fight will be made before it's too late.
"This fight here, we can't afford to wait longer than 2017," De La Hoya told International Business Times in a phone interview. "I think this fight right here is the biggest fight that boxing has today, and I think this fight would do huge numbers because of the fact that the fans know that it'll be a fight. It'll be a knockout fight. It'll be like Hagler-Hearns all over again."
With the retirement of Floyd Mayweather, Alvarez has emerged as the sport's biggest draw. Golovkin might be the best pound-for-pound boxer in the world, compiling a perfect 35-0 record with 22 straight knockouts.
Golovkin has been campaigning to face Alvarez since the Mexican fighter defeated Miguel Cotto for the WBC middleweight title last November. When Alvarez knocked out Amir Khan on May 7 to retain his belt, he invited Golovkin into the ring, indicating that he was ready for a title-unification fight.
So why is Alvarez facing Smith on Sept. 17 instead?
"People were talking about Pacquiao-Mayweather for six, seven, eight years. People have just begun to talk about Golovkin-Canelo a little under a year ago," De La Hoya said.
"Canelo is a fighter who fights all comers. There's not one challenge that he has shied away from. It's just a matter of timing. Canelo's not a full-blown middleweight yet, and if you're gonna fight the very best middleweight out there, you have to do it at the right time and get the experience in that particular weight class. Canelo's gonna fight him sooner than later, and it's not gonna take six or seven years, but we're looking to make that fight very soon."
As much as fans complained about having to wait more than half a decade to see Manny Pacquiao and Floyd Mayweather finally step inside the ring together, the anticipation likely helped pay-per-view sales, which shattered records with a reported 4.6 million buys. Pushing a potential Alvarez-Golovkin fight to 2017 could boost sales, especially considering Golovkin doesn't have a ton of mainstream recognition. When he headlined his first PPV in October of last year, the bout generated just over 150,000 buys.
Alvarez is known for never ducking fights, facing the likes of Mayweather, Erislandy Lara and Miguel Cotto in the past few years. While he did hold the 160-pound middleweight title before he was forced to vacate the belt in May, Alvarez has never fought above 155 pounds. Golovkin has insisted that a fight against Alvarez happen at 160 pounds.
"Liam Smith is a world champion at 154 pounds. I've always felt that Canelo Alvarez is a junior middleweight. He's not a middleweight yet," De La Hoya continued. "If you take a look at the Cotto fight, they fought at 155 for the middleweight title, but the only reason why the fight took place at that weight is because Canelo wanted to fight Cotto. Canelo can make the weight easy at 154, and so therefore he's challenging the best champion at 154 in Liam Smith. And Liam Smith is no pushover."
Alvarez's style makes for exciting fights, and plenty of fans will watch him take on Smith, who is a decided underdog and has never fought in the United States. Alvarez's three-round slugfest with James Kirkland was one of the most exciting fights of 2015, and the right hand that he used to knock out Khan in May might be the most memorable punch of the year.
The Sept. 17 fight will take place at AT&T Stadium in Arlington, Texas, which can hold over 100,000 fans. Over 31,000 fans watched Alvarez defeat Kirkland at Minute Maid Park in Houston last year, and close to twice as many fans could witness Alvarez-Smith in person.
Pacquiao headlined the last fight at AT&T Stadium, defeating Antonio Margarito on Nov. 13, 2010. The bout reportedly drew just over 40,000 fans.
"We're outselling right now the Pacquiao-Margarito fight that took place," De La Hoya said. "So at this point right now we're outselling that fight. So we expect well over 50,000, 60,000 people there."
While holding off on making Alvarez-Golovkin might be what's best for Golden Boy, it doesn't help the fans that are looking to see the best possible fights. Alvarez vs. Smith will likely be entertaining, but the outcome is a predictable one. The same goes for the fight between Golovkin and Kell Brook on Sept. 10, which will likely end with another knockout victory for the unbeaten middleweight.
The mega-bout between Mayweather and Pacquiao generated almost unfathomable revenue, but it turned out to be a disappointment. Mayweather won by unanimous decision in what many described as a "boring" fight, so much so that dozens of fans filed lawsuits, hoping to reclaim the money they spent on the PPV.
"Everybody was disappointed because it was a dull fight," De La Hoya said. "But I strongly believe that this fight can bring back that fan base that we lost because of the Pacquiao-Mayweather fight."
Alvarez has plenty of good years left at 26 years old, but Golovkin turns 35 next year and could soon be approaching the end of his prime. Because he's been so dominant without much proof that he can be a big PPV draw, Golovkin continues to have trouble securing a fight with a top opponent.
With De La Hoya stressing that Alvarez is not yet a middleweight, the boxer might need a tune-up fight at 160 pounds. That would push a potential matchup with Golovkin to the second half of 2017.
De La Hoya and Alvarez insist that the bout will eventually happen, but waiting too long could result in another missed opportunity for boxing fans.
© Copyright IBTimes 2023. All rights reserved.