Canelo Alvarez vs. Gennady Golovkin: Free Live Stream For Undercard, Online Info
Canelo Alvarez and Gennady Golovkin highlight Saturday's fight card at T-Mobile Arena in Las Vegas, facing off in the main event of an entire night of boxing. Eight fights in total are on the schedule that's expected to last close to six hours.
It all starts at 6 p.m. EDT with four preliminary fights, all of which can be seen with a free live stream on the HBO Boxing YouTube page. The pay-per-view starts at 8 p.m. EDT with three undercard fights that will precede the main event. Viewers can order the PPV for $79.99 in HD on TV, ringtv.com or caneloggg.com.
Saturday is just the third time that Golovkin has headlined a PPV. He scored an eighth-round TKO over David Lemieux two years ago to win another middleweight belt, and he retained his titles in March with a unanimous decision victory over Daniel Jacobs.
Alvarez's last four bouts have all been PPV headliners. He sold over one million buys with his dominant unanimous decision win over Julio Cesar Chavez Jr., though his previous victory over Liam Smith only did 300,000 buys. Fighting Miguel Cotto and Amir Khan in the fall of 2015 and the spring of 2016, Alvarez sold a combined 1.5 million PPV buys.
Only the Aug. 26 PPV that was headlined by Floyd Mayweather and Conor McGregor is expected to outsell Saturday's PPV this year. Cotto is aiming to fight the winner of the Alvarez-Golovkin bout before the end of 2017.
The No.1 undercard fight was supposed to feature Joseph Diaz Jr. and Jorge Lara in a featherweight world title elimination bout. Lara was forced to withdraw after injuring his back Tuesday, and Rafael Rivera was quickly inserted in his place. Rivera had already been training for a fight next week, and the winner will get a shot at the title currently held by Gary Russell Jr.
"I don't care who is in front of me," Diaz said, via espn.com. "I'm leaving with a win on [Saturday]. After I have my hand raised in victory, I will be one fight away from realizing my dream of winning a world championship."
All four PPV fights have title implications, though only the last two are 12-round bouts. Two of the preliminary fights will go no longer than six rounds, while the other two fights are scheduled to go just four rounds.
Below is a look at the entire fight card, as well as the weight of each boxer.
PPV Main Event
Middleweight: Gennady Golovkin (160 lbs) vs. Canelo Alvarez (160 lbs)
PPV Undercard
Featherweight: Joseph Diaz Jr. (126 lbs) vs. Rafael Rivera (126 lbs)
Junior Featherweight: Randy Caballero (121 lbs) vs. Diego De La Hoya (122 lbs)
Lightweight: Ryan Martin (135 lbs) vs. Francisco Rojo (135 lbs)
Preliminary Fights
Junior Middleweight: Serhii Bohachuk (150 lbs) vs. Joan Valenzuela (154.5 lbs)
Junior Welterweight: Vergil Ortiz (140 lbs) vs. Cesar Valenzuela (140 lbs)
Women's Flyweight: Marlen Esparza (111.5 lbs) vs. Aracely Palacios (110 lbs)
Female Junior Bantamweight: Nicola Adams (115 lbs) vs. Alexandra Vlajk (114.5 lbs)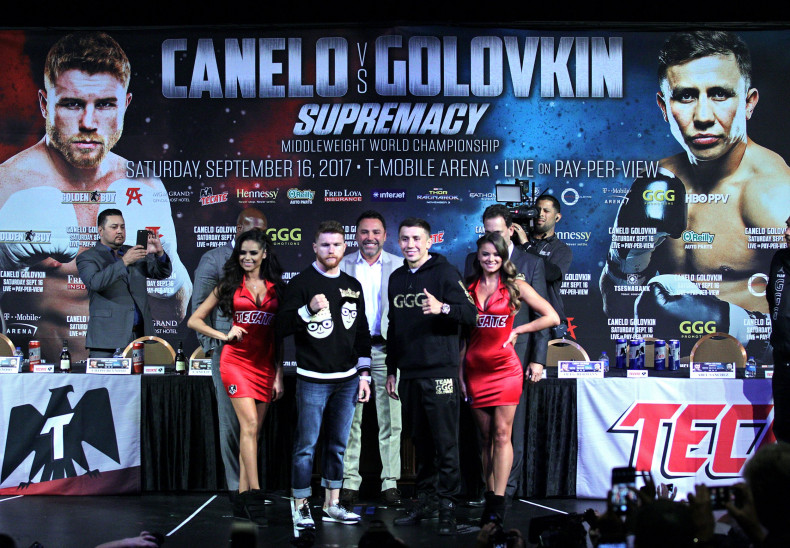 © Copyright IBTimes 2022. All rights reserved.