Canelo Alvarez vs. Gennady Golovkin Odds Now Favor Middleweight Champion In Rematch
Should Canelo Alvarez and Gennady Golovkin battle it out for a third time, the former will finally be favored by oddsmakers for a change.
Alvarez defeated Golovkin via majority decision Saturday night to become the new World Boxing Association and World Boxing Council middleweight champion, though like the first fight last year which ended in a split draw, there was controversy once again.
Many felt the contest warranted either a draw or a decision in favor of Golovkin. The fight was still close, however, and Alvarez performed much better than he did a year ago. Speaking after the fight, the Mexican said he was open to a trilogy fight.
"If the people want a third fight, we will do it again. But for now, I want to enjoy the moment with my family and my people," Alvarez said at the post-fight press conference. "But if they want us to do it again, no doubt. He's a great fighter but I'm a great fighter and I showed it tonight. We have to talk with my team and figure things out, but the idea right now is to fight in December."
"GGG" too, naturally wanted another rematch but it may not happen until May next year as Alvarez may defend his new titles against David Lemieux first in December.
However, if it does happen within the next year, Alvarez will finally be favored over Golovkin.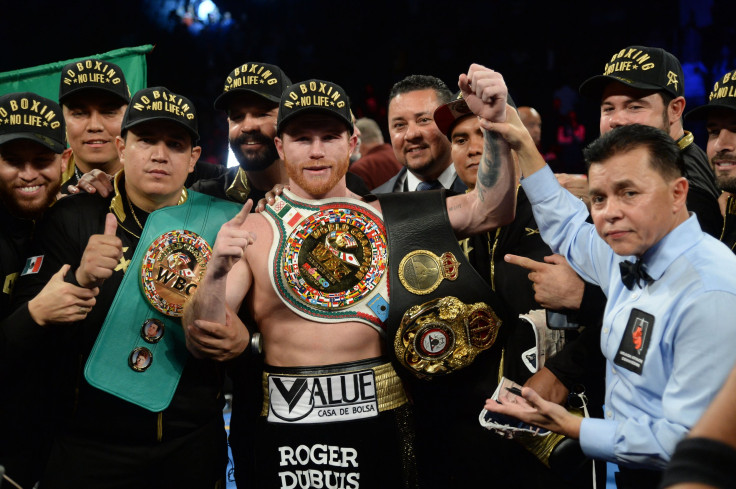 According to Bovada odds (via Forbes), Alvarez is a slight -130 favorite in a potential trilogy fight while Golovkin is a +100 underdog, provided the fight occurs before 2019.
In comparison, Golovkin was the -155 favorite entering the ring for the first fight while Alvarez was a +130 underdog, while when the rematch was officially announced for last weekend following the May date cancellation, Golovkin was a -190 favorite while Alvarez had +155 odds.
Kevin Bradley, Bovada's sportsbook manager, told Forbes that his team would "be big GGG fans on fight night" because it had seen significant sharp action (wagers placed by respected or professional gamblers) and retail action (smaller wagers placed by non-professional gamblers) on Alvarez. Since gamblers presumably saw both fighters as equal, they likely put their money on Alvarez, the man who could make them the most money. Turns out those gamblers would have been right.
So why is Alvarez the favorite this time despite most having Golovkin as the victor in both fights?
One clear factor is that both fights went to a decision. The narrative leading up to the rematch was that the Kazakh had to knock out Alvarez or he would risk losing on the judges' scorecards.
With all the politics involved in boxing and Alvarez being the younger fighter with the bigger audience, it was always going to be tough for Golovkin to win a decision, especially as the former has been given plenty of questionable decisions in the past.
Despite Alvarez being outclassed by Floyd Mayweather in their 2013 fight, one of the judges scored the fight a draw. Many also question the 28-year-old's split decision win over Erislandy Lara the following year. Most shockingly though, judge Adelaide Byrd gave Alvarez a 118-110 scorecard last year in the first Golovkin fight which drew plenty of ridicule.
However, another reason why Alvarez is the favorite could be the fact that Golovkin is simply aging.
Compared to the first fight, the 36-year-old had moments where he looked tired and slow and should a rematch happen in May, he would be 37 by then. And given how after 24 rounds, he was not able to even drop Alvarez to the canvas, it's not a surprise that Golovkin is now an underdog.
© Copyright IBTimes 2023. All rights reserved.