Cannabis Legalization And The NFL: Athletes Are Embracing The Medicinal And Financial Benefits Of Marijuana, So Why Can't The League Play Nice?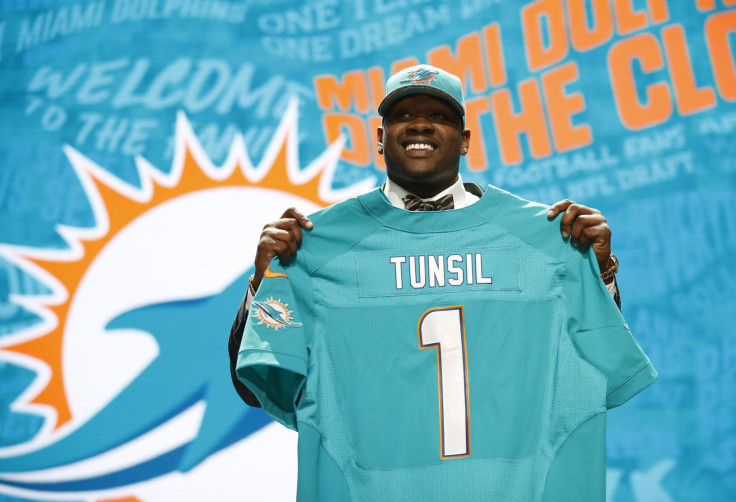 It might go down as the most expensive bong hit in history. Last Thursday night, Ole Miss offensive tackle Laremy Tunsil tumbled in the NFL draft right after a video appeared on his Twitter feed showing him smoking from a gas-mask pipe. Tunsil went from a potential No. 1 pick to the No. 13 slot, when he was selected by the Miami Dolphins — potentially losing more than $8 million over the course of his rookie contract and at least $7.3 million in guaranteed payments.
Tunsil isn't the first NFL player to have his career threatened by marijuana use. Ricky Williams, for example, faced multiple suspensions and spent several years not playing for the NFL because of multiple positive marijuana tests. "I was a really good football player, a really good person, my teammates loved me, my coaches loved me, but my career and life were ruined because of a drug test," he told International Business Times over the phone from Italy. "It doesn't make sense. They have to take a more humane approach to this."
But now, Williams is finding ways to benefit from his association with cannabis: He's in the process of launching a marijuana-friendly gym in San Francisco. And he's not the only former pro athlete getting into the cannabis business. NBA All-Star Cliff "Uncle Cliffy" Robinson is pitching his new cannabis sports brand — Uncle Spliffy — to an industry investment forum in Portland, Oregon, over the next few days. At the same time, current and former NFL players are joining research efforts to determine whether medical marijuana can help symptoms of gridiron injuries ranging from chronic pain to brain damage. Fans, too, are softening on cannabis. The latest polls suggest 56 percent of Americans support legalized marijuana.
Why, then, is the NFL so behind in the times? Why can't those calling the shots play nicely with marijuana, in both attitudes and rules?
It's likely a bit of a stretch to say the bong hit tweeted around the world alone sank Tunsil's draft stock. The player was suspended for seven games last year when the NCAA determined that he received improper benefits at Ole Miss. And it's unclear how, exactly, the marijuana video affected various teams' decision to pass on Tunsil, 21, Thursday night. But many people were still struck by the hypocrisy of the incident.
"I thought the response, in terms of him falling in the draft after smoking in the gas mask, was way out of proportion," said Arthur Caplan, dean of research of New York University's Sports and Society Program. "It's the kind of thing you do when you are a goofy undergraduate. I don't think there would have been the same reaction if he had been knocking back whiskey at the bar or playing beer pong."
In 2014, the NFL loosened its marijuana rules, increasing the threshold for a positive drug test from 15 nanograms of carboxy THC per milliliter of urine to 35 nanograms. But like other major pro U.S. sports leagues (with the exception of the NHL, which doesn't include cannabis on its list of banned substances), the NFL still doesn't look kindly on the use of marijuana, or other "street drugs." For a player, a first infraction lands you in a rehab program; repeated infractions lead to fines and increasingly lengthy suspensions.
That apparently hasn't stopped players from partaking. According to a 2015 Bleacher Report article, hundreds of current NFL players use marijuana regularly, with some insiders estimating the total number at upwards of 60 percent of all players.
At the same time, the league has faced growing criticism for its anti-cannabis stance, especially considering its cozy relationship with alcohol brands and the prevalence of opioid use among players. Last year, former players filed a class-action lawsuit against 32 NFL teams alleging that staff pushed them to use painkillers to recover from injuries.
"This is a league that is sponsored by beer companies, and you can't watch a football game without being exposed to 100 beer ads," said Mason Tvert, communications director for the advocacy group Marijuana Policy Project. "Whether a player has used marijuana or chooses to in their off time should be of no interest to the NFL." Tvert, first as the director of the Colorado-based group Safer Alternative for Enjoyable Recreation (SAFER), and then with his position at MPP, has repeatedly promoted billboards mocking the NFL's cannabis position, including in 2007, when SAFER ran a billboard encouraging Ricky Williams to come to Denver after he was suspended for marijuana use.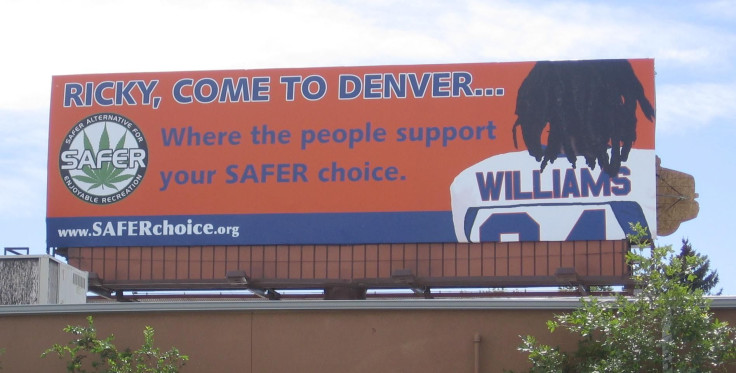 But it will likely take more than billboard campaigns and criticism over the Laremy Tunsil fiasco for the NFL to thoroughly revise its marijuana policies. For one thing, such changes would likely come through collective bargaining with the NFL Players Association, and it's unclear whether the players themselves would be willing to forgo other concessions, such as higher salaries, for more lenient cannabis rules. "It comes down to money," said Williams, who retired from the NFL in 2012. "Because football players are worried about money, they are not worried about changing their quality of life. When they negotiated the 2011 collective bargaining agreement, they could have given up money to create a change in cannabis policy, but they didn't."
It doesn't help that marijuana use among NFL players is implicitly tied to the sorts of injuries that are already giving the league a black eye, like brain damage. "The NFL is in the middle of managing problems around injuries," said Caplan at NYU. "Not just concussions, but also injuries to your body. Baseball isn't. Golf isn't. So if a bunch of players say they had to smoke [marijuana] in college and in the pros to get through it, that's another challenge for the whole league."
That's why many players aren't waiting for the NFL to come around on cannabis.
They include Kyle Turley, a former NFL offensive lineman who struggled with pharmaceutical addiction and suicidal thoughts and was eventually diagnosed with chronic traumatic encephalopathy — the signature brain disease of high-contact sports like football. Last year, Turley founded the Gridiron Cannabis Coalition to promote medical marijuana as a valid treatment for players in pain, since he credits the substance with not just helping him deal with the effects of the 100-plus concussions he suffered on the field, but also alleviating the dangerous side effects of all the pharmaceuticals he'd been prescribed. "Cannabis saved my life," Turley told International Business Times. "I was a day away from suicide and checking out all together. It gave me my life back, gave me my family back, and helped me get off all of the pills."
The 40 or so current and ex-NFL players who've joined Turley in the GCC are partnering with marijuana companies to advance research on how cannabis can help with sports-related conditions like chronic pain, brain injuries and early-onset dementia. And that's just the beginning, said GCC co-founder Michael Cindrich: "One of the things we are focused on is a series of treatment centers, places where these players can go and be introduced to cannabis and other holistic-based treatments and be able to detox and get off of the normal pharmaceuticals these players are being prescribed."
Projected NFL Rookie Contract Value Based on Draft Pick | PointAfter
Meanwhile, researchers at the University of Pennsylvania and Johns Hopkins University are about to launch what may be the first-ever scientific studies of marijuana's impact on NFL players, courtesy of $100,000 recently raised by When the Bright Lights Fade, a charity campaign launched by the Colorado nonprofit Realm of Caring.
"What we are looking at is a first stab at documenting cannabis use among current and former players, including the types of cannabis being used," said University of Pennsylvania professor Marcel Bonn-Miller, co-lead investigator on the studies. "We are also going to document the impacts of cannabis use on players' recovery from injury. We know NFL players get banged up a bit, from concussions to chronic pain to inflammation. There is mounting evidence that certain cannabinoids, like cannabidiol, might have some beneficial effects for these conditions."
But pro athletes aren't just considering marijuana's therapeutic effects. They also see cannabis as a business opportunity. Skier Tanner Hall boasts his own brand of "SKIBOSS" rolling papers and lighters, and ultra-runner Avery Collins' race jerseys sport the logos of cannabis brands like Incredibles and Roll-Uh-Bowl. While current NFL, NBA or MLB stars aren't yet as likely to embrace such sponsorships, former players are getting in on the action. At an investor pitch forum this week organized by the ArcView Group, one of the biggest names in cannabis venture capital funding, NBA star and former "Survivor" contestant Cliff Robinson will unveil the details of his Uncle Spliffy brand, which will involve marijuana products designed for athletes, branded apparel and even a membership club. To get the company off the ground, Robinson is looking for a $3 million investment.
Williams will also be in attendance at the pitch forum, laying the groundwork for Power Plant Fitness, which could be the first-ever "cannabis gym." Slated to open its doors in San Francisco this fall with an accompanying product line of branded marijuana edibles and concentrates, "It won't be a place to get high and just screw around," said Jim McAlpine, founder of the cannabis event series 420 Games and co-founder of Power Plant Fitness. "We are focused on the athletic side, not the cannabis side."
Marijuana Support Over Time | InsideGov
Never mind that scientifically, there's little evidence yet that marijuana boosts athletic performance; some people think the lure of using cannabis before or after exercise or competition could lead sports to becoming one of the largest segments of the nascent legal marijuana market. It's why the Gridiron Cannabis Coalition isn't opposed to pursuing business opportunities alongside its advocacy work.
"I think sports will become one of the bigger pieces of the marijuana industry," said McAlpine. "It's very much in line with the idea that people and society are starting to understand that marijuana is medicine. Marijuana, if you use it in a responsible way, accentuates the parts of sports that you love and helps you to do them better."
Of course, if folks go overboard touting the athletic potential of marijuana, they could end up with organizations banning the substance as a performance-enhancing drug. In 2014, the World Anti-Doping Agency softened its stance on cannabis, raising its marijuana testing threshold from 15 nanograms per milliliter to 150 nanograms, but the agency's position could easily shift again.
In the meantime, however, this one-two punch — the growing scientific evidence of cannabis' therapeutic effects, plus the mounting potential for marketing deals and sponsorship dollars — might finally be enough for the NFL to change its tune on marijuana. "For the most part, the NFL is a closed system; they don't have to keep up with the times," said Williams. "Because they are a business that depends on viewership, only when the viewers speak, the NFL will follow."
Williams, for one, thinks some people might be blowing the Tunsil situation out of proportion. "It's funny to me that they're making it all about money," he said. "What kind of message is that saying? He's still the 13th pick; he will get to play in Miami. Who says that is not still a good situation?"
Williams, who returbed to the NFL from 2007 to 2012, adds that he knows from experience money isn't everything. "I look back at my story and I am grateful things went down the way they did," he said. "Otherwise I might be in a wheelchair right now."
© Copyright IBTimes 2023. All rights reserved.