Carrier Vs. Carrier: China's Powerful Liaoning Carrier Group Challenges USS Lincoln Strike Group
KEY POINTS
Liaoning is accompanied by seven destroyers and supply vessels
PLA said the warships were on a routine training mission
The flotilla has left the Japanese and Taiwanese military on their toes
A mammoth fleet led by China's aircraft carrier Liaoning is reportedly heading to the Western Pacific, and is currently not too far away from the USS Abraham Lincoln carrier strike group, that is deployed in the Philippine Sea.
The Japan Self-Defense Forces' Joint Staff Office released a statement immediately after spotting the fleet between Japan's Okinawa and Miyako islands Monday afternoon before it entered the West Pacific, reported South China Morning Post.
The statement said Liaoning is accompanied by seven destroyers and supply vessels. This includes the Type 055 – the most powerful such warship in the Chinese navy. A number of J-15 carrier-based fighter jets as well as Z-8 and Z-9 helicopters could be seen standing by on the flight deck of the carrier.
Chinese navy spokesman Gao Xiucheng said the warships were on a routine training" mission. "It is in line with relevant international laws and practices, and without targeting any party," Gao said Tuesday. Despite the PLA Navy claiming it sent the Liaoning aircraft carrier group to conduct realistic combat training, the fleet's presence left the Japanese and Taiwanese military on their toes.
While Japan sent an Izumo light aircraft carrier, a P-1 maritime patrol aircraft and P-3C anti-submarine aircraft to monitor the activities of the Chinese ships, Taiwan announced it would closely monitor Chinese military maneuvers in waters and airspace.
This is the first Pacific training session of the Liaoning carrier strike group this year. Last year, it took five other warships through the strategically-important strait to carry out combat exercises in the Yellow and East China Seas and the western Pacific Ocean.
Interestingly, the Chinese People's Liberation Army (PLA) conducted a mammoth drill a few weeks ago in response to what they called "recent frequent false signals released by the US on the Taiwan issue." China has always used such drills to display its military might when disputes arise over the Taiwan issue. Beijing has also made its displeasure known while protesting against the visit of US lawmakers to Taiwan.
Recently, the Abraham Lincoln Carrier Strike Group and Japanese Maritime Self-Defense Force ships conducted a joint drill in the Sea of Japan. People's Liberation Army Navy (PLAN) had closely watched the drill with its Dongdiao-class surveillance vessel number 794 following the strike group into the Sea of Japan on Monday.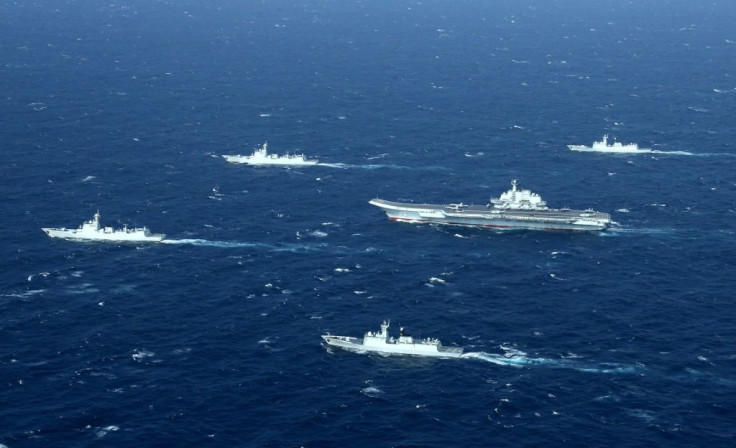 © Copyright IBTimes 2023. All rights reserved.
FOLLOW MORE IBT NEWS ON THE BELOW CHANNELS