Casey Anthony's Attorneys Appealed Probation, Jose Baez Now Investigated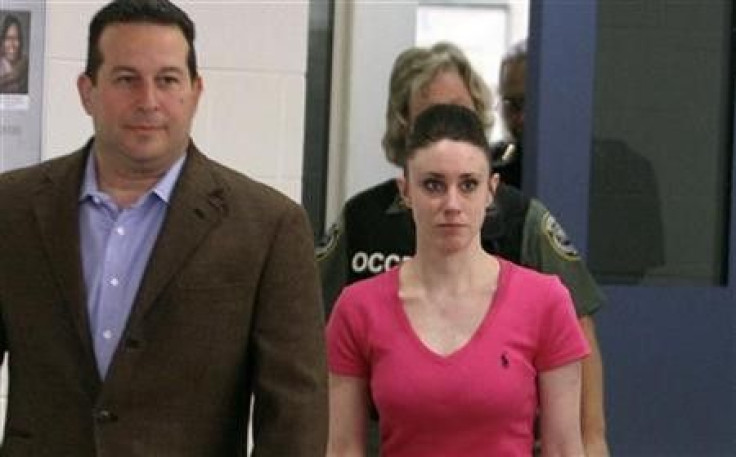 Jose Baez, Casey Anthony's lead attorney, is under investigation by the Florida Bar Association.
Wednesday, Anthony's lawyers appealed court to overrule an order requiring Anthony to return to Orlando to serve a year of supervised probation on a check fraud conviction.
Anthony has been out of the public eye since her acquittal in July of the murder charges of her two-year-old daughter, Caylee. Recently, Casey Anthony's name came up in a survey, winning the most hated person in the United States.
The unpopular acquittal enraged many people who had been following the case very closely. Death threats were made against Anthony and people related to her.
Ms. Anthony must follow an order issued by another judge and report to a probation officer in Orange County by Aug. 26, said Orange County Chief Judge Belvin Perry Jr., who ruled on Friday that Anthony must serve a yearlong probation.
In January 2010, Judge Stan Strickland had sentenced Anthony to one year probation upon her release, for stealing a checkbook from a friend and writing five checks for $644.25
However, the orders were only verbal, and were not written down, and was misunderstood by a clerk who prepared an order for Anthony to serve the probation while in custody awaiting trial.
The order was updated on Aug.1 to include the words upon release. Anthony's attorneys contended that she had served probation while in custody under a signed order from Strickland and cannot be forced to serve it again, claiming that it would violate constitutional protections against having to serve a sentence twice for the same offense, reports CNN.
They also argued that disclosing her location could put her in danger.
Friday, Perry ruled that Strickland's verbal order was binding, and said that to bar the court from correcting a clerical mistake and to permit the defendant to serve probation in jail while awaiting trial on a totally unrelated charge without any possibility of complying with the terms of the probation order would clearly thwart society's interest in extracting a full, fair and just punishment for a crime.
He further chastised the attorneys, saying, The failure to abide by that order and the failure to notify the court of a known scrivener's error in the order may be a violation of an attorney's duty of candor.
After Anthony's lawyers filed an emergency petition with Florida's 5th District Court of Appeal to overturn the order, the Florida Bar is investigating Baez, who succesffuly defended Anthony in her daughter's murder trial.
A bar spokeswoman told the Orlando Sentinel that no other information about the investigation is public.
© Copyright IBTimes 2023. All rights reserved.