Catalonia Independence: After Defying Madrid, Catalan Leaders Vow To Ignore Constitutional Court Ruling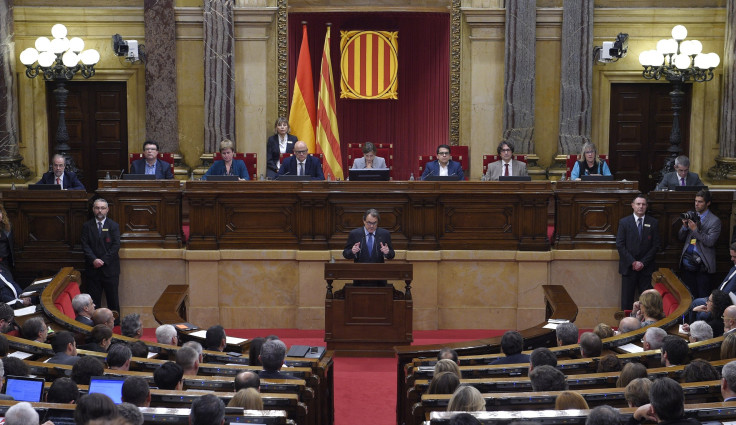 Pro-independence Catalan leaders vowed Wednesday to continue their efforts to secede from Spain, defying a ruling by the Madrid-based constitutional court that suspended a law defining a path for independence. The move is likely to deepen the political standoff between Spain and Catalonia, a region that is home to about 7.5 million people.
"The political will of the government of Catalonia is to go ahead with the content of the resolution approved Monday by the Catalan parliament," Neus Munte, vice president of the Catalan government, reportedly said. "We are fulfilling and will continue to fulfill the mandate of a sovereign parliament."
On Monday, just over a month after pro-independence political parties won an absolute majority in Catalonia's regional parliament, lawmakers in the Barcelona-based assembly voted in favor of starting a formal secession process from Spain. Barcelona is a province in Catalonia.
The resolution -- backed by the Catalan Junts pel Si (Together for Yes) and Popular Unity Candidacy (CUP) parties -- called on the assembly to start working on legislation within 30 days to create a separate social security system and treasury, with the aim of securing complete independence from Spain as early as 2017.
However, Spanish Prime Minister Mariano Rajoy, accusing the pro-independence lawmakers of "trying to do away with democracy," took the case to the constitutional court, which, earlier Wednesday, agreed to hear the government's lawsuit. The secession motion would remain suspended while the hearings are held.
"This is a warning to [Catalan leaders] that if they fail to comply with the suspension, they may commit disobedience," the 11-judge panel said, in its ruling.
While demands for independence and greater autonomy to Catalonia have been made for years -- citing linguistic and cultural differences -- these calls have intensified in recent years, in tandem with the country's economic crisis that has left huge chunks of the region's population unemployed.
In an unofficial, non-binding referendum held last year, Catalonia defied fierce opposition from Madrid and pressed ahead with a vote. Catalan officials say more than 80 percent of those who voted backed independence.
It is not immediately clear what the next step in the confrontation is likely to be, as Catalan leaders have, in no uncertain terms, vowed to ignore the rulings of the constitutional court, which, they claim, lacks legitimacy.
© Copyright IBTimes 2022. All rights reserved.
FOLLOW MORE IBT NEWS ON THE BELOW CHANNELS