Caterpillar Tries To Allay Earnings Concerns After Shares Tank
Caterpillar Inc (CAT.N) tried on Tuesday to ease mounting concerns about China and global demand after it affirmed its 2018 profit estimate, a move that investors feared signaled a cap in earnings growth and sparked a sell-off in its shares.
The Deerfield, Illinois-based company has boosted the full-year profit outlook twice in the first two quarters of this year. That had built hopes of yet another upgrade. But the company retained its 2018 adjusted profit forecast of $11.00 to $12.00 per share, saying nothing material had changed since the last revision in July.
The move came days after China reported the weakest economic growth since the global financial crisis, and the International Monetary Fund cut the global growth outlook for 2018 and 2019.
The industrial bellwether, however, said it expected the Chinese market to remain healthy, leading to a 40 percent annual increase in industry sales for standard full-size excavators this year.
"We are very comfortable with the outlook for China," Chief Financial Officer Andrew Bonfield said in an interview. "We still expect to have another good year in China."
Bonfield said the world's second largest economy accounts for 10-15 percent of CAT's construction equipment sales and 5-10 percent of total company sales.
In the latest quarter, nonresidential building and infrastructure activities in China powered a 19 percent jump in Caterpillar's construction equipment sales in the Asia-Pacific region.
Dealers in China posted one of the biggest inventory increases of Caterpillar products in the third quarter, the company said.
A VICTIM OF HIGH EXPECTATIONS
The bullish comments helped Caterpillar shares recover from the worst sell-off since at least April, but the stock was still down 7 percent at $119.67 late Tuesday afternoon. The Dow Jones Industrial Average <.DJI>, which includes Caterpillar, also pared early losses and was down 32.48 points.
"Most investors are working with the base case scenario of a recession sometime in either 2019 or 2020," said Rizk Maidi, an analyst at equity research firm Berenberg in London. "People are just hunting for any data point to confirm that the earnings have peaked."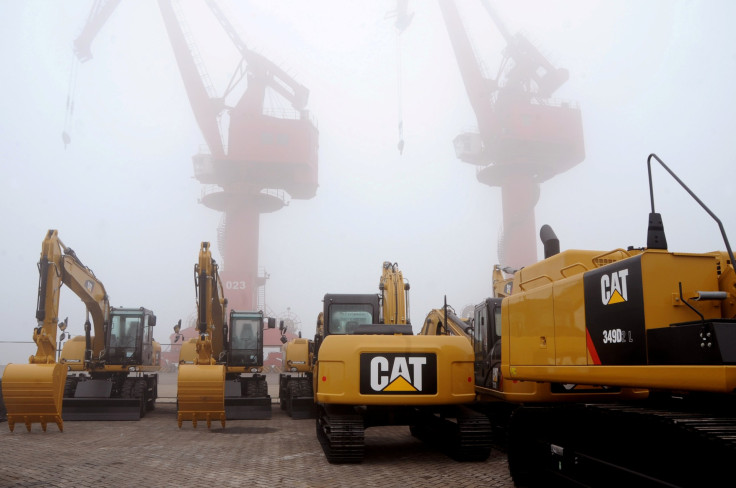 Elizabeth Vermillion, an analyst at CFRA Research, said the company was also becoming a victim of high expectations after its profits topped Wall Street estimates in all of the last nine reporting periods.
For the third quarter, adjusted profit per share came in at $2.86, up from $1.95, last year. Analysts on average had expected $2.85 a share, according to Refinitiv.
OUTLOOK
Caterpillar shares are down over 25 percent since late January as U.S.-China trade tensions intensified and raw material and freight costs soared for local manufacturers. Shares of other major industrials, including 3M Co (MMM.N), are also in "bear market" territory, down 20 percent or more from their highs.
CAT said most of its end markets are continuing to improve, helping it post higher sales across the three primary business segments.
Maidi said Caterpillar's earnings still have room to grow as its revenues are 25 percent off their 2012 peak.
On Tuesday, Bonfield asked investors to expect smaller profit increases.
"There does come a time when you grow at more normal levels," Bonfield said. Profit grew 47 percent in the third quarter, sharply lower than 99 percent and 120 percent jumps in the second and first quarter, respectively.
Caterpillar also acknowledged an increase in manufacturing costs in the latest quarter due to elevated freight costs, and higher steel prices and import tariffs.
It said tariffs would cost it about $40 million in the latest quarter. However, for the full year, it estimated the impact to be at the low end of the previous forecast of $100 million to $200 million.
To offset the rising input cost, it will raise prices of its machines and engines by 1 to 4 percent globally from January 2019.
(Additional reporting by Arunima Banerjee,; Editing by Nick Zieminski and Richard Chang)
© Copyright Thomson Reuters 2023. All rights reserved.