Catholicism In China: Pope Francis' Message Brings Hope Of Improved Sino-Vatican Relations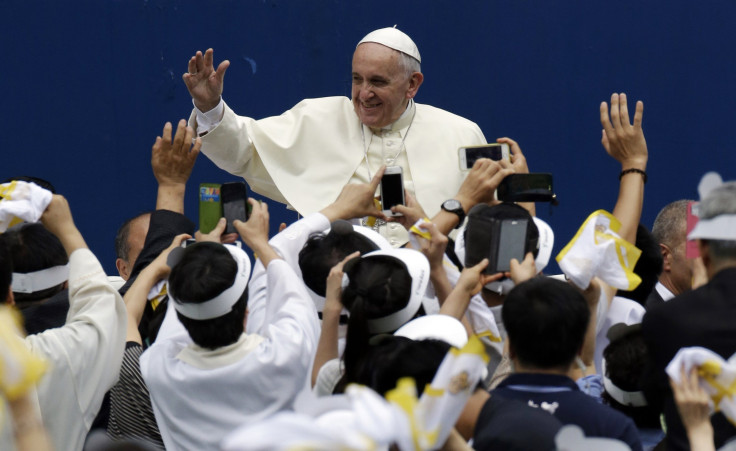 As Pope Francis crossed into Chinese airspace en route to South Korea Thursday on his first trip to Asia, he communicated a short, simple message to Chinese President Xi Jinping via telegram: "I extend the best wishes to your excellency and your fellow citizens, and I invoke the divine blessings of peace and well-being upon the nation."
Messages when the pope flies into a country's airspace are traditional, but this one represents a symbolically significant communication at a critical time, opening up the contentious issue of religious freedom in officially atheist China -- and considering the icy history between China and the Holy See.
After the Communist Party took over mainland China in 1949, the Vatican's diplomatic missions in China were expelled, and the world's largest nation became an officially atheist state. The final rupture between China and the Vatican in 1951 marked the beginning of decades of religious persecution, which was only aggravated when the Communist Party established an unsanctioned Catholic church, run by state-appointed bishops and priests, rather than Vatican-appointed ones.
As a result, a deep divide was created between Chinese devotees of the Vatican, with some Catholics forced to practice "underground" and others worshiping at government-sanctioned churches under the Chinese Catholic Church.
The pope's message to the Chinese people has opened conversation over the continuing issues of religious freedom on popular microblog Weibo.
"China's Catholic Church is pseudo-religion; it was established to give the impression of freedom of religion," one commenter said in criticism of China's church. "Make no mistake: It is not how Catholicism should be practiced."
Others were hopeful of a reconciliation. "Though small, I think it's a significant step. It's good that China is at least receptive to communication, even if not to fully accepting the religion," one blogger wrote. "It's better than nothing."
Others, however, recognized that the problem goes beyond the Chinese Catholic Church, as it is rooted in geopolitical issues.
"The Vatican refused to cooperate with China, which caused the divide and eventually China's underground church problem," one commenter said. The Vatican's diplomatic relations with Taiwan also hamper cooperation. Taiwan maintains an embassy to the Holy See, located in Rome, while the Holy See maintains a mission in Taipei. During Pope Francis' inauguration last March, Taiwanese President Ma Ying-jeou was in attendance, prompting a call from Beijing to cut ties with the Republic of China (Taiwan's official name) in order to forge ties with the People's Republic.
"Unless Taiwan is abandoned, there is no chance for mainland China [to establish relations]," one blogger wrote.
"This is not a breakthrough unless China and the Vatican are able to establish diplomatic relations. This is the bigger issue, which can eventually lead to religious cooperation," another blogger said.
Though China's acceptance of Pope Francis' telegram may be a positive step, it's clear that Sino-Vatican relations won't quickly be repaired. According to organizers of the papal visit, in a last-minute decision, about half of the Chinese Catholic participants who were expected at South Korea's Asian Youth Day celebrations led by the pope were barred from traveling to the event "because of the complicated situation within China."
© Copyright IBTimes 2023. All rights reserved.