CDC Warns Against Using Masks On Pet Animals, Says It 'Could Harm' Them
KEY POINTS
According to CDC, there's no evidence that animals can spread COVID-19 to human beings
CDC's recent tweet urged people not to put masks on their pet animals
The federal health agency recommends limiting contact with sick people to protect pets from COVID-19
People have been following various preventive measures to curb the spread of COVID-19 from individuals to their pets. These measures include buying face masks for their pet dogs to wear while on walks during the pandemic. But the Centers for Diseases Control and Prevention (CDC) warns against it and says it could harm the animals.
"DYK it's not safe to put a mask on your pet? While pets can get #COVID19 from people, the risk of pets spreading COVID-19 is low. Instead, protect your pet by limiting their contact with sick people and people outside the household," read CDC's recent tweet.
COVID-19 is a relatively new disease and scientists are still learning about the novel coronavirus. In some situations, it has been clear that the infection has been spread from human beings to animals. A few pet animals throughout the world including dogs and cats have been reported to be infected with SARS-CoV-2, in most cases after close contact with COVID-19 patients.
The first dog in the country to test COVID-19 positive was a German shepherd in New York in June. It had exhibited signs of respiratory illness after the owner had tested positive for the virus.
According to the CDC, the risk of pets spreading COVID-19 to people is considered low. But since there is currently no vaccine for pets, owners are urged to take precautionary measures to protect the animals from SARS-CoV-2.
Here's a list of CDC recommendations to pet owners:
Keep pets indoors as much as possible and do not let them roam outside freely
While walking your pet dogs, maintain at least six feet distance from other people
Refrain from taking your pets to public places, especially where there are large gatherings
And more importantly, "Do not put masks on pets. Covering a pet's face could harm them," warned the CDC. It also advised against using chemical disinfectants, alcohol, or hydrogen peroxide to wipe or clean the pet.
CDC also advised people with pets to stay away from their animals if the former has been infected with COVID-19.
"Avoid contact with your pet including petting, snuggling, being kissed or licked, sharing food, and sleeping in the same bed. If you must care for your pet or be around animals while you are sick, wear a mask and wash hands before and after you interact with them," said the CDC guidelines.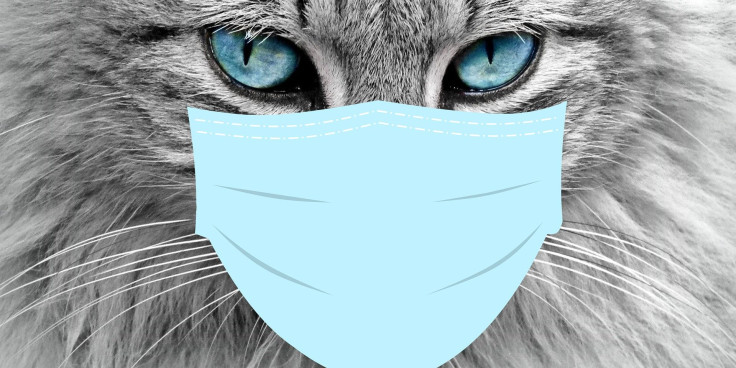 © Copyright IBTimes 2023. All rights reserved.