'Celebrations' Of Margaret Thatcher's Death Condemned As 'Bad Taste'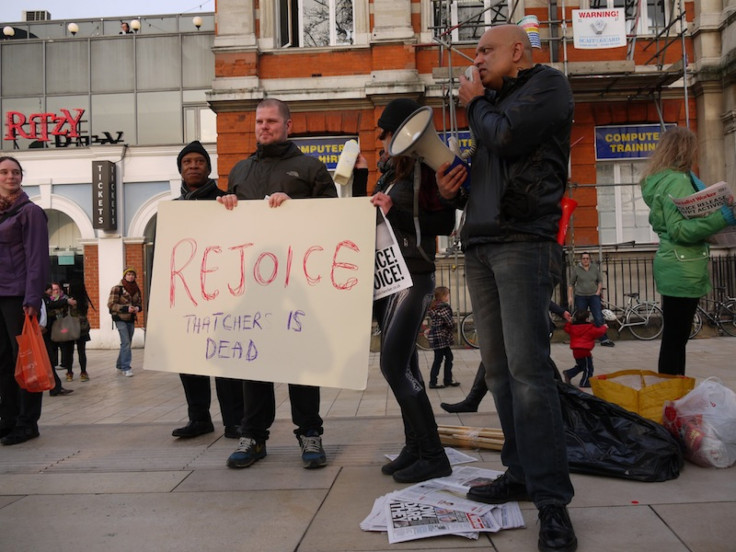 As a reflection of what a polarizing figure former Conservative PM Margaret Thatcher was in the British Isles, consider that many people have been celebrating her recent passing, inciting outrage from some politicians.
BBC reported that such celebrations were held in the cities of Bristol, London and Glasgow. Thatcher remains a target of virulent hatred by many leftists, trade unionists and others who were appalled by her attacks on the unions during the 1980s and the privatization of state-controlled businesses which led to tens of thousands of job losses, especially in the north of England and Scotland.
Thatcher is also widely hated by the Irish Republicans -- as evidenced by the hostility spewed on Monday by Gerry Adams, the head of Sinn Fein. Thatcher will forever be vilified in parts of Ireland for her uncompromising position during the hunger strikes by IRA prisoners at the Maze/Long Kesh prison in 1981.
John Mooney, an Irish cricketer, had tweeted Monday that he hoped that Thatcher's death had been "slow and painful." (He apologized on Tuesday for his remarks.)
Tony Blair, the former Labour prime minister, has described the phenomenon of "parties" praising Thatcher's death as in "pretty poor taste" and urged anti-Thatcher factions to "show some respect."
Blair, who himself has been heavily criticized over the years for his support of former U.S. President George W. Bush's invasion of Iraq, told BBC that "part of modern political life" is to make "very difficult" decisions.
Ed Miliband, the current leader of the Labour Party, also condemned such behavior against the memory of Thatcher.
"Ed Miliband categorically condemns any celebration of Lady Thatcher's death," a Labour spokesman told BBC.
"As he made clear yesterday she was a huge figure in British politics and on the world stage. While the Labour Party disagrees with much of what she did, we can respect her personal achievements."
Still, many on the left of the British political spectrum will not budge an inch from their detestation of Thatcher, with some MPs refusing to attend a tribute to her in Parliament scheduled for Wednesday.
"I do not know why we are wasting taxpayers' money on an additional session," said John Mann, a Labour MP for Bassetlaw, a former mining area in Nottinghamshire, who will not attend any ceremony for Thatcher.
The controversial and colorful Respect MP, George Galloway, a former Labour lawmaker, will also boycott the memorial describing it as a "state-organized eulogy."
One such party celebrating Thatcher's death occurred Monday evening in Brixton, the South London neighborhood which was the scene of frequent race rioting during the Thatcher era.
The Brixton Blog reported that anti-Thatcher activists and others organized a party through Facebook at Windrush Square to celebrate the former Iron Lady's death. About 150 people showed up, with many dancing, chanting, drinking and carrying banners.
The party was organized by Craig Parr of the Brixton Socialist Workers Party, who defended the celebration.
"We're here to rejoice the death of Thatcher, but her legacy lives on today," Parr told the Blog.
"We can see that here in Brixton the poorest are suffering with the bedroom tax and benefit caps. If Thatcher was a good Christian woman then maybe she'll go to heaven, but I'm an atheist so I won't worry about that."
Parr and others then sang "Ding Dong the Witch is Dead."
A 20-year-old celebrant named Dan told the Blog: "We're celebrating the death of one of the most evil people in our history. I know she was before my time but she ruined our country. My grand-dad has passed away himself, but he said he couldn't wait to dance on her grave when she was dead, so today I'm doing that for him."
Dan added: "Millions of people are in poverty because of her. Her being the first female Prime Minister was disgraceful because she ruined it for women. The effects of what she did are still being felt today."
Local Brixton MP, Chuka Umunna, of the Labour Party, condemned the event.
"Holding a party to celebrate the death of any person is totally wrong and in extreme bad taste -- to do so in respect of Baroness Thatcher on the day of her death is utterly disgraceful," he said.
The Conservative leader in Lambeth, Councilor John Whelan, called the party "despicable."
Hundreds of people also celebrated Thatcher's passing in parts of Northern Ireland, including West Belfast and Londonderry, earning a rebuke from Martin McGuinness, Sinn Fein's deputy first minister at the Northern Ireland Assembly.
"Resist celebrating the death of Margaret Thatcher. She was not a peacemaker but it is a mistake to allow her death to poison our minds," he tweeted.
FOR FREE to continue reading
✔️ Unlock the full content of International Business Times UK for free
offer available for a limited time only
✔️ Easily manage your Newsletters subscriptions and save your favourite articles
✔️ No payment method required
Already have an account?
Log in
© Copyright IBTimes 2023. All rights reserved.