Celtics On The Brink Of Making History, Returning To NBA Finals At Expense Of Heat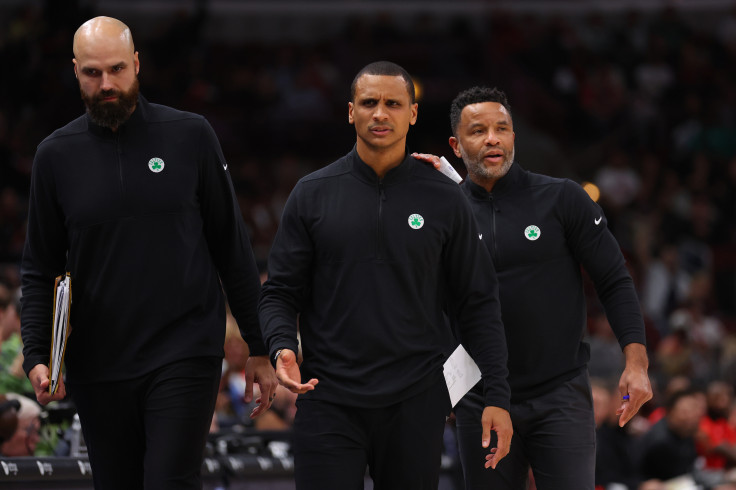 KEY POINTS
The Celtics become the fourth team in NBA history to level a playoff series after falling 0-3
They can earn a return trip to the NBA Finals if they clinch Game 7 of the Eastern Conference Finals
The Celtics become the first team to host a Game 7 after falling behind 0-3 in an NBA series
The Boston Celtics are on the brink of doing something that NBA rival Los Angeles Lakers were unable to do in the Western Conference. The Cs can make NBA history if they score another win over the Miami Heat in Game 7 of the Eastern Conference finals.
During Saturday's Game 6, it appeared that the Celtics were well on their way to leveling the series and forcing a Game 7 until Jimmy Butler of the Miami Heat caught fire and almost willed the South Beach squad to a huge come-from-behind win.
But in the end, it all boiled down to the last second. After a missed three-point attempt by Marcus Smart, Derrick White snuck in and managed to follow up the shot with just a few tenths of a second remaining to push Boston to victory, 104-103, USA Today reported.
The series is now tied 3-3, and the Celtics will host the winner-take-all Game 7 Monday.
Looking ahead to Game 7, the Celtics are on the verge of making NBA history considering no team has come back from a 0-3 deficit in the playoffs to advance to the next round. If they win Monday, the Celtics will not only become the first team to achieve the feat but will also earn a return-trip ticket to the NBA Finals.
The Cs made it to the NBA finals last season but ultimately bowed to the Golden State Warriors. The team went through some rough patches over the past several months after former coach Ime Udoka was suspended this season following the disclosure of an inappropriate relationship with a female Celtics employee.
Joe Mazzulla was tasked to take over as Celtics head coach, and questions were in the air. It appeared he would be receiving a lot of criticism for the 0-3 hole in the Eastern Conference Finals until Boston woke up in time to stave off elimination.
As things stand now, the Celtics are officially the fourth team in NBA history to force a Game 7 after losing the first three games of a playoff series. They are also the first among teams who have come back from a 0-3 hole to host a Game 7.
Among the teams who tried but failed to come back from a 0-3 deficit include the 1951 New York Knicks, 1994 Denver Nuggets and the 2003 Portland Trail Blazers, DraftKings Nation pointed out.
The Celtics, despite a woeful shooting night, were led by Jayson Tatum with 31 points and 12 rebounds. Jaylen Brown chipped in 26 markers and 10 rebounds.
White, the hero of the game, finished with 11 points and six assists.
© Copyright IBTimes 2023. All rights reserved.