Celtics vs. Lakers: Rajon Rondo, Twitter React After Buzzer Beating Game-Winner
Rajon Rondo returned to a court that he is very familiar with and hit the buzzer beating game winner to give the Los Angeles Lakers a famous 129-128 win over his former team Boston Celtics on Thursday night at TD Garden.
The veteran point guard was part of the last Celtics team that won an NBA championship in 2008 and after seasons with Boston, he left the team in 2014. He is considered a legend among the faithful at TD Garden, but they are unlikely to be feeling the same affection after he buried a jumper with seconds remaining.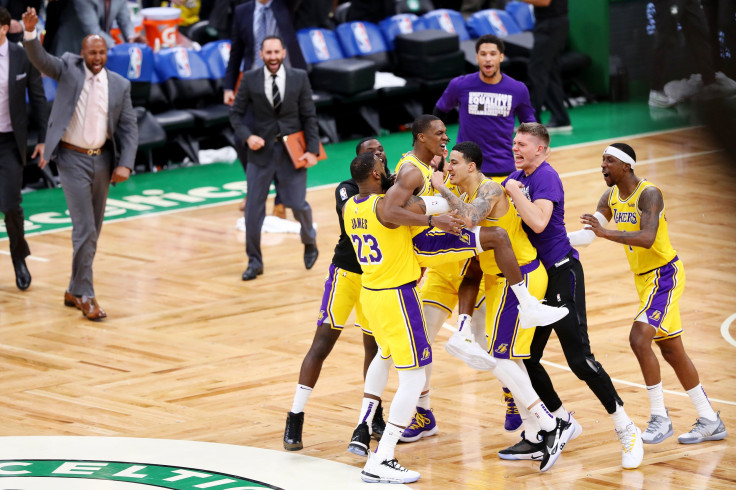 The Celtics were leading going into a half-time but again and not for the first time this season they had a poor third quarter where they were outscored 42-27 by the Lakers as the visitors took the lead 99-93 going into the fourth.
Even in the fourth quarter, the Celtics fought back and were leading 124-118 with just over one minute on the clock, but they let it slip and allowed LeBron James and his team back into the game. And with under 10 seconds remaining Brandon Ingram made a drive to the board, but Al Horford came up with a brilliant block but could not hold on to the ball and a few deflections later it fell to Rondo, who buried the jumper to send the Lakers players and bench into hysterics.
Rondo revealed immediately after the game that he did dream of coming back and making an impact, but he admitted that he did not picture it "being this sweet". He is also hoping the comeback win will serve as a confidence booster to the team, who are struggling at the moment being down in 10th place in the Western Conference.
The script for the clash between the two great rivals couldn't have been written any better than it played out on Thursday night and a number of former players, especially Rondo's former Celtics teammates Paul Pierce and Kevin Garnett could not believe their eyes while others had only praise for the point guard.
© Copyright IBTimes 2023. All rights reserved.