Champions League: 'We Are A Little Out Of Shape,' Says Lionel Messi After Barcelona Escape Loss At Home
Lionel Messi admitted that FC Barcelona are "a little out of shape" after they came from behind to defeat Inter Milan 2-1 in Champions League on Wednesday.
Lautaro Martinez gave the Serie A champions a lead of 1-0 at the very second minute after the whistle. He almost netted a second one with a header but Barca's talented goalkeeper Marc-Andre ter Stegen made a superb save.
The hosts trailed 0-1 when they went into the break. However, Luis Suarez, answered his critics in the best possible manner when he scored an equalizer from an Arturo Vidal's cross. Messi, who was returning from an injury, made his presence felt when he set up Suarez's second goal, which turned out to be the winner.
The La Liga champions are currently fourth in the league table and have suffered the worst start in as many as 25 years. After Barca lived up to the expectations of the whole Nou Camp Stadium on Wednesday with a 2-1 win, Messi now hopes his side can turn things around in the remainder of the season.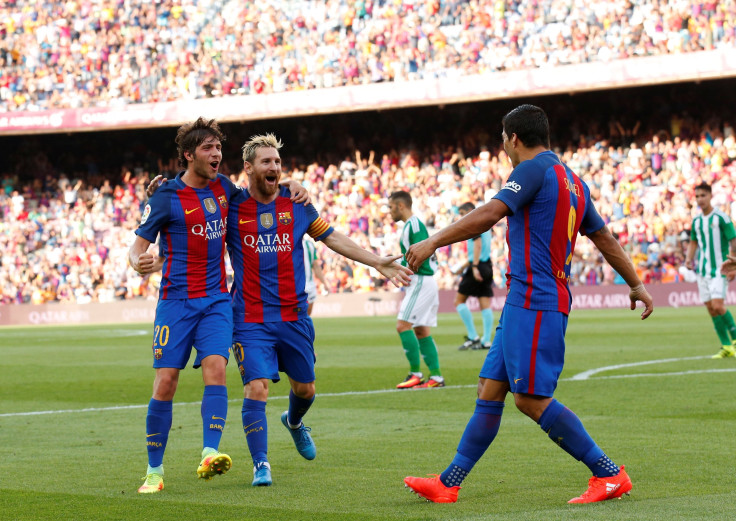 "We've struggled to get going, but we're getting there in the end. We knew we were in a tough moment but, if we look at it, it's been difficult for all the big teams in Europe because of the preseason."
"I don't mean that as a criticism. We're a little out of shape, [on the tours] you don't train as well with the traveling, that's the reality. But it's necessary for the club to organize those types of games. All the big teams do tours and little by little we're re-adapting to the competition," the Barca skipper added.
It was Messi's just second appearance in Barca's starting XI this season.
Speaking on his fitness, the Argentine said," I am trying to get started. This was the first 90 minutes I have been able to complete and I'm happy with how I ended the game. I was tired and lacking a little bit of rhythm. That will come with games. I'm used to playing and staying in shape with games twice a week. That's when I'm at my best."
© Copyright IBTimes 2023. All rights reserved.