Chaori Solar: China's First-Ever Corporate Bond Default, And Definitely Not The Last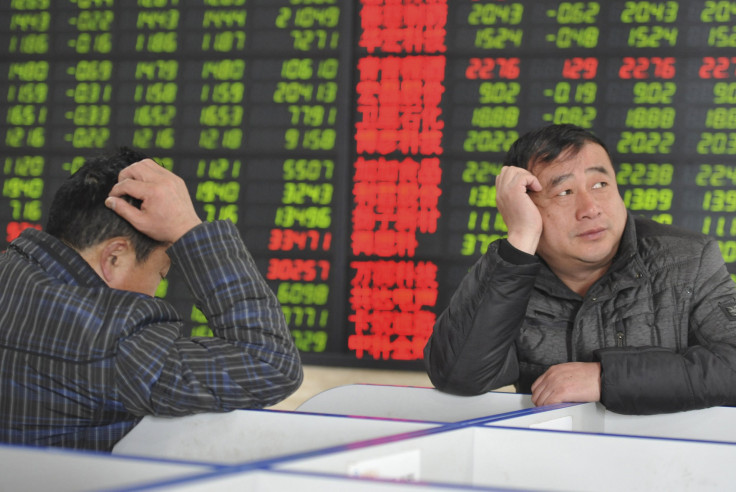 China is about to face its own "Bear Stearns moment," when the market started to seriously reassess subprime debt risk after the U.S. lender was bailed out in 2008.
A small loss-making solar company in Shanghai warned Wednesday that it is unlikely to meet a Friday deadline for an annual interest payment owed to investors, which would make it the country's first-ever domestic bond default and possibly the first of many to come.
"We doubt the financial system in China will experience a liquidity crunch immediately because of this default, but we think the chain reaction will probably start," Bank of America Merrill Lynch strategists David Cui, Tracy Tian and Katherine Tai wrote in a note, adding that during the global financial crisis it took a year to "to reach the Lehman stage," when investors began to panic and shadow banking froze.
However, they assess that "it may take less time in China" as the market is less transparent.
Shanghai Chaori Solar Energy Science & Technology Co. announced in a stock market filing that "due to various uncontrollable factors," the company may not be able to make an 89.8 million yuan ($14.6 million) interest payment in full on March 7. The maker of energy cells to convert sunlight into power plans to pay 4 million yuan to bondholders.
Chaori Solar sold 1 billion yuan of five-year notes called the "11 Chaori Bond" in March 2012 with a variable annual coupon, starting at 8.98 percent. Annual interest is due on March 7 every year. Investors have the right to sell the bonds back to the company at par in March 2015.
Chaori Solar encountered significant losses and financial difficulties over the past three years, as the whole solar power industry in China experienced a serious overcapacity problem and falling prices for photovoltaic cells, while the government has been embroiled in a trade war with the U.S. and the EU.
"Overcapacity in the Chinese solar industry resulting from cheap financing and excessive local government support has led to sharp price fall in solar materials between 2009 and 2012," Bank of America solar analyst Robin Cheng said in a note. "Since 2012, the Chinese government has been sending signals to the market that it would stop funding unprofitable players and encourage consolidation."
The bond is listed on the Shenzhen Exchange, but trading was suspended in July 2013 after Chaori Solar experienced two consecutive years of losses. Chaori Solar on Friday reported a net loss of 1.33 billion yuan for 2013, its third straight annual earnings deficit.
Last year, Chaori Solar narrowly avoided a bond default after a local government in Shanghai persuaded banks to defer claims for overdue loans, which enabled the company to meet interest payments.
Some Chaori Solar bondholders plan to complain to the Shanghai Fengxian local government and "express their anger" at its not aiding the company, the 21st Century Business Herald reported.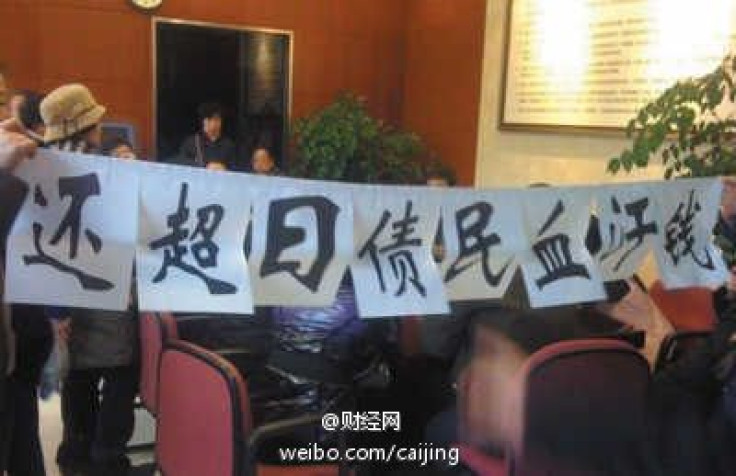 'A Good Thing'
Most analysts view the lack of defaults in China's onshore bond market as unusual, and see a potential onshore bond default as having positive implications.
"We think it's a good thing, as a normal economy needs defaults to better price bonds and other debt products," Ting Lu, a China economist, and other analysts at Bank of America wrote in a research note. "Defaults of some debt products are not on a similar scale to a collapse of a major financial institution."
China's corporate bond market, the world's third-largest after the U.S. and Japan, totaled 8.7 trillion yuan at the end of January compared with 800 billion yuan at the end of 2007, according to Bank of America estimates.
David Cui, China strategist at Bank of America, pointed out that the Chaori Solar bond in question is backed by a local government and an underwriter with ample resources to bail out investors. "If the bond is allowed to default, we believe it will most likely be because the government wants to teach the market a lesson and address the implicit guarantee moral hazard issue," he wrote in a report.
Letting Chaori Solar default "will help go some way to correct the moral hazard problem in China's financial sector, and that is positive for the long-term development of the onshore bond market," Zhiwei Zhang, a China economist at Nomura, wrote in a note.
Fitch Ratings said a default would be "positive for the market in the long term as it will instill greater discipline to price credit risk more effectively."
"In the recent years, local governments have intervened several times to prevent defaults in the onshore corporate credit market in order to maintain economic and social stability," Fitch said. "That the Chaori [Solar] default has been allowed to emerge may signal a shift in the government's stance toward a greater tolerance of outright corporate defaults."
Moreover, Chaori Solar's bonds have a large retail investor base, which makes the case even more noteworthy.
NPC
Chaori Solar's default warning coincides with the annual National People's Congress, a meeting of China's political leadership. China set its gross domestic product growth target for 2014 at 7.5 percent, as expected.

But it seems like a mission impossible to achieve each and every task outlined in Premier Li Keqiang's speech without compromising on the growth target, according to Yao Wei, China economist for Societe Generale.
"In other words, in order to hit the growth target, debt risk will probably build further and/or reform progress may suffer," Yao said.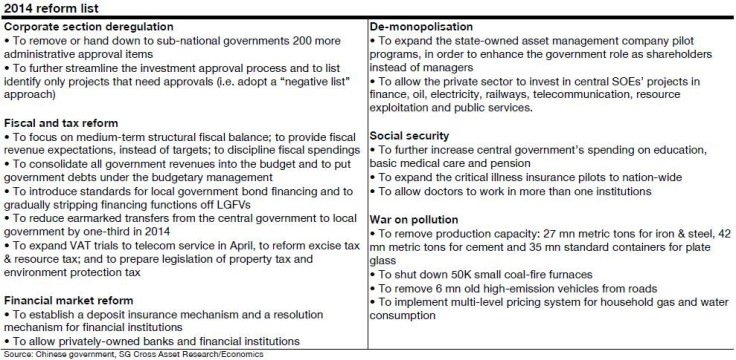 "2014 will be the year China seriously cleans up mounting local government and corporate debts, which have been rapidly accumulated since late 2008," the Bank of America analysts said.
"We believe the chance of some bond and trust loan defaults will rise significantly in 2014, especially as the more confident government sees the need for some defaults to develop a more disciplined financial market," they added.
© Copyright IBTimes 2023. All rights reserved.