Chargers vs. Patriots 2019 Prediction: Philip Rivers, Los Angeles Will Upset Tom Brady, New England
No underdog is given a better chance to win in the 2019 NFL divisional playoffs than the Los Angeles Chargers. L.A. is getting four points in their road game against the New England Patriots, per OddsShark, and they've got a good chance to defeat the defending AFC champions.
The two teams are very evenly matched, and there's certainly a case to be made that the Chargers are a slightly better team than the Patriots. Los Angeles had one more regular-season win than New England, and they only became a wild-card team because they share a division with the No.1 seed Kansas City Chiefs.
New England gave up four fewer points than Los Angeles over the course of 16 weeks, though the Chargers ranked eighth in total defense and the Patriots were 21st. New England scored just eight more points than Los Angeles. The Patriots had more total yards, but the Chargers ranked higher in yards per play.
L.A. finished third in the league in net yards per play. New England was 16th.
Tom Brady gave New England the edge at the game's most important position in just about every playoff matchup for 15 years. That might no longer be the case with the quarterback starting to show his age, at least somewhat, in 2018.
Philip Rivers had a better season than last year's MVP, and he even found his way into this season's MVP conversation for a brief moment. He threw for more touchdowns, had a better completion percentage and threw for more yards per attempt than Brady. Rivers' 105.5 passer rating was fifth in the NFL and Brady came in at 12th with 97.7.
Rivers also has better weapons at his disposal than Brady. Melvin Gordon is one of the league's best running backs and Keenan Allen is a top wide receiver. The Patriots just lost one of their top receivers in Josh Gordon, and tight end Rob Gronkowski is no longer the elite playmaker that he once was.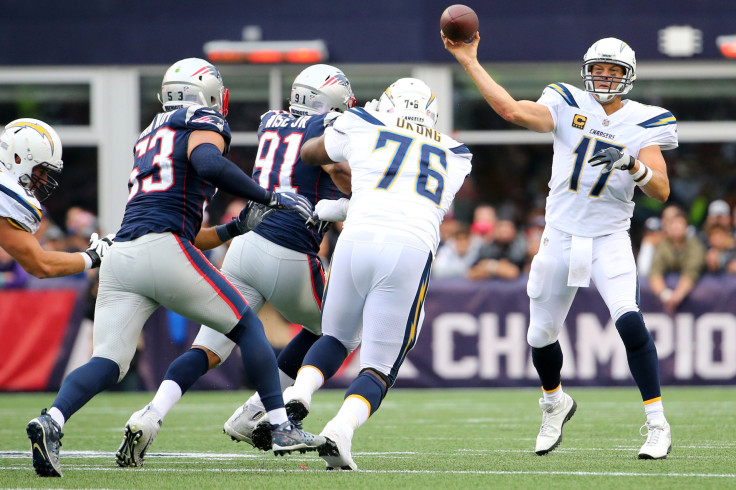 Brady will also have to deal with the pass rushing combination of Joey Bosa and Melvin Ingram. Bosa had 5.5 sacks in seven games this season. Ingram was dominant in the Chargers' 23-17 win over the Baltimore Ravens on Wild-Card Weekend with seven tackles and two sacks.
The Patriots are the NFL's only team that's undefeated at home. They've won their last eight playoff games at Gillette Stadium, and New England has advanced beyond the divisional round in each of the last seven seasons.
But if anyone can win in New England, it might be Los Angeles.
The Chargers were the NFL's best road team in the regular season with a 7-1 record. They just went on the road and beat the No.1 ranked defense in the wild-card round.
Los Angeles has gone 12-2 since losing to the Chiefs and L.A. Rams in the first three weeks. New England failed to look like the Patriots' team we've been accustomed to seeing on several occasions with five losses to teams that didn't make the playoffs. Three of those defeats came by double digits.
New England is more beatable than they have been in a long time, and Los Angeles is the right team to take advantage.
Prediction: Los Angeles over New England, 26-23
© Copyright IBTimes 2023. All rights reserved.