Charleston Church Shooting: Jesse Jackson Calls For 'Civil Rights Manifesto' In Wake Of South Carolina Killings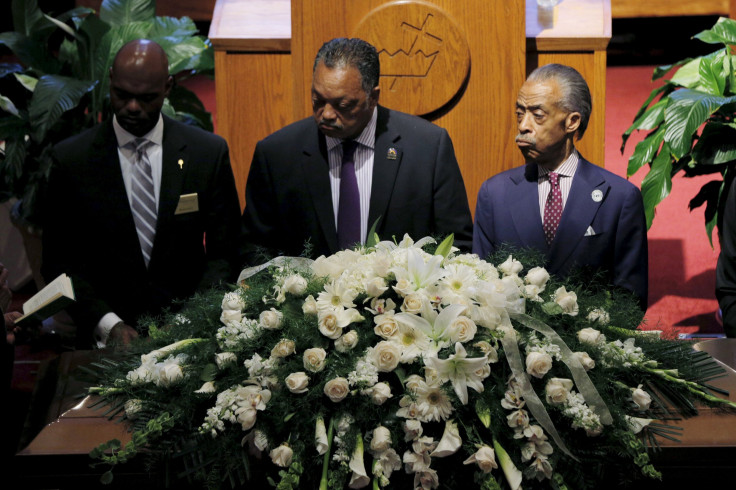 As families began laying to rest loved ones killed last week in the Charleston church shooting, veteran civil rights leader Jesse Jackson called for the drafting of a "Southern Civil Rights Manifesto" that addresses the region's unhealed racial wounds and the stubborn opportunity gap. Jackson, a 73-year-old native of Greenville, South Carolina, told the Charleston Post and Courier Thursday that healing for his home state should go deeper than taking down Confederate symbols or condemning the actions of the church shooter who idolized that history.
"We need the South to rejoin the Union," Jackson said. "It's not just the flag that must come down. It's the ideology that must come down."
Jackson said that means addressing the long standing condition of disenfranchisement among poor whites in the south, blacks and other people of color who tend to assign blame for their misfortunes. The government can establish work programs that jumpstart the closing of the economic opportunity and wealth gaps in the south, he said.
"To close some of these gaps, we've got to be unafraid to talk to one another," Jackson told Post and Courier. "It costs more to let this corrosion continue. We're going to pay one way or another."
Jackson also said too much unsolicited sympathy for Dylann Roof, the 21-year-old professed white racist who killed nine black worshipers attending Bible study at Mother Emanuel African Methodist Episcopal Church June 17, would be counterproductive in the racial healing process. Black and whites, he said, must be equal participants in the showing of contrition and granting of forgiveness.
Jackson's call for a manifesto comes one week after a website created by Roof was surfaced. The website contained a racist manifesto and images of him posing with Confederate flags and other symbols of the Confederacy. "I have no choice. I am not in the position to, alone, go into the ghetto and fight," Roof reportedly wrote in an explanation of his plan to massacre blacks at the church. "I chose Charleston because it is most historic city in my state, and at one time had the highest ratio of blacks to Whites in the country."
Jackson said Roof's terrible act of racial violence can be transformed into serious reforms for the south. "How do we seize the good will of this moment to do something that outlasts the moment?" he said. "Without substance, the moment is not sustainable. This is more than flag-deep."
© Copyright IBTimes 2023. All rights reserved.