Clementa Pinckney Funeral Live Stream: Watch President Obama, First Lady Attend Slain Charleston Pastor's Ceremony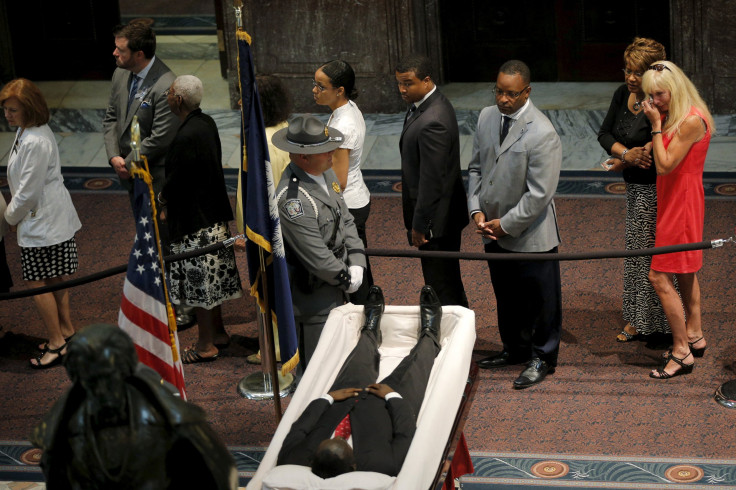 President Barack Obama and first lady Michelle Obama are among those expected to attend the funeral of the Rev. Clementa Pinckney, the South Carolina state senator and pastor killed in last week's attack on Mother Emanuel AME Church in Charleston, South Carolina, that left nine dead. Obama is slated to deliver the eulogy, a White House official said this week. A live stream of the ceremony will be made available online via PBS NewsHour.
The funeral is scheduled for 11 a.m. EDT Friday. It will be held at the TD Arena at the College of Charleston, which holds about 5,400 people, with an interment following at St. James AME Church of Marion. Officials said the funeral will be open to the public and that residents should expect road closures in downtown Charleston leading up to the funeral.
The public has been allowed to view Pinckney's body and casket at the State House in Columbia since Wednesday. Cooling stations were set up to relieve mourners who lined up outside the capitol, where temperatures reached well into the 90s. "Working with the church, we have been able to set up a very organized process that we will ask everyone to utilize," Police Chief Greg Mullen said. "The family as well as the church leadership have asked us to please help them make sure this is an orderly and very sacred time for the church and for the family and for the community."
Many in the city are still reeling from the attack on Mother Emanuel AME Church, a historically African-American church with a significance that dates back nearly 200 years, on June 17. Nine people were killed, including three men and six women.
The shooter, 21-year-old Dylann Roof, has admitted to the killings and was charged with nine counts of murder. Roof had ties to white nationalist groups and frequently posted online about harboring racist sentiments toward African-Americans. He claimed the inspiration for his crimes was under-reported black-on-white crime.
President Obama, who knew Pinckney personally, addressed the killings last week. "The fact that this took place in a black church obviously also raises questions about a dark part of our history," Obama said. "This is not the first time that black churches have been attacked. And we know that hatred across races and faiths pose a particular threat to our democracy and our ideals." Obama has not visited Charleston since he sought the Democratic nomination for president in 2007.
© Copyright IBTimes 2023. All rights reserved.
FOLLOW MORE IBT NEWS ON THE BELOW CHANNELS