Charlie Hebdo Attack: Europe's Far-Right Political Parties Could Benefit From Paris Shooting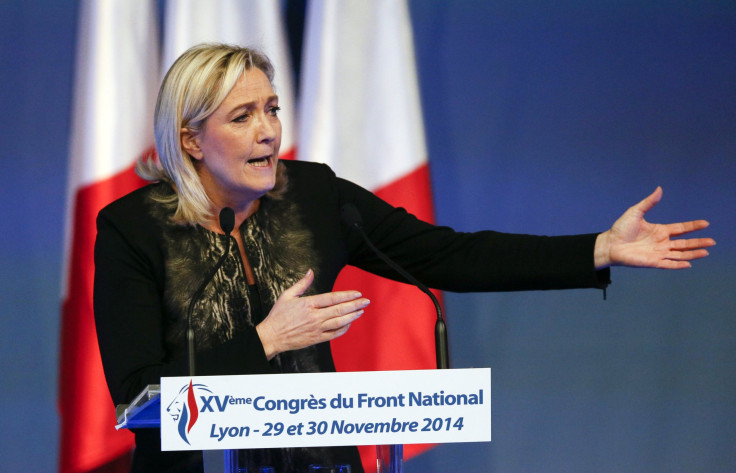 The Wednesday terror attack on the Paris offices of satirical magazine Charlie Hebdo is having political ramifications far beyond France. Across Europe, far-right and center-right parties are using the terrorist murders to make the case that their countries must crack down on immigration and get tougher on terrorism. Such rhetoric could also prompt leftist parties in Europe to harden their stance on civil liberties amid attacks from the right about being soft on security as several countries head to the polls this year, political experts said.
"It certainly gives them ammunition," said Jeremi Suri, a professor of history and public affairs at the Lyndon B. Johnson School of Public Affairs at the University of Texas in Austin. "You'll see people like Marine Le Pen saying, 'You see, this is why we need a France that's only filled with traditional French citizens. Traditional French men and women don't do this.'"
Le Pen is the head of France's far-right National Front, founded by her father, Jean-Marie Le Pen, which has an anti-immigration platform. She blamed radical Islam for the Charlie Hebdo shooting that killed 12 people, including 10 journalists; the killers are believed to have uttered the "prophet has been avenged," a reference to the Prophet Muhammad. The magazine has published many cartoons of Muhammad and Muslim figures that were viewed as insulting to Islam.
Le Pen isn't the only right-wing European politician to seize on the Paris attack. In Greece, where parliamentary elections will be held later this month, Prime Minister Antonis Samaras blasted the leftist Syriza opposition party's immigration stance, even though the Paris suspects are Frenchmen of Algerian descent and not immigrants.
"You see what is happening in Europe: Everything is changing dramatically. In France, the Socialist [President Francois] Hollande has sent the army onto the streets," Samaras said Wednesday, according to Kathimerini, a daily newspaper in Athens. "There was a massacre in Paris, and here some people are inviting over illegal immigrants and handing out citizenships."
While economic austerity is the main point of contention in the Greek elections, immigration is related because Syriza has said opening up Greece to immigrants will help the economy. "I think Greece is the interesting [election] in light of [Charlie Hebdo] because it looked like the left-wing party was going to win and do well," Suri said. "They are seen as being less strong on anti-terrorist issues. So if terrorism becomes a part of the Greek election, that will hurt."
Ukraine, which had its presidential election last summer, is another country where a leader is tying the Paris attack to national security. Pro-Russian separatists in eastern Ukraine are battling the government in Kiev. On Thursday, Prime Minister Arseniy Yatsenyuk compared the Charlie Hebdo attack and others where terrorism was suspected to Ukraine's crisis. Yatsenyuk is a leader of Ukraine's center-right People's Front party.
"Some might say that what is happening in Ukraine -- the anti-terrorist operation against terrorists headed by Russia -- will not affect us. But it happened. It happened in Canada, Australia, Belgium. Yesterday it happened in France," Yatsenyuk said, according to the Ukrainian magazine Korrespondent.
Not only are parties on the right claiming vindication in the Charlie Hebdo massacre, but experts say the attack will force center-left parties to shift their policies. But to what extent -- say, a European version of America's Patriot Act -- is unclear.
"In the short run, they will be more hawkish on issues of civil liberties," Suri predicted. "It's hard to argue for civil liberty protections when this happens."
The appeal of far-right parties in Europe has been growing for years. In last spring's European Parliament elections, rightist parties in Britain, France, Hungary, Greece and Germany that favor preserving national identities over a united Europe made unprecedented gains. These groups attract votes from people who want tighter immigration laws in an effort to preserve national identity.
"The parties have done a great job of saying terrorism is tied to immigration," said Maxime Larivé, research associate at the European Union's Center for Excellence. "But it's not a problem of immigration. It's national citizens killing other national citizens."
One reason anti-Muslim sentiment is higher in Europe than the United States is that even native-born citizens are viewed as outsiders when their parents or grandparents came from another country. It is particularly true for France, where the Islamic extremists are largely second-generation citizens of North African heritage who have been excluded from French life, according to Carolyn Dudek, a professor of political science at Hofstra University in New York.
"The French still see them as immigrants, and the thing is they're not part of French society and they have no connection to where they come from either," she said. "And so what's happening is a lot of them find community online and a lot of them have adopted very radical views of Islam. And so that is how a lot of the extremism and recruiting is happening."
Although France's next national election is two years away, the Paris attack will still have an impact on the contest, according to Dudek. "For France, this incident will shape elections. To what extent it will effect other elections in Europe, that's harder to measure," she said.
© Copyright IBTimes 2023. All rights reserved.
FOLLOW MORE IBT NEWS ON THE BELOW CHANNELS