Charlie Hebdo Cover: Prophet Muhammad Holds 'Je Suis Charlie' Sign In First Magazine Issue Since Paris Attacks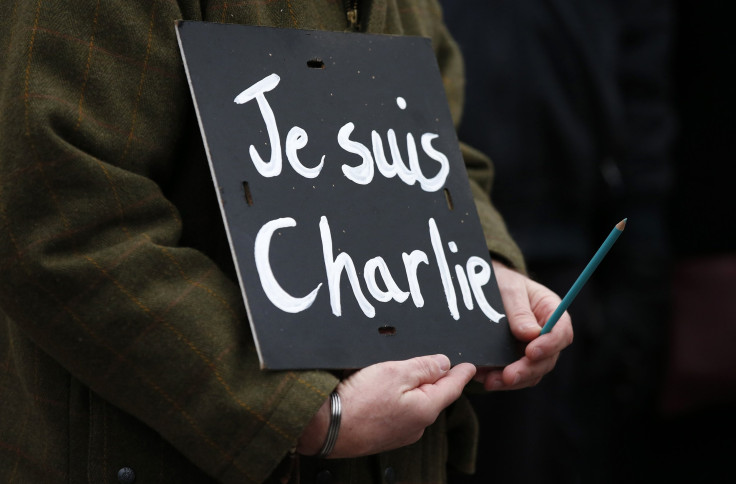 The French satirical magazine Charlie Hebdo will publish a cartoon of the Prophet Muhammad holding a sign that says "Je Suis Charlie" for its first issue since two gunman stormed its Paris office and killed 12 people, including its editor. The cover reads: "All is forgiven."
The cover is scheduled to be published Wednesday, a week after the massacre the saw people across the world embrace the "Je Suis Charlie" slogan, and was put together by surviving staff members. Three million copies – far more than the usual 60,000 – will be distributed in 16 languages for readers across the world, Agence France-Press reported.
The Jan. 14 issue will also include other caricatures of the Prophet Muhammad. Richard Malka, the magazine's lawyer, said on France Info radio that "We will not give in. The spirit of 'Je Suis Charlie' means the right to blaspheme,"
according to the Daily Mail
. Jokes will be made about other religions in the issue, as well.
The headquarters of the magazine remains a crime scene and Charlie Hebdo's surviving employees spent recent days working from France's daily newspaper Liberation. French newspaper Le Monde offered equipment to the staffers and other French and foreign media outlets offered cash, AFP reported.
Charlie Hebdo cartoonist Luz, who worked on the front cover, said: "We're getting by. We are having fewer nightmares. We are trying to put a magazine together and find some calm and inspiration, it's not easy," The Guardian reported. He said in another interview that the magazine had become a symbol.
The Prophet Muhammad has been featured in the satirical magazine before, provoking a bomb attack several years ago. The cartoons may have motivated the gunmen who targeted the magazine.
The gunmen were killed by police in a standoff north of Paris on Friday after two days on the run. They said they were inspired by Islamist militants.
© Copyright IBTimes 2023. All rights reserved.