Charlie Hebdo Attack: The Prophet Muhammad Cartoons That May Have Caused Paris Magazine Massacre [PHOTOS]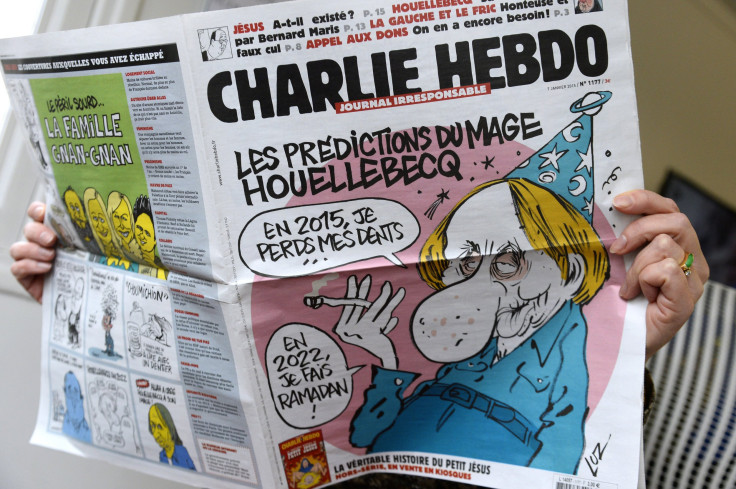 The French satirical magazine Charlie Hebdo attacked by terrorists Wednesday in Paris had a history of publishing controversial cartoons depicting the Prophet Muhammad that angered Muslim leaders in France, the Middle East and other parts of the world. The magazine for years received threats from social media users because depictions of the prophet are forbidden in Islam.
At least 12 people were killed Wednesday after gunmen stormed Charlie Hebdo's central Paris office, prompting France to raise its terror threat level. "We will find the people who did this," French President François Hollande said. "France is today shocked by this terrorist attack."
In 2012, France temporarily closed its embassies and schools in more than 20 countries to prevent potential terrorism attacks because of Charlie Hebdo's Prophet Muhammad cartoons. Stéphane Charbonnier, then-director of the French magazine, said at the time that his staff was "not really fueling the fire" but rather using its freedom of expression "to comment (on) the news in a satirical way."
In 2011, the magazine was attacked by a petrol bomb after it ran a special Arab Spring edition entitled "Sharia Hebdo" that included a cartoon of the Prophet Muhammad on the cover as "guest editor." It read, "100 lashes if you don't die of laughter!"
In 2007, a Paris court dismissed a lawsuit filed by two Muslim organizations to sue the paper for representing the Prophet Muhammad in cartoons. In 2006, the French Council for the Muslim Faith brought a lawsuit against Charlie Hebdo for publishing caricatures of the prophet.
"Just because Muslims refuse to portray the prophet, there's no reason why non-Muslims should feel compelled by the same restrictions and fear retribution if they go ahead with picturing Islam's founder," the Independent wrote in 2013.
France has the largest Muslim population in Western Europe, with roughly 4.7 million followers of the faith. Amid growing tensions between Muslims and other French residents, France banned the wearing of Islamic veils and other face coverings in 2011.
Below are some of Charlie Hebdo's most controversial Prophet Muhammad cartoons:
© Copyright IBTimes 2023. All rights reserved.