Charlie Hebdo Cover Sparks Fear From Muslims, Jews In Paris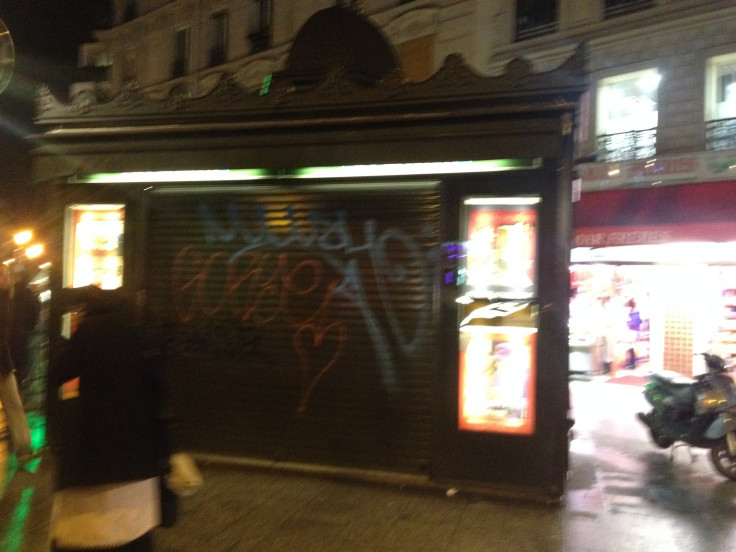 PARIS -- A day before the next edition of Charlie Hebdo will arrive on newsstands, Deborah Cohen and Saida Elaroy nervously chatted in a bakery nestled on a side street of Paris' Jewish quarter. The bakery was frequently visited by some of the magazine's cartoonists who were killed last week, but on Tuesday, it was empty except for bakery employees.
"People have become crazy, and tomorrow it's going to get worse," Cohen said to Elaroy as they sat behind a display case filled with golden pastries. "Have you seen it? It's Mohammad crying. It's even worse than before."
Charlie Hebdo has released the cartoon they will feature on the magazine's first edition since gunmen stormed their offices last Wednesday, killing 10 employees and two police officers. The cartoon depicts a caricature of the Prophet Muhammad, holding a sign that reads "Je Suis Charlie" (I Am Charlie) and above him is written, "Tout est pardonné." ("All is Forgiven").
Anticipating enormous interest, the magazine plans to print 3 million copies instead of its usual 60,000. But some newsstands say they won't open on Wednesday to carry the issue, fearing backlash from Muslims who might find the cartoon offensive.
Mohammed Moussaoui, leader of the French Muslim Council (CFCM), said the new cartoons are an "act of aggression" but urged Muslims not to protest.
Near the bakery, Pascal Villeval, owner of the St. Paul Press Stand, says he will open his newsstand -- but will close if "it's really a disaster."
"Many of my colleagues said they aren't going to open at all," Villeval said. "They are scared it's going to go badly in the Muslim quarters. "
Villeval's colleague who works near the Odeon and another who works on Boulevard Barbès will be closed, he said. The newsstand on Boulevard Barbès was closed preemptively on Tuesday, as were many of the cafes and stores in the area.
Back in the bakery where Charlie Hebdo cartoonist Georges Wolinsky was a frequent customer and Jean Cabut once visited, both women worried the cover might lead to a new wave of unrest, something they don't want to see after nearly a week of fear and mourning.
"The newspapers are coming out, I think it's going to heat up," Cohen said. "Because those who were upset will be affected by the fact that they have Mohammed on the first page."
"Of course we're scared," Cohen added. "We're in the Jewish Quarter, the first Jewish quarter of Paris, you know."
Cohen and Elaroy have worked at Korcarz Bakery on Rue Des Rosiers for roughly 20 years.
"I'm a Muslim, she's a Jew. We get along great," Elaroy said. "We can make fun of each other, but in moderation."
Moderation was what Elaroy believed the Charlie Hebdo cartoons about Islam lacked.
"My husband showed me the cartoons on the Internet; when I saw them, I lowered my head. I couldn't look, I was embarrassed," Elaroy said. She turned to Cohen and said, "Look, Deborah, I'll explain it to you. When you say 'God,' you're not allowed to say it right? It's serious. It's just as serious when talking about the prophet."
(Judaism doesn't explicitly prohibit writing or speaking the name of God, but many Jews choose to avoid it for fear that it may be defaced or taken in vain.)
"We're all against the massacre, all the Muslims are against the massacre. But the cartoons are a bit exaggerated," Elaroy said. "There are certain things you don't touch in religion."
Neither woman had bought Charlie Hebdo before the attack, and neither plans to buy the newest edition on Wednesday. They just hope to get through a peaceful day, working together.
© Copyright IBTimes 2022. All rights reserved.
FOLLOW MORE IBT NEWS ON THE BELOW CHANNELS