Charlie Hebdo First Issue: Magazine Was In Financial 'Danger' Before Paris Massacre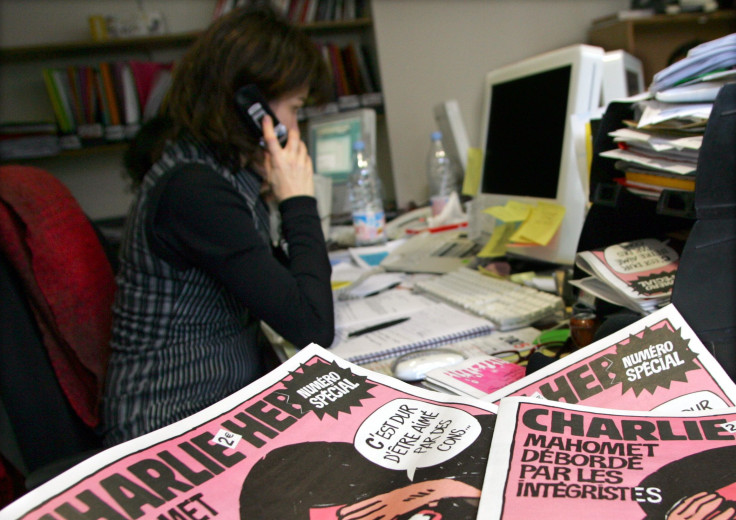 Before the Jan. 7 shooting that left 12 dead, before 3.7 million people marched in France, and before George Clooney wore a "Je Suis Charlie" button at the Golden Globes, Charlie Hebdo was in trouble. The satirical magazine needed funds. Sales weren't covering the cost of manufacturing, and from Nov. 4 until a few hours after the massacre, a desperate banner topped the homepage: "Charlie est en danger!"
"We need to quickly find ways to exist without depending on outside shareholders or banks," read a loosely translated post on the site asking readers for donations. Charlie Hebdo was printing 60,000 copies a week, but only selling half of them at roughly $3.50 a copy, AFP reported.
A week after the fatal shooting, a lot has changed. Charlie Hebdo is expected to print 3 million copies of Wednesday's issue, its first since the Paris massacre. People across the world are clamoring to buy the magazine, which will be published in 16 languages in 25 countries.
The magazine's newfound popularity and international support could translate into a long-term increase in circulation, said Rodney Benson, a professor of media studies and sociology at New York University. The magazine has become legendary, he said. "Charlie and its moment is never going to be forgotten," said Benson, an expert on French news media.
Two Islamist extremists stormed Charlie Hebdo's Paris office last week and fatally shot 12 people, including five famous cartoonists. The gunmen were reportedly motivated by Charlie Hebdo's cartoons mocking the Prophet Muhammad. They were killed in a police standoff Friday north of Paris.
The Charlie Hebdo massacre sent Parisians and news outlets worldwide reeling and fighting back. Supporters created the phrase "Je Suis Charlie," or "I am Charlie," spread the magazine's cartoons on social media, and rallied behind France's freedom of press law. The reaction is "kind of unreal," Benson said, if only in terms of finances. The French government pledged about $1.2 million to keep the magazine alive, Mashable reported. Google donated about $300,000, Guardian Media Group gave about $150,000, and an independent crowdfunding campaign raised another $170,000.
Benson said he hopes the incident doesn't change Charlie Hebdo's content. The magazine that once called itself a "splendid wart on the nose of soft media consensus" is more than just cartoons about Islam, Benson said. It provides "very important" political commentary, he said.
"People who never read the magazine are suddenly saying they love Charlie," he said, adding, "What we're seeing here with Charlie and the outpouring of support is an expression of that understanding that the press has to be critical."
© Copyright IBTimes 2023. All rights reserved.