New Charlie Hebdo Issue Hard To Find, International Distributors, Book Stores Struggling to Stock Copies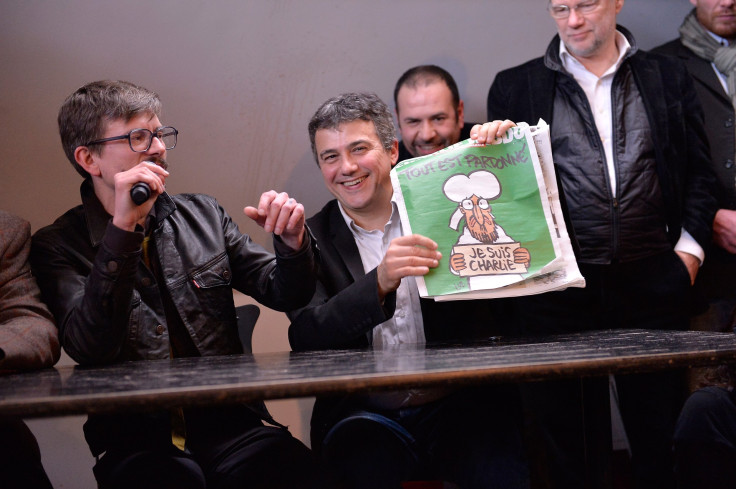 The French satirical magazine Charlie Hebdo has dramatically increased its usual print run to deal with the global surge of interest after an attack on its Paris office, but some international readers might be hard-pressed to get their hands on a copy. Its first post-attack edition scheduled to be released Wednesday will features a cartoon of the Prophet Muhammad crying against a green background, holding a sign saying "Je suis Charlie," or "I am Charlie," and above his head is written "All is forgiven" in French.
"This won't be a tribute issue of some sort," Richard Malka, Charlie Hebdo's lawyer and spokesman, told France Info radio on Monday, according to Bloomberg. "We will be faithful to the spirit of the newspaper: making people laugh."
Up to 3 million copies of the new Charlie Hebdo issue will hit stands this week, much more than the typical run of 60,000 copies. It will be available in 16 languages distributed in 25 countries. "We have requests for 300,000 copies throughout the world -- and demand keeps rising by the hour," Michel Salion, a spokesman for MPL, which distributes Charlie Hebdo, told Reuters, adding that the newspaper usually had just 4,000 international clients.
This week's edition aims to raise funds to keep the magazine in publication, with the issue going for roughly three euros ($3.50) in France. It will have six or eight pages instead of its usual 16.
As many as 1,000 copies might reach the United Kingdom, reports the Telegraph, a sharp increase from its usual nonexistent circulation in the U.K. "At the moment it's only about 200 copies with a sort of London focus. Possibly a thousand maximum -- we don't necessarily know yet," a spokesman for niche British magazine distributor Comag said. "They'll be distributed within the normal channels. We don't usually bring it over; this is a one-off, the survivors' issue ... We don't usually distribute the normal weekly one." One of Britain's largest newspaper distributors, Menzies, will stock this week's copy of Charlie Hebdo for 3.50 pounds ($5.30).
Some foreign publishers have expressed reservations about carrying the magazine. Australia's Human Rights Commissioner Tim Wilson said that some of Charlie Hebdo's cartoons would have violated section 18C of the Racial Discrimination Act, according to Sky News.
French cultural centers in Sydney and Melbourne said they weren't aware of anyone regularly selling Charlie Hebdo issues, according to the Sydney Morning Herald. "I'm getting a lot of phone calls, emails, people on Facebook asking me if the issue is available," French expat Jacques Bernard, who runs Le Forum, Australia's only French-language bookshop, told the Sydney Morning Herald, adding that he was scrambling to get 50 copies of this week's edition delivered to his store.
The attack on Charlie Hebdo's headquarters in Paris on Wednesday left 12 people dead, including four of its renowned cartoonists. The two gunmen were shot down in the north of Paris by the police after being on the run for two days.
© Copyright IBTimes 2023. All rights reserved.