Charlie Hebdo Killings: Paris, City of Love And Lights, Plunged Into Terror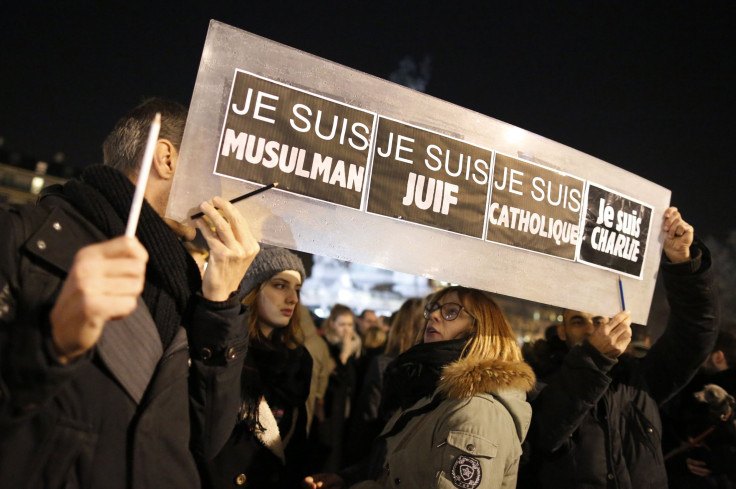 Paris, the city of love and lights, plunged into terror and darkness this week following an unprecedented attack on the office of the satirical magazine Charlie Hebdo in France's capital that killed 12 people Wednesday. The French terror suspects – brothers Saïd and Chérif Kouachi – were reportedly killed after a three-day manhunt marked by suspense and violence. At one point, the Eiffel Tower went dark and people across France grieved for their dead during a moment of silence.
The three-day nightmare began as the Charlie Hebdo staff was holding their daily editorial meeting late Wednesday morning at their central office in Paris. At least two masked gunmen – heavily armed with assault rifles and rocket-propelled grenade launchers – infiltrated the building and opened fire, killing 10 journalists and critically wounding at least four others. Witnesses of the murderous rampage said they heard the gunmen shout, "We have avenged the Prophet Muhammad" in Arabic and "You tell the media it was al Qaeda in Yemen" in perfect French.
Among the dead was Charlie Hebdo lead editor Stephane Charbonnier, 47, who had been living under police protection after receiving death threats for the left-wing publication's controversial cartoons on Islam and the Prophet Mohammad. The attackers also shot and killed Charbonnier's police guard and a police officer in the street before fleeing the scene by car, according to BBC News.
"We are threatened because we are a country of liberty," French President François Hollande told reporters at the scene Wednesday, calling the attack "cowardly." It was believed to be the deadliest attack in France in decades.
The attackers drove north and abandoned the black getaway car less than two miles away in Rue de Meaux, where they hijacked another car. French police later discovered Molotov cocktails and two jihadist flags in the getaway car, according to BBC News. When the sun set on France's bloodiest day since 1961, #JeSuisCharlie was tweeted over 2 million times by Wednesday evening.
Authorities identified the Kouachi brothers as suspects in the Charlie Hebdo killings. Chérif, 32, is a convicted Islamist who was incarcerated in 2008 and has been on the radar of French police for years. His older brother Saïd, 34, reportedly spent "a few months" training with al Qaeda in Yemen in 2011. Both brothers have been on America's no-fly list and were in the U.S. database of known or suspected terrorists, officials told the New York Times on Thursday.
Thousands of police officers were combing through northern Paris in the hunt for the Charlie Hebdo terror suspects, when a lone gunman killed a female police officer and injured a man in a Parisian suburb Thursday morning. The Kouachi brothers were also spotted and special forces deployed helicopters in Picardy in northern France.
French authorities finally corned the suspects Friday in the industrial town of Dammartin-en-Goële, a quiet community nestled 22 miles north of Paris with a population of just 8,500. Schools were evacuated and townspeople were told to stay indoors and away from windows. "We're shut inside. We can't go out," resident Sarah Delaunay told the BBC. "The town streets are deserted."
The brothers were holed up all day inside a printing house along with a hostage, but came out with their guns blazing at night. Helicopters hovered above white plumes of smoke as SWAT forces scaled the building's roof, amid bursts of gunshots and explosions. The Kouachi brothers were killed Friday during the encounter, a spokeswoman for the town told the Associated Press. "They said they want to die as martyrs," Yves Albarello, a local lawmaker inside the command post, told a French television station.
Meanwhile, gunman burst into a kosher supermarket in a Parisian neighborhood 25 miles away, just hours before the Jewish Sabbath began. The attackers, Amedi Coulibaly and his wife Hayet Boumeddiene, shouted, "You know who I am." They threatened to kill five hostages if police attacked the Kouachi brothers, an official told the Associated Press. Coulibaly, 32, is suspected of killing the female police officer Thursday and also believed to be part of the same terror cell as the Kouachi brothers.
Police stormed the supermarket and a string of deafening explosions rang out. Four hostages at the shop were killed, another four were seriously injured and a total of 15 were freed alive, the BBC News reported. Coulibaly was killed but his wife escaped. Boumeddiene, 26, remains at large, according to CNN.
Hollande declared Thursday a rare national day of mourning. Hundreds of journalists were seen raising their press cards at vigils, while journalism students raised their pens. The three-day manhunt echoed the tense moments after the 2013 Boston marathon bombing, when the entire world watched as American authorities hunted the Tsarnaev brothers in the streets and suburbs of Watertown, Massachusetts.
After the dramatic pursuit ended in the death of the two terror suspects, Paris took a deep breath for the first time in days, it seemed. "The nation is relieved tonight," said Interior Minister Bernard Cazeneuve, according to CNN.
© Copyright IBTimes 2023. All rights reserved.