Cherif Kouachi, Charlie Hebdo Killer, Told French TV He Was Sent By Al Qaeda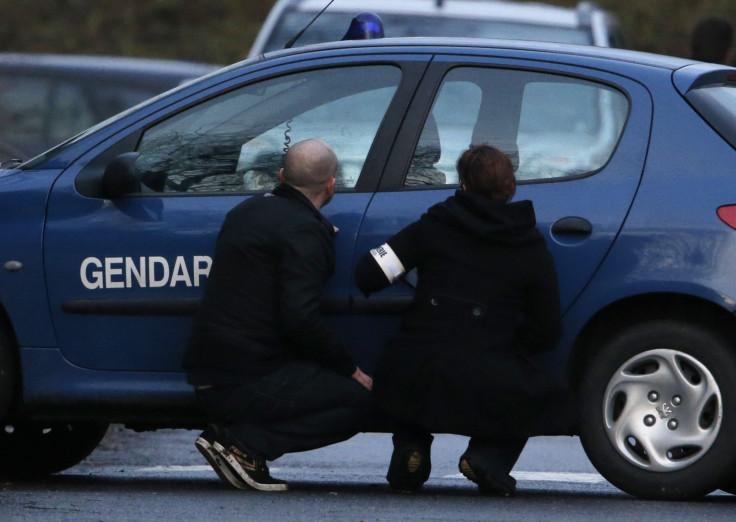 One of the two gunmen who attacked Charlie Hebdo claimed to have been sent by al Qaeda's Yemen-based branch and to have been in contact with American radical cleric Anwar al Awlaki, who was killed in a drone strike in Yemen in 2011. Cherif Kouachi, who was killed on Friday along with his brother Said in a police assault in Dammartin-en-Goële outside Paris, was interviewed by French broadcaster BFM TV on Friday morning, as he was holed up in a factory with a hostage.
A journalist with BFM explained on camera that, around 10 a.m. on Friday, a reporter called the factory from the newsroom, and Kouachi picked up. There was first a brief exchange, then a second conversation, which was taped and communicated only to police to avoid hampering the work of investigators. BFM released the tape only after the standoff ended.
In another phone call, the man who was killed after taking hostages at a kosher supermarket near Paris, Amedy Coulibaly, said he was sent instead by the Islamic State group, had coordinated his action with the brothers, and he had killed four people in the store.
Kouachi, said BFM, knew he was talking to a journalist.
"We have said we are the defenders of the Prophet, and that I was sent, Cherif Kouachi, by al Qaeda in Yemen. And that I went there and that it was Sheikh Anwar Al Awlaki who funded me," Kouachi said.
BFM also posted on its youtube channel the complete file of its interview with Kouachi, in French. In it, the 32-year old proceeded to explain the massacre, in response to a question on whether he and his brother, 34, planned to kill again.
"We are not killers! We are defenders of the Prophet. We don't kill anybody, we defend the Prophet," said a calm Kouachi. "Those who offend him, there's no problem, you can kill them," he added, refuting any claim that they had killed civilians.
"We don't kill women. We're not like you. You, you are the ones killing children in Iraq and Syria. … We have honor codes in Islam." But you killed 12 people, the reporter objected. "You said it yourself! We have avenged," replied Kouachi.
BFM also said it got a call, about five hours later at 3 p.m. Paris time, from Amedy Coulibaly, the man who had taken hostages at a kosher supermarket and was killed by police in an assault shortly afterward.
"He said he wanted to contact the police and claimed the Islamic State was behind him, and said he has instructions from the caliphate," recounted a BFM journalist on air.
"Yes, we synchronized to do the operation," Coulibaly is heard saying on tape in response to a question on whether he had coordinated with the Kouachis. Coulibaly is suspected of having killed one policewoman near Paris on Thursday before assaulting the supermarket, and said he had not been in contact with the other two during the actual attacks, nor during the two separate standoffs. The coordination happened "at the start," Coulibaly said, "they began with Charlie Hebdo and I began with the police."
According to BFM, Coulibaly also said that "there are four dead in the supermarket and he is with 16 people with children." Given what we know about the supermarket assault – that four hostages plus the attacker died – then Coulibaly's statements indicate that no hostages were killed when the special forces stormed the supermarket.
"He said he did it to defend oppressed Muslims, especially in Palestine," explained a BFM reporter, "and he chose a kosher supermarket because it served Jews."
© Copyright IBTimes 2023. All rights reserved.
FOLLOW MORE IBT NEWS ON THE BELOW CHANNELS