Charlie Hebdo Shooting: Homegrown, 'Lone Wolf' Terrorism Raises Security Concerns In Europe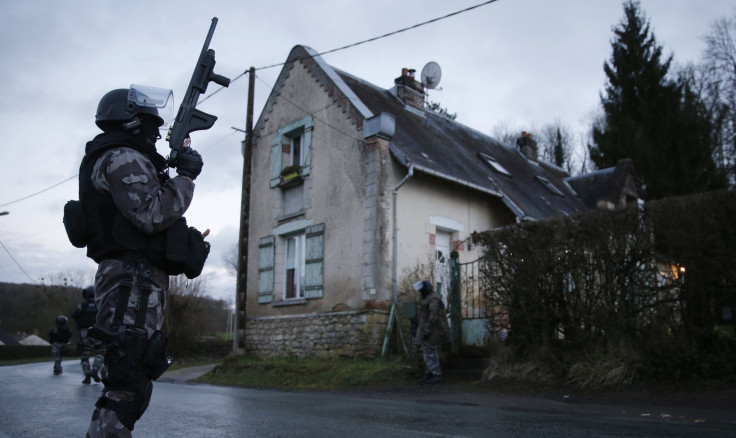 European nations are tightening security at borders and vulnerable areas this week after purported Islamic extremists carried out a shooting Wednesday that left 12 people dead outside French satirical magazine Charlie Hebdo's headquarters in Paris. Leaders stressed the enhanced measures were precautionary attempts at due diligence, given the fact that two of three suspects in the attack remained at large Thursday.
But the hair-trigger response to the Paris shooting is indicative of the West's growing concern over how to deal with the new face of global terrorism. Attacks are no longer carried exclusively by tangible militant groups with a clear, highly publicized agenda. Instead, Western nations – France in particular – have increasingly dealt with attacks from homegrown, "lone-wolf" terrorists, many of whom recently returned from the fighting in Syria or Iraq. Existing security, however alert or aggressive, has proved ineffective against this new threat.
"I'm sure [British intelligence service] MI5 and the various metropolitan police departments will be ramping up their [activity] and the electronic collection will be much more scrutinized," said Samuel Wells, senior scholar of the Global Europe Program at the Woodrow Wilson International Center for Scholars. "But if you get lone wolves, or in the worst case, a suicide attacker who simply has no desire to be completely safe and is willing to die for it, that's almost impossible to stop a large percentage of the time."
French authorities undertook a massive manhunt Wednesday to capture the Charlie Hebdo shooting suspects, who purportedly targeted the satirical magazine's staff over its sardonic depiction of the Prophet Muhammad in its weekly publication. The men were caught on video shouting "Allahu Akbar" and other Arabic epithets as they carried out the attack. One suspect, 18-year-old Hamyd Mourad, surrendered to police later that night. The other two, brothers Said and Cherif Kouachi, remain on the loose.
The Kouachi brothers are both French nationals of Algerian descent, born in Paris. Both men recently returned to France after a stint overseas in Syria, but it's unknown if they had contact with any militant groups while in the war-torn Middle Eastern nation, USA Today reports. And both were already known to French authorities. Cherif, 32, was sentenced to three years in prison in 2008 for his role in a recruiting ring that sent fighters to Iraq. Said, 34, has never been charged with a crime, but was investigated in 2010 for a potential role in a prison escape plot, CNN reports.
France boasts a sophisticated anti-terror operation that coordinates at the highest levels with the United States and other Western allies, Wells said. Yet the existing apparatus has been unable to prevent a recent flood of these homegrown, lone-wolf attacks, particularly as French-born fighters return from jihadist groups in Syria and Iraq. Nearly 200 such individuals are currently on French soil, officials said in December.
Islamic extremists were responsible for two attacks on domestic soil last month alone. A 20-year-old French-Burundian man who had recently converted to Islam stormed a police station in Tours on Dec. 20, stabbing multiple police officers before he was shot dead. The man, named Bertrand Nzohabonayo, posted an ISIS flag to his Facebook page shortly before the attack. Two days later, a unnamed man shouted "Allahu Akbar" before ramming his car into a crowd of people in Dijon, injuring 13, Reuters reported.
"What's the problem here and in the other events that preceded in December is that they're people that aren't part of any group," Well said. "They're people who get their stimulation and motivation off the Internet and maybe through the occasional meeting at a mosque. They are essentially not a part of a group, it's very hard to pick them up."
Indications suggest that these attacks were carried out by individuals, not groups. But senior ISIS leaders have explicitly appealed for lone-wolf-style attacks on the West, particularly France. Three French Islamic State group militants recorded a video in November that called for violent retribution against their home nation, according to CNN.
France and each of its neighbors now faces what has become an all-too-familiar issue in the 21st century – how to curtail terrorist attacks on domestic soil without limiting commerce or the freedoms of the average citizen. Unlike the United States, European powers consider terrorism a problem for police rather than the military, said Dr. Sean Kay, an associate at the Mershon Center for International Security Studies at the Ohio State University. Unfortunately, there's no clear answer as to how to police lone-wolf attackers that integrate seamlessly with the civilian population.
"To the extent that attacks like this are intended to provoke a response, one of the crucial things that has to happen is that the values that people in Europe hold dear have to be reinforced ... The dilemma is, you don't want to take major steps that elevate these barbaric killers into something other than what they are," Kay said. "The best way to defend the values that are important in Europe is to reinforce them while also reassuring people of basic safety and freedoms."
Many of the policies intended to reassure civilians of their basic safety are already in place, a legacy of the post-9/11 and 2005 London subway-bombings world. For example, Britain's threat alert was already at its second-highest level before the Charlie Hebdo shooting, amid similar concerns regarding citizens who recently returned from Syria or Iraq. Some British leaders, led by David Cameron, support legislation that would revoke the citizenship of any national who went overseas to join ISIS.
The British Interior Ministry confirmed Thursday that security would be increased at borders, ports and other areas of international traffic as a precaution after the Paris attack. Germany, Belgium and Spain have each held top-level security reviews, while Italy has increased police presence at "sensitive targets" for the time being, ABC News reports.
The rise of homegrown and lone-wolf terrorism will lead to long-term policy changes that will vary from nation to nation based on the inherent ideologies of those who hold authority.
"These things will be debated and it will vary according to the government that's in power. Some of the governments, if they're center-left or coalitions of the left, are reluctant to clamp down on immigration and on policing because a lot of their voters are from immigrant groups or are very much civil libertarians. More conservative governments, like Britain, will clamp down," Wells said.
© Copyright IBTimes 2023. All rights reserved.
FOLLOW MORE IBT NEWS ON THE BELOW CHANNELS