Chattanooga Shooting Victims' Funeral: Westboro Baptist Church To Picket Services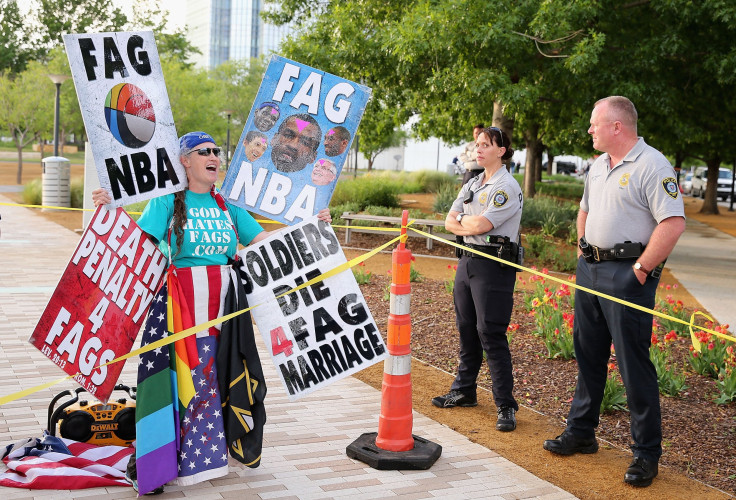 The Westboro Baptist Church's Twitter page indicated that it has planned to picket the Chattanooga, Tennessee shooting victims' funeral services. Locals have begun to plan a peaceful counter protest if Westboro shows up at the funerals, Chattanooga Times Free Press reported.
The church tweeted that God had sent the shooter to Chattanooga on Thursday to kill his victims -- four U.S. Marines and one naval officer -- because of the recent legalization of same-sex marriage. Tweets emerged from the church's Twitter account beginning Saturday and featured photos of protest signs that read "God Sent the Shooter" accompanied by the hashtag #picket.
A counter protest has been planned through the Facebook page, "Wall against Westboro," which had nearly 10,000 members. The counter protest was planned to be peaceful, "where we as a community show these families our admiration for their loved ones," the Chattanooga Times Free Press reported. There was also a petition being circulated on Change.org in an attempt to make Westboro's presence in Chattanooga illegal.
"If their awful presence is made illegal in our town, or whatever town the funerals are to be held, we can save the families a lot of unnecessary negativity, as well as possibly save the lives of WBC members," wrote the author of the petition, identified as Danielle Boss.
Westboro Baptist Church is based in Topeka, Kansas and has a history of using the tragic deaths of many Americans as an opportunity to voice their opposition to gay marriage. In the past, the church had picketed the funeral of a Boston marathon bombing victim as well as the funeral of John Edwards' wife, Elizabeth Edwards, and countless military service members' funerals.
The victims of the Chattanooga shooting -- where local man Mohammod Youssuf Abdulazeez took aim at two separate local military installments -- included Skip Wells, Randall Smith, Thomas Sullivan, Carson Holmquist and David Wyatt. A motorcade honored the victims Sunday in Chattanooga.
© Copyright IBTimes 2023. All rights reserved.