Cheatham County Schools Lockdown: Vague Email Threats Prompt Lockdowns In Central Tennessee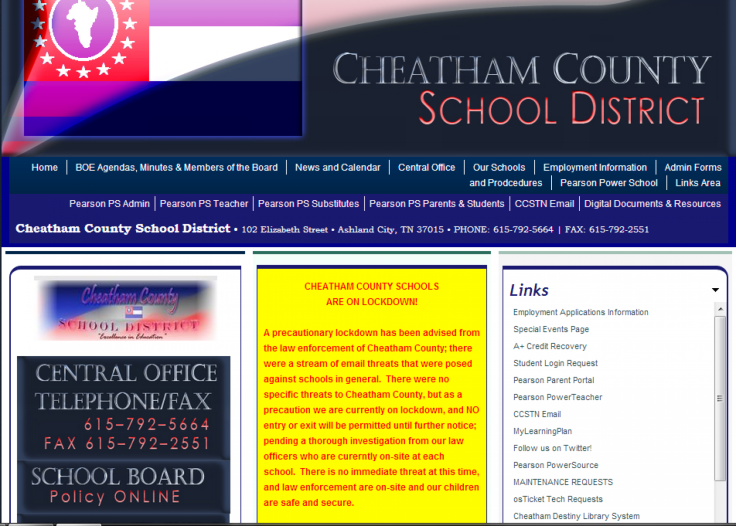 This is a breaking news story. Check back for updates.
Every school in Cheatham County, Tenn., is on lockdown Wednesday morning due to email threats, the Cheatham County School District announced.
While there were no specific threats to the schools just west of Nashville, the school district instituted a districtwide lockdown.
"A precautionary lockdown has been advised from the law enforcement of Cheatham County; there were a stream of email threats that were posed against schools in general," the school district posted on its website Wednesday morning. "There were no specific threats to Cheatham County, but as a precaution we are currently on lockdown, and NO entry or exit will be permitted until further notice; pending a thorough investigation from our law officers who are currently on-site at each school. There is no immediate threat at this time, and law enforcement are on-site and our children are safe and secure."
UPDATE 10:30 a.m. EDT: Schools in Clarksville-Montgomery County are under lockdown as well. The Clarksville-Montgomery School System left the following message on its Facebook page:
"CMCSS is on a systemwide modified lockdown. The City Police Department notified the school district this morning that a police department employee received two threatening emails against the employee, the employee's family and threats against unidentified schools. Since there has been no specificity of schools, the system has taken a cautionary approach. Police are investigating the threat."
UPDATE 1:27 p.m. EDT: The lockdowns in Cheatham County have been lifted. There's still now word if Clarksville-Montgomery schools followed suit. From the Cheatham County School District website:
"Cheatham County Schools have been cleared from lockdown and all dismissals will be associated with their regularly scheduled times."
© Copyright IBTimes 2023. All rights reserved.