Chelsea Clinton Pregnant: Baby Gender And Name Possibilities; Boy And William Seen As Favorites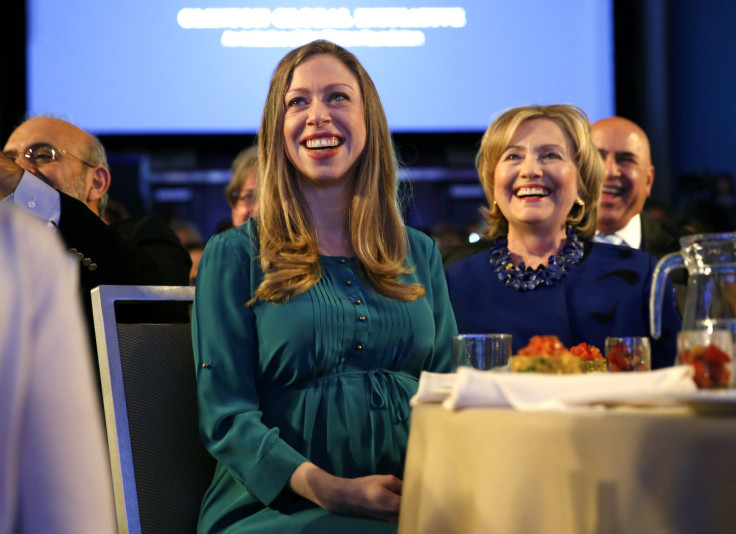 Chelsea Clinton is due to give birth at any moment, and while former President Bill Clinton said neither he nor his daughter know the gender of his future grandchild, an Irish oddsmaker appears to have a hunch that the baby will be a boy. Five of the six baby names with the lowest odds on Paddy Power's website are male.
William is the frontrunner with 6-to-1 odds, according to Paddy Power, meaning the Irish bookmaker thinks the likeliest outcome is that Chelsea Clinton and husband Marc Mezvinsky are going to name their baby after the former president. Marc and Edward (Mezvinsky's father's name) are tied in second with 8-to-1 odds.
Adam Lerner of Politico has a different take on how Chelsea Clinton should name her baby -- at least if she has her mother's presidential ambitions in mind. Lerner suggested, tongue in cheek, that she and Mezvinsky pick Liam. The name tops the list of newborn boys' names in both Iowa and New Hampshire, the first two voting states in the 2016 campaign. But that name isn't one of the choices on Paddy Power's website.
"Though we know it's unlikely, if Bill and Hillary take little Liam Mezvinsky for his first Christmas in Dubuque later this year, we'll assume she's running," Lerner wrote. "The other upside of Liam: Chelsea could put 'William' on his birth certificate and thus still name the baby after dear old dad."
If Chelsea Clinton's baby is a girl, Madeleine is the odds-on favorite at 9-to-1, followed by Diane, Hannah, Sarah and Blythe at 12-to-1. Also at 12-to-1: Hillary. Most unlikely is the Mezvinskys' wanting to dig up the Monica Lewinsky scandal through their choice of baby name: Monica is the longest of longshots, at 200-to-1.
Paddy Power thinks it's almost equally unlikely that Chelsea Clinton will take her college education into account when it comes to naming her baby. Stanford is listed at 100-to-1 odds, the same for another unlikely choice: Barack.
© Copyright IBTimes 2023. All rights reserved.
FOLLOW MORE IBT NEWS ON THE BELOW CHANNELS