Chelsea Transfer Rumor: Blues Looking To Bring In Ivorian Midfielder As The Next Michael Essien?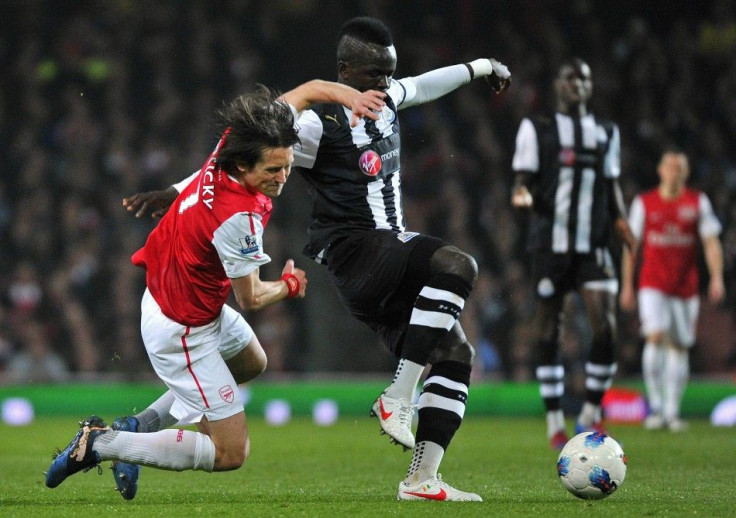 If new rumors are to be believed, London-based cash-rich Premier League giant Chelsea are planning to make a move for Newcastle United's Ivorian Central midfielder Cheick Tiote when the transfer window opens in the summer.
The Blues are looking for a suitable option to fit into the boots of injury-ravaged Ghanaian box-to-box midfielder Michael Essien, and Tiote perfectly fits in their plans for the next season.
Tiote has been one of the outstanding performers at the Premier League this season and has nearly single-handedly kept the Magpies in the hunt for the top four spots in the ongoing season that will ensure the St James' Park-based side a taste of Champions League football next season.
However, many believe that if Newcastle fails to finish in the top four in the current season, Chelsea may have a chance to lure away the Cote d'Ivoire midfield man. On the other hand if Chelsea loses out the fourth place to either Tottenham or Newcastle, it may become difficult to acquire the services of the player.
Either way, Tiote could look to get a season of Champions League either with Newcastle or with Chelsea if he decides to change clubs before the next season begins. Tiote hasn't been able to be a part of Europe's most elite competition since joining Newcastle in 2010.
Nonetheless, the Magpies' luck could change this year if Alan Pardew's men hold their nerve and successfully clinch the fourth place. Although the third position is out of reach of the Newcastle at the moment as North London side Arsenal are looking well settled in that position, the St James' Park outfit will be happy with the fourth place.
But again they will know that they will have to fight it out for the position as likes of Chelsea and Tottenham are breathing behind their necks. Currently, Newcastle are tied with Tottenham on 59 points.
It is now being said that if Chelsea decide to make a move for Newcastle's Tiote, they might have to shell out a hefty amount which will be somewhere around $31.64 million (£20 million) for the talented Ivorian. With Chelsea players like Mikel John Obi not really living up to expectations and an injury marred stint for Michael Essien, the club will be looking to bring in Tiote sooner rather than later.
Moreover, the Blues have always searched for a talented holding midfielder since the departure of Frenchman Claude Makelele in 2008 for French Ligue 1 side Paris Saint-Germain, and now Tiote can fit well in that area as well.
Cheick Ismael Tiote, who joined Newcastle United in August 2010 for a fee of $5.54 million (£3.5 million) from Dutch Eredivisie side FC Twente, has made as many as 47 appearances for the Magpies in all competitions thus far. He has also made 29 appearances for Cote d'Ivoire.
© Copyright IBTimes 2023. All rights reserved.