Chelsea Transfer Rumours - Rodwell latest addition to Chelsea rumours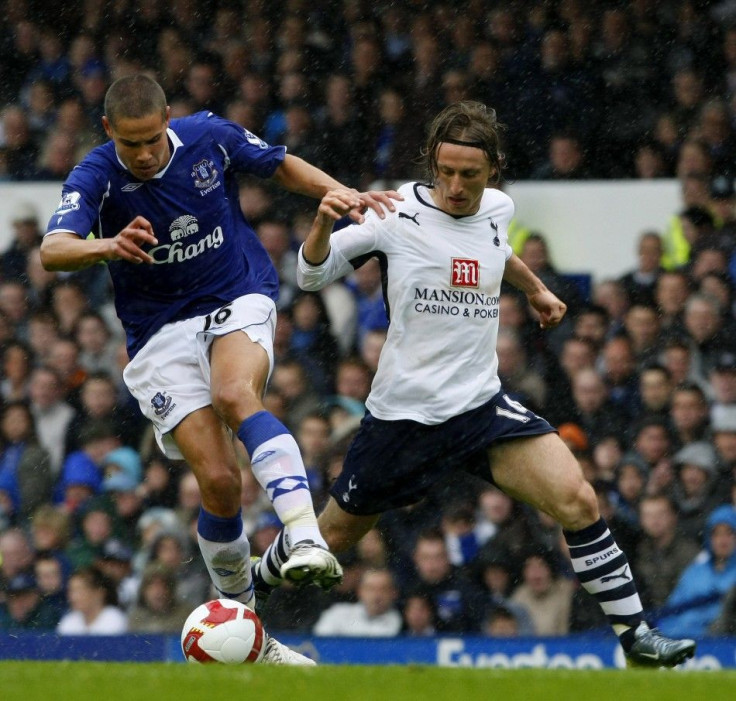 Chelsea owner Roman Abramovich's radical methods are no clearer than in this transfer window. Looking to bring down the average age of his squad, the Russian billionaire is prepared to spend lavishly on quality youth this term.
To that effect, the latest player the club is rumored to be interested in is Everton's 20-year old Englishman Jack Rodwell who, according to The Daily Mail, is also a target for cross-town rivals Tottenham Hotspur as well as the two Manchester clubs.
Being an Englishman will also help meet UEFA's homegrown rule and Abramovich is likely to match the youngster's £25million transfer fee.
The Blues' old-guard of Frank Lampard and Michael Essien could also find themselves competing for places with Luka Modric, who is believed to be eking towards a move despite Harry Redknapp's assertion that he is staying put.
The Sunday Telegraph's claims have been backed by The Mirror, who reported that Abramovich has given-the-go to meet Brazilian starlet Neymar's £30 million asking price, along with a tempting £70,000 per week in wages.
If Neymar does join, along with the rumored Romelu Lukaku who is dubbed the 'New Didier Drogba', Chelsea will have an abundance of forwards. The old-timers such as Nicholas Anelka, the experienced Salomon Kalou and even the original Didier Drogba are likely to move on.
One thing that is certain is that 21-year-old English striker Daniel Sturridge will remain at the club as Chelsea slapped a £20 million price-tag on him to ward off potential suitors. In fact, the England under-21 star has received the backing of former Chelsea assistant manager Ray Wilkins who hailed him as an exceptional talent.
Wilkins told talkSPORT, He's an enormously talented guy, he's extremely quick and I've seen him rip the Chelsea senior players to pieces in training, but that has obviously got to be translated on to the Saturday afternoon. Unfortunately at Chelsea it didn't quite happen on the Saturday's for Daniel, but going to Bolton where there was slightly less pressure he flourished and played some excellent football.
He's still only a young man. I honestly believe Daniel can be anything he wants to be if he's prepared to give the blast. I think he could be an exceptional talent for Chelsea.
Chelsea could also be encouraged in their pursuit of Internazionale midfielder Wesley Sneijder who backtracked on his previous comments stating that he was happy at Inter, to suggest that he is open to a move - a point accentuated when he referred to Inter fans in the past tense.
He told Gazzetta dello Sport, The Inter fans have always treated me very well. They were wonderful and I want to simply thank them. Only God will decide where my future lies. I can be certain of one thing: if I remain at Inter, then I will give my all to win everything again.
When you have had the greatest and most surprising year of your life (winning a treble in 2009-10), it's only natural that the next will be less rewarding. Not everything can be perfect. I had fun in my second year with Inter and was satisfied, even if we didn't win everything. At least this way we still have a few more objectives to reach. I love Inter with all my heart.
Other players rumored to be on Chelsea's radar are Udinese's Alexis Sanchez, Genk's Kevin de Bruyne and Ajax 19-year-old Christian Eriksen.
One player who could be on his way out of Chelsea is midfield powerhouse Michael Essien. The Ghanaian recently expressed his interest to stay at the Bridge but ex-Chelsea manager Jose Mourinho is reportedly looking to take him Real Madrid.
According to the Daily Express, Madrid defensive midfielder Lass Diarra is unhappy at playing second-fiddle to Sami Khedira, and with Fernando Gago also on his way out, Mourinho is keen to land Essien, who was brought to Stamford Bridge by the Portuguese tactician in 2005, to Madrid.
The report goes on to suggest that Chelsea are willing to listen to offers from Madrid, though only if they match the £18 million price-tag.
© Copyright IBTimes 2023. All rights reserved.