Chevron Corp., Long-Time Stock Favorite, Faces Legal Problems At Home, Abroad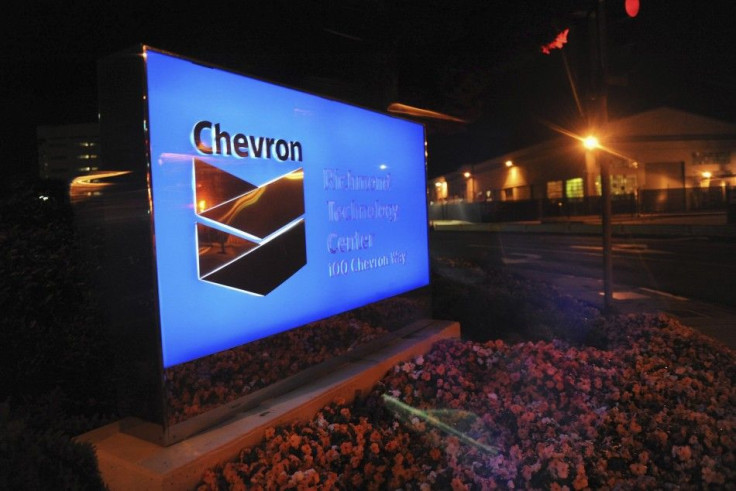 Indonesia's announcement Tuesday it would not release four Chevron Corporation (NYSE: CVX) employees arrested last month over a failed project in Sumatra marks the latest episode in an ongoing series of legal dramas facing America's second-largest oil company.
From the jungles of Indonesia to the shores of Brazil to the Ecuadorean interior to 35 miles from the company's headquarters in San Ramon, Calif., Chevron is dealing with expensive problems that are likely to leave this consistent dividends-payer and darling of investment funds a less attractive choice in the near term. Chevron stock price has traded over $100 for most of the past year. But as recently as March 2009, the stock fell below $60, compared to $114 this week.
Last week the U.S. Supreme Court refused to hear Chevron's bid to block a verdict in Ecuador that capped an eight-year court battle with the South American country over decades of environmental and public health damages caused by Texaco, which Chevron bought in 2001. When Chevron acquired Texaco it also inherited the company's liabilities, most notably its activities in the Amazon basin in Ecuador. In February 2011, Ecuador won its case, ruling Chevron responsible for 28 years of toxic waste dumping that affected tens of thousands of locals and the immediate environment.
The Texaco case alone has Chevron on the hook for $18.2 billion if it can't find a way to disarm Ecuador's local court victory. The damages levied against Chevron in Ecuador represent more than 8 percent of the company's current market cap.
Here's a roundup of Chevron's other problems that could affect company dividends, not to mention reputation:
Brazil Spills

Brazil's National Petroleum Agency said Thursday Chevron forked over $17.3 million related to a spill of more than 155,000 gallons (3,000 barrels) of crude off the coast of Rio last November. Financially, the penalty is a drop in a barrel for a company worth more than $223 billion, but that's not the only lawsuit pertaining to Brazil spills. Chevron and Swiss-based Transocean LTD (NYSE:RIG), an offshore drilling contractor, are also being sued by Brazilian prosecutors for $22 billion in spill-related damages. Further, 17 company executives, including the Brazil-based heads of both companies, face criminal charges, according to The Associated Press. Brazil's Oil Workers Federation (FUP) also joined in by suing the two companies, demanding they leave Brazil and their $2 billion in investment there. Both companies have until next week to comply with a court order to suspend operations in the country until further notice.
California Fuming
Chevron faces lawsuits and criminal charges linked to an Aug. 6 fire at the company's Richmond, Calif., refinery that forced the suspension of its crude oil processing units until at least the end of the year. A federal investigation into the fire that sent up a plume of black smoke that could be seen from San Francisco, 20 miles away, and sent thousands to seek medical attention for respiratory problems, revolves around a corroded pipe that was checked a year earlier during routine maintenance. Dozens of workers that had been engulfed by the flammable vapor prior to ignition narrowly averted death. The Environmental Protection Agency has its own investigation into whether Chevron unlawfully used a bypass pipe to deceive equipment used to measure pollutants. The company already paid $170,00 in fines for using the bypass 27 times between 2005 and 2009. If the federal probe concludes company officials performed this bypass to hide emissions, a punitive fine against the company and criminal prosecution of individuals could ensue — not to mention the potential lawsuits from locals claiming respiratory damage.
Sumatra Scandal
Indonesia's investigation into a Chevron subsidiary charged with cleaning oil from soil, a process called bioremediation, won't likely end up with huge sums of money paid, but a corruption scandal of company officials would certainly affect operations in Indonesia and possibly open the way for more scrutiny of the company's operations elsewhere. So far, four high ranking local officials of PT Chevron Pacific Indonesia are being held with charges pending, and prosecutors insisted Tuesday they would not be released, according to The Wall Street Journal. Indonesia's attorney general's office contends the men deceived the government about the amount of soil Chevron was cleaning up, costing the public treasury $23 million.
While no global oil company exists without the continuous threat somewhere regarding real or fabricated damages to the environment or public health, Chevron seems to be facing a perfect storm of problems at home and abroad that -- coupled with the current global economic doldrums, a possible oil glut in the near term and increased scrutiny of offshore operations in a post-Deepwater Horizon world – could cause money managers to adjust their own exposure to Chevron shares.
Shares rose $1.35 to $114.18 in afternoon trading.
© Copyright IBTimes 2023. All rights reserved.
FOLLOW MORE IBT NEWS ON THE BELOW CHANNELS