Chicago Bears News: Brandon Marshall, Alshon Jeffery Lead Wide Receiver Corps, Give Jay Cutler Dangerous Weapons in 2012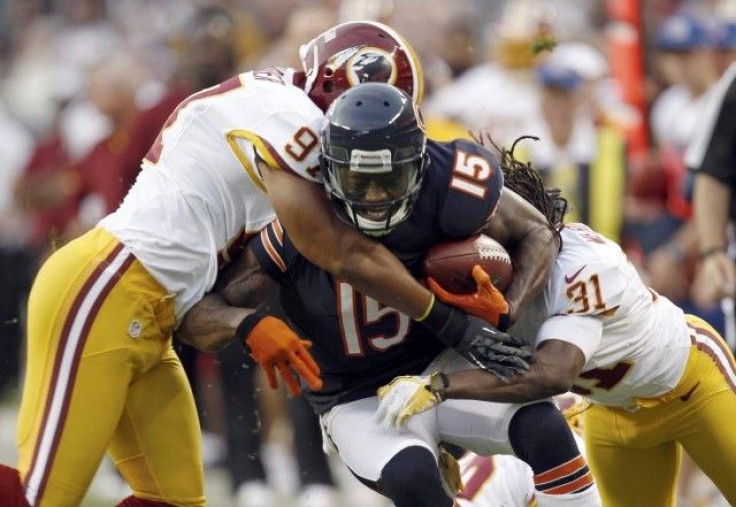 The Bears are usually known for their defense. Chicago has a history of winning games, despite a sometimes anemic offense.
Chicago looked to change that in 2009 by trading for Jay Cutler. Last season, the Bears finished the season poorly when Cutler went down with an injury, and missed the playoffs. Now, Chicago is looking to make a Super Bowl run with a healthy offense.
Cutler led the Bears to the NFC Championship Game in 2010 without a strong wide receiving corps. Even after acquiring a potential franchise quarterback, the Bears never surrounded him with much talent.
Finally, it looks like Chicago might have surrounded their quarterback with a few weapons. Cutler hasn't had a 1,000-yard receiver since he left Denver, and there's a good chance that will change in 2012.
Brandon Marshall joined the Bears this offseason in a trade with the Dolphins. Chicago sent Miami two third-round picks for one of the best wide receivers in the NFL.
Marshall immediately becomes Cutler's No.1 target, coming to the Bears after having five straight seasons of over 1,000 receiving yards. He was productive in just one half of play in Chicago's second preseason game, catching two balls for 61 yards.
It's the first time in years that the Bears have a wide out who has a chance to make the Pro Bowl. Marty Booker was the last Chicago wide receiver to play in the game in 2002.
Along with Marshall, Alshon Jeffery has shown signs that he can be a solid contributor in the upcoming season. The rookie from South Carolina has been the team's top receiver in both preseason games. He has seven receptions for 97 total yards against the Redskins and Broncos.
Jeffery will benefit from playing with Marshall. He could have a very good year as a second or third option. Chicago drafted him with the 45th overall pick in April's draft.
After struggling in Week 1 of the preseason against Denver, Chicago scored 33 points in a win against Washington. With a healthy Cutler and Matt Forte at running back, the Bears have a chance to be one of the better offenses in the league.
There is some risk involved with relying on Marshall and Jeffery to help catapult the team's offense.
Marshall has had off-the-field issues for his entire career. He's been involved in several domestic disputes, and was accused in March of hitting a woman. Those charges were dropped, and Marshall avoided a suspension.
Jeffery has looked good in two games, but he has no proven track record as a professional. Rookie wide receivers don't typically have much of an impact, so it might be difficult to continue his success during the regular season.
The Bears play their first meaningful game on Sept. 9 against the Colts.
© Copyright IBTimes 2023. All rights reserved.