Chicago Cubs Fan Makes Giant Gingerbread Replica Of Wrigley Field After World Series Win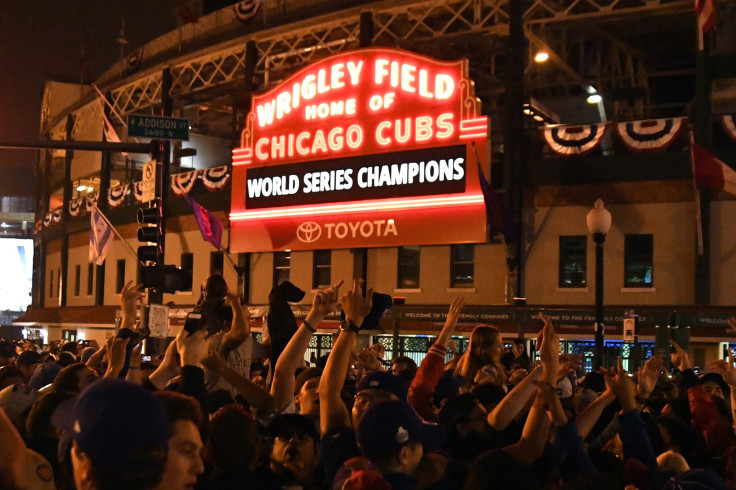 It's been quite a year for the Chicago Cubs and their fans are going out of their way to pay tribute to the team that brought home the club's first World Series title in 108 years. The latest comes in the form of a giant replica of home ground Wrigley Field made from 400 pounds of gingerbread and edible treats.
Chef Gerald Madero and his team at the Forest Hills Country Club in Rockford, Illinois, undertook the project to build the 4-feet by 4-feet gingerbread house replica of the baseball park, putting in 70 hours over two weeks to ensure the Field was entirely edible, complete with gelatin windows, edible paper scoreboard, cracker seats, cookies for the floor icing trim and jelly candies for the flags. The players, however, were Legos.
"Every year we do a display," Madero told People magazine. "We were just kicking around ideas and everybody thought it would be cool if we did Wrigley Field. I said I could totally do that. I love the challenge. The Cubs win is just the perfect thing — 108 years. What could be better?"
In an interview with local news station WRBC, Madero explained: "We had to cut and measure templates, square everything off, make sure it all measured out so everything is even. It was a lot of work."
Madero was a carpenter by profession until about six years ago, which he said gave him the expertise to go through with this ambitious project. "Not having those skills probably would have made it almost impossible," he told the Rockford Star.
The to-scale replica of Wrigley Field will be on display until New Year's Day, after which, according to Madero, "We just trash it."
Earlier this month, the Cubs beat the Cleveland Indians by winning 8-7 in a 10-inning game, after being down 3-1 in the series. This was their first World Series title since 1908, sparking celebrations among fans, some of whom had eagerly waited years for this moment.
Earlier this month, Chicago Mayor Rahm Emanuel expressed pride in the team's win by saying: "2016 is the year for the Cubs and the generations of fans who have been waiting to the fly the World Series W. Go, Cubs, go."
© Copyright IBTimes 2023. All rights reserved.