Chicago White Sox Philip Humber Throws Perfect Game, Only 21st In MLB History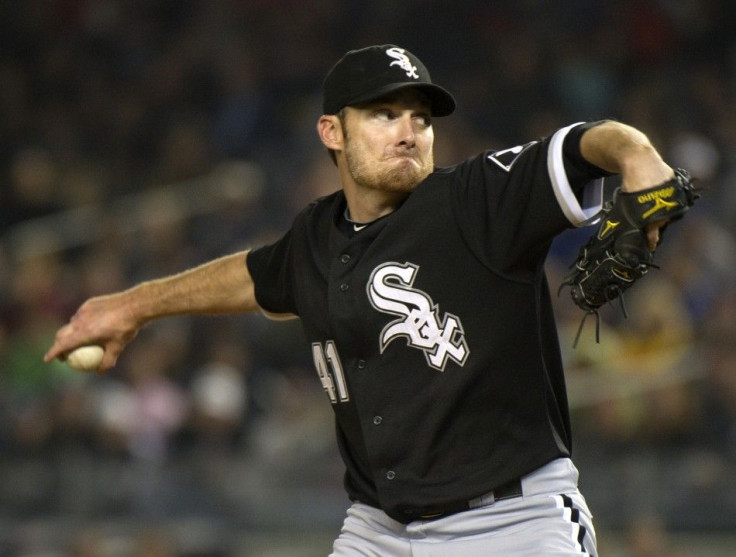 Chicago White Sox pitcher Philip Humber threw the first perfect game of the season -- and only the 21st in the history of Major League Baseball -- to lead the Sox to a 4-0 win over the Seattle Mariners on Saturday.
Humber's no-hitter was the first in the majors since the Philadelphia Phillies' Roy Halladay threw one on May 29, 2010, against the Florida Marlins. Humber's gem was the third perfect game to be pitched in Chicago White Sox history. The last one for the team was thrown by Mark Buehrle against the Tampa Bay Rays on July 23, 2009. Preceding Buehrle was Charles Robertson, who achieved perfection against the Detroit Lions on April 30, 1922.
I'm just so happy. There's so many good things happening right now, and this adds to the list, said Humber, whose wife is expecting, according to USA Today. When you have a four-run lead, you don't want to walk a leadoff guy. I felt myself overthrowing a bit, but was able to get back over the plate. A lot of credit goes to [our catcher, A.J. Pierczynski]. He did a great job calling the game and blocking balls.
Humber was quick to credit many of his teammates, including Brent Lillibridge and Alex Rios, for recording crucial outs on hard-hit balls. The right-handed White Sox starter was previously 11-10 in his major-league career and was waived by the Oakland Athletics before being claimed by the Chicago White Sox.
Humber, 29, was drafted by the New York Yankees in 2001, but he never signed with the team. He attended Rice University where he helped bring the university's baseball team, the Owls, a national title. In 2005, Humber required Tommy John elbow surgery while he was playing in the minor leagues, waiting for an opportunity to join a major-league team. His made his major-league debut against the Washington Nationals while playing for the New York Mets in 2007.
© Copyright IBTimes 2023. All rights reserved.
FOLLOW MORE IBT NEWS ON THE BELOW CHANNELS