Chile vs. Uruguay 2015: Prediction, Preview For Copa America Quarterfinal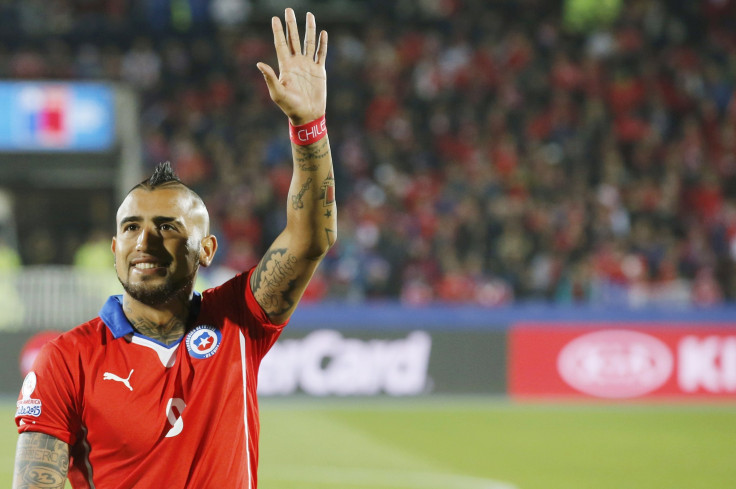 The hosts will take on the holders at the Copa America on Wednesday as Chile and Uruguay vie for the first spot in the semifinals. When the two frequent foes go head-to-head in the Chilean capital of Santiago, it will also bring together the most successful team in the competition's 99-year history and the only team to have played in all its 44 editions yet to win the trophy.
The pressure is on Chile like no other team in this Copa America. Playing in front of their home fans, La Roja is widely thought to have its best chance yet of lifting a first senior international title, with arguably the best generation of players the country has ever seen. Through the group stage they have done little to discourage that viewpoint.
In particular, Chile produced the best team performance of the Copa America so far when beating Bolivia 5-0 in their final match of the group stage. With both teams already knowing they were through to the last eight ahead of the match, there was very little riding on its outcome, yet Chile gave a sparkling account of their vibrant attacking play. With the likes of Alexis Sánchez, Arturo Vidal, Charles Aránguiz, Jorge Valdivia and Eduardo Vargas, Chile have a stirring blend of intensity, creativity and technical quality.
But the tournament has not been without its problems for Chile. On the pitch, the team's defense, and in particular its lack of height, was exposed in a 3-3 draw with a second-string Mexico. With such an attack-minded team under coach Jorge Sampaoli, it is the ability of the defense to hold firm that continues to cause plenty of concern.
More serious headaches have been provided away from the stadiums, however. A little over 24 hours after producing perhaps the outstanding individual display of the group stage against Mexico, Vidal crashed his Ferrari in the early hours of the morning and was arrested for driving under the influence of alcohol. Having been released from jail before shedding tears in front of the cameras at a hastily arranged press conference, the Juventus midfielder was controversially allowed to play on in the Copa America, with Sampaoli playing down the incident. What impact the whole event will have on Vidal, and potentially his teammates, going forward, however, remains to be seen.
Uruguay's problems already arrived ahead of the Copa America. Luis Suárez remains suspended thanks to his biting incident at last year's World Cup, leaving Uruguay shorn of its star name and one of the world's very best players. Without the Barcelona forward, veteran coach Óscar Wáshington Tabárez has a largely familiar team of battle-hardened players supporting the one remaining top-level attacking talent, Edinson Cavani.
For a Uruguay team seeking to defend the trophy they won for a record 15th time four years ago, that game plan proved enough to get them through the group stage. Uruguay scored just two goals in three games, in a 1-0 victory over Jamaica and 1-1 draw with Paraguay, as well as going down 1-0 to Argentina. In terms of styles, it promises to be an intriguing contrast in Santiago. In opposition to the effervescent commitment to attack from Chile, will be the gritty, wily experience of Uruguay.
Certainly Uruguay have one of, if not the best, center-back pairings in the Copa America, in Atlético Madrid pair Diego Godín and José Giménez. And the duo will surely be crucial to Uruguay's hopes of reaching a sixth successive Copa America semifinal against a Chile team that has failed to reach the last four since 1999.
Prediction: Chile looked superb against Bolivia, but won't be afforded anything like the same space to play when taking on a steely Uruguay side. And Uruguay can never be ruled out, especially as both their goals so far have come from set-pieces and they have the physicality to cause Chile ample problems with aerial balls directed into the box. But the greater talent is with Chile, and with a passionate home support in their favor, the hosts should, just barely, prevail.
Predicted score: Chile 1-0 Uruguay
© Copyright IBTimes 2023. All rights reserved.