China Added 60 Nuclear Warheads To Its Arsenal Last Year - IBT Graphics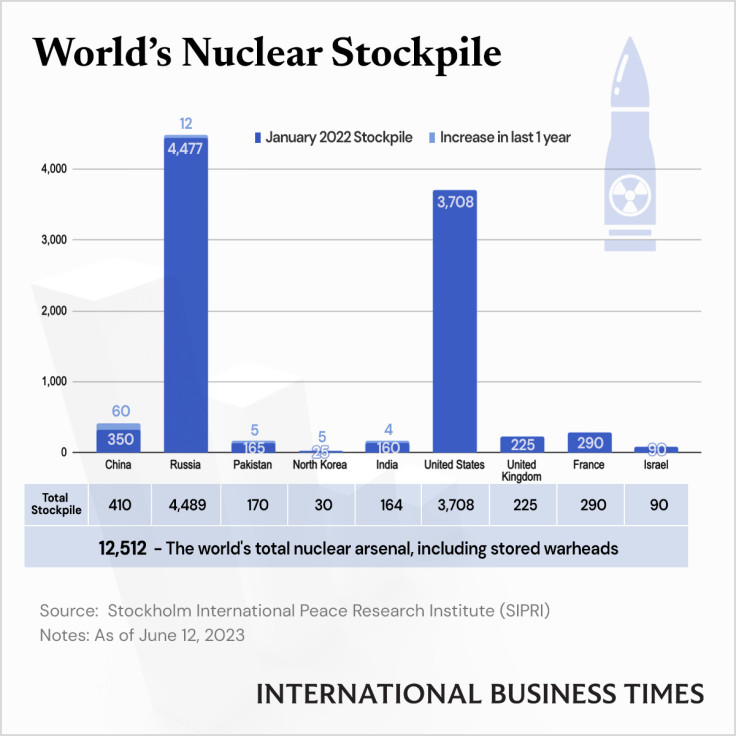 Many of the world's nuclear powers are continuing to grow their nuclear arsenals.
As of January 2023, the total global inventory of nuclear warheads is estimated to be 12,512, data released by the Stockholm International Peace Research Institute shows. Out of these, 9,576 are in military stockpiles ready for potential use -- 86 more than in January 2022.
China, the world's third-biggest nuclear power, added the most number of new warheads (60) in 2022. The Middle Kingdom's nuclear arsenal grew from 350 warheads in January 2022 to 410 in January 2023, and it is expected to increase further amid global geopolitical tensions. The U.S. and Russia together own about 90% of all the total nuclear weapons worldwide. Russia increased its arsenal by 12 warheads.
Meanwhile, the U.S. U.K., Israel, and France did not grow their nuclear weapon arsenal in 2022. France is developing a third-generation nuclear-powered ballistic missile submarine (SSBN) and a new air-launched cruise missile. The others who grew their nuclear arsenals are Pakistan (5), North Korea (5) and India (4).
© Copyright IBTimes 2023. All rights reserved.