US Navy Leads Elite Carrier Club With 11 Nuclear-Powered Ships - IBT Graphics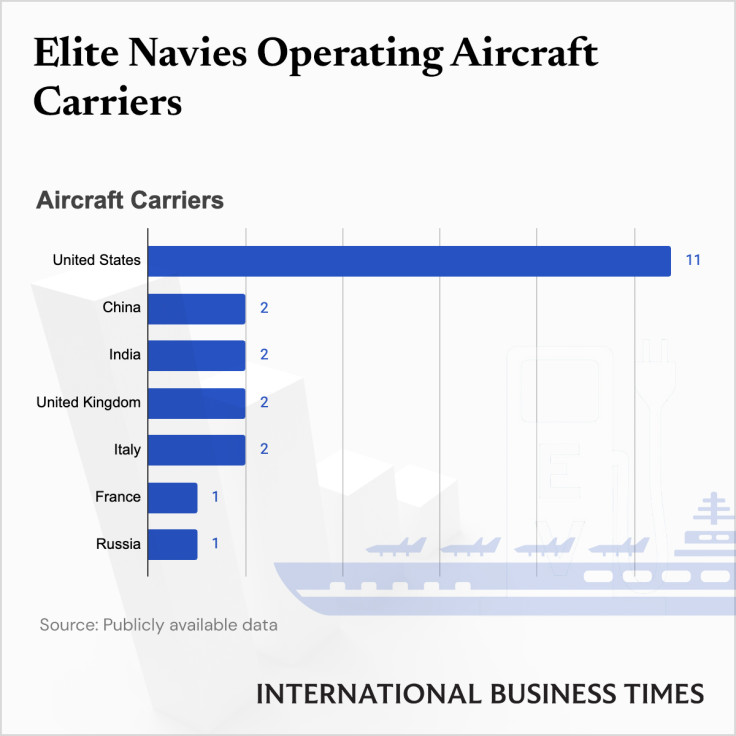 Aircraft carriers are the most feared tool for projecting power across the world. Navies that operate carriers, therefore, form an elite, and powerful, club.
With a total of 11 ships in active service, the U.S. Navy has the world's largest fleet of aircraft carriers -- all nuclear-powered. The first American aircraft carrier commissioned was the USS Langley in 1922. The largest aircraft carrier in the world is the Gerald R. Ford, the lead ship in its class, which weighs 100,000 tonnes and measures 1,106 feet in length. China, India, Italy, and the U.K. operate two carriers each, while the French Navy has one nuclear-powered carrier. The Russian navy operates one too.
This list does not include helicopter carriers, whose primary purpose is to operate helicopters. While traditional aircraft carriers can carry dozens of fighter jets, helo carriers field fleets of helicopters, such as variants of the SH-60 Seahawk. The U.S. has 9 helo carriers, nearly as many as other countries combined, followed by Japan and France, with each possessing four helo carriers. Around 11 countries have at least one helo carrier, with many more under construction.
An aircraft carrier can cost anywhere between $5 billion and $10 billion to build. The Gerald R. Ford cost $13 billion. They are also expensive to operate and usually are fielded in battle groups, comprising support ships and submarines. India recently held exercises involving two carrier groups, the only country other than the United States to manage the complex operation.
© Copyright IBTimes 2023. All rights reserved.