China Bulks Up Troops Around Taiwan, US Sends Carrier Forces In Reply
KEY POINTS
Satellite images show China expanding an airbase in Fujian
The Chinese airbase is packed with Flanker-series fighters
Multiple Chinese warships were also spotted off Taiwan's coast
House Speaker Nancy Pelosi's potential visit to Taiwan has stoked further tensions in the Indo-Pacific, with both the U.S. and China ramping up military strength around the Taiwan Strait.
While the U.S. has sent the aircraft carrier USS Ronald Reagan and its strike group towards the disputed waters, satellite images show the People's Liberation Army (PLA) too has expanded an airbase in Fujian, a province lying across Taiwan, reported South China Morning Post.
The report, quoting Beijing-based think tank the South China Sea Strategic Probing Initiative, stated that USS Ronald Reagan has set out from Singapore Monday, and is likely heading northeast towards the South China Sea. The carrier is accompanied by a guided missile destroyer and a guided missile cruiser.
Though the U.S. Navy has not yet given any updates about where the carrier group is headed, the route would bring the warships to the Taiwan Strait.
This comes amid China's strong protest over Pelosi's potential Taiwan visit. Beijing had stated that it was "seriously prepared" for Pelosi's visit, and the U.S. would have to suffer "serious consequences" if the Speaker moves ahead with her plans.
Though Chinese-state-backed media Global Times reported that the PLA warplanes could likely "accompany" Pelosi's plane, U.S. officials have maintained that they do not think Beijing would attack Pelosi's plane if she flies to Taiwan.
Amid speculations that China may impose a no-fly zone over Taiwan and send jets into the island's Air Defense Identification Zone, the U.S. too is reportedly prepared for the visit. Reports added that the U.S. would use fighter jets, ships, surveillance assets and other military systems to provide overlapping rings of protection for Pelosi.
Meanwhile, satellite images from the Longtian Airbase in Fujian show the base packed with Flanker-series fighters – either Russian-made Su-27s or the Chinese variants from the J-11 or J-16 series – and special drones made from old J-6 jets. It just takes seven minutes for the fighters to reach Taiwan from Fujian.
According to South China Morning Post, if an armed conflict breaks out, China could send to Taiwan thousands of pilotless J-6s as decoys to overwhelm the air defense system.
Meanwhile, Taiwan's Defense Ministry has said that multiple Chinese military vessels were spotted in the sea off the island's eastern coast for two consecutive days. PLA Navy's guided-missile frigate Huanggang was detected 76 km southeast of Green Island heading south on Tuesday. An hour later, Taiwanese forces spotted an oceanographic surveillance ship "Tianjixing," 83 km northeast of Green Island, heading southeast.
Two other vessels, a Chinese missile destroyer and an underwater noise monitoring ship, were also tracked at Orchid Island and Green Island, respectively, Monday.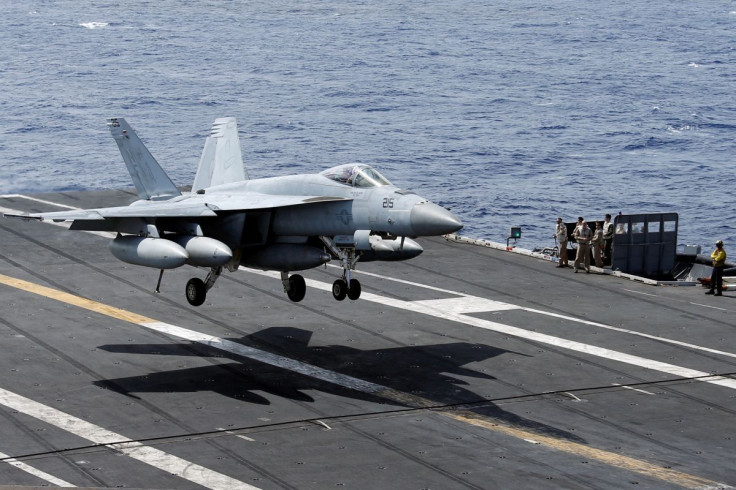 © Copyright IBTimes 2022. All rights reserved.
FOLLOW MORE IBT NEWS ON THE BELOW CHANNELS