China Can Take Taiwan In A Week And That Can Happen By 2027, Beijing Adviser
KEY POINTS
Jin said 'Taiwan unification' is Xi's goal but not indicated a timeline
Forced unification will begin after the CCP's national meet in October
Jin said China will defeat Japan if the latter intervenes in Taiwan issue
China is capable of taking Taiwan by force in just a week and that could happen by 2027, said an influencial Chinese academic who advises Beijing on foreign policy, just four months after China rubbished similar claims by a U.S. admiral.
Jin Canrong, a professor in Renmin University's School of International Studies, told Nikkei Asia that invasion "will move toward becoming a reality" after the National Congress of the Communist Party of China to be held in October 2022.
Jin also added that the People's Liberation Army (PLA) already has a "posture superior to that of the U.S. to deal with a contingency involving Taiwan."
His comments come as Beijing ramps up military intervension along the Taiwan Strait and warns the U.S. of consequences if it continues to interfere in Taiwan issues.
Jin said Taiwan unification is Xi Jinping's goal but "has not indicated a timeline."
"Once the National Congress of the Communist Party of China is over in the fall of 2022, the scenario of armed unification will move toward becoming a reality. It is very likely that the leadership will move toward armed unification by 2027, the 100th anniversary of the PLA's founding," he added.
The timeline is eerily close to an estimate made by a U.S. top military officer in Asia-Pacific who said China could invade Taiwan within the next six years. Beijing, however, vehemently denied the claim and even accused Admiral Philip Davidson of "hyping up" the threat of an invasion of Taiwan to "inflate Washington's defence spend and justify its own military chicanery in Asia."
Though U.S. has amplified its presence in the disputed waters of South China Sea over the last year, Jin claimed that "the PLA can defeat any U.S. force within 1,000 nautical miles of the coastline."
U.S. officially maintains a policy of "strategic ambiguity," leaving it vague about whether it would come to Taiwan's defence in case of an invasion.
According to Jin, Japan should not intervene in a Taiwanese emergency. Recently, former Japanese premier Shinzo Abe had said tthat a "Taiwan emergency is a Japanese emergency, and therefore an emergency for the Japan-U.S. alliance."
"Japan should absolutely not intervene in a Taiwanese emergency," he said. "The U.S. already cannot win against China on this. If Japan intervenes, China will have no choice but to defeat Japan as well. [Japan] must realize that a new change is occurring," Jin said.
He believes that "peaceful unification" can be achieved but it will be difficult with the current President Tsai Ing-wen in power. "If [an opposition] Kuomintang candidate wins the presidential election in 2024, relations will improve, but the Kuomintang has no support," Jin added.
Recently, a former security chief and politician in Taiwan too had warned that the self-ruled democratic island would not be able to defend itself against the onslaught of the Chinese army and the U.S. would fail to intervene before the war is over.
Su Chi, former secretary-general of Taiwan's National Security Council and a member of the pro-Chinese Kuomintang Party, had claimed that the first wave of PLA troops deployed to attack Taiwan would likely take the island.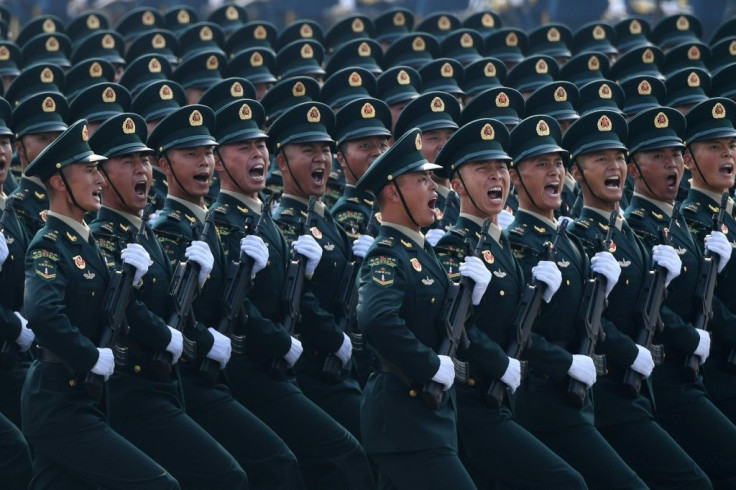 © Copyright IBTimes 2023. All rights reserved.