China Cancels Waste Incinerator Project After Environmental Protest Turns Violent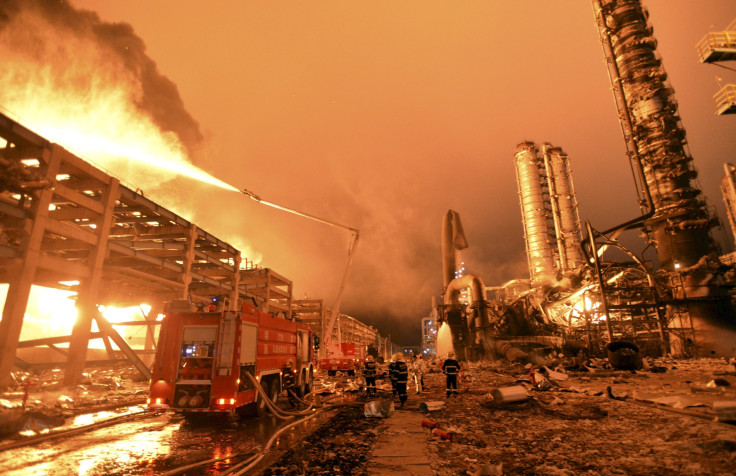 SHANGHAI -- Authorities in southern China's Guangdong province say they have canceled a waste incinerator project, following several days of protests which saw police vehicles overturned and a number of local residents reportedly injured by police.
The government of Luoding City, 180 km (112 miles) west of the provincial capital Guangzhou, said on its website it was canceling approval of the project, due to be built at a local cement works, "in response to public demands," the state-run Global Times newspaper said on Thursday.
The protests are reported to have begun on Monday, when at least a thousand people rallied outside the factory, belonging to China Resources Cement Holdings, one of China's biggest producers. The Global Times quoted locals as saying that "several people were injured" during clashes the following day when police tried to disperse a crowd of protesters.
The local government said on its website that the clashes began when "a small number of trouble-makers" instigated others to block roads and throw rocks. However, local residents quoted by Hong Kong's South China Morning Post, said trouble started after 100 police and security guards in riot gear began beating people who took part in a sit-in at the plant on Monday, and later arrested several participants. One resident told the paper that her 14-year old nephew had suffered concussion, in what he described as a "brutal and totally unnecessary" use of force against a "peaceful and rational" demonstration.
As many as 10,000 people then took part in a demonstration the following day, to protest against the violence, according to the paper, and local schoolchildren also reportedly boycotted classes in protest. Photographs on the South China Morning Post website showed police with helmets and riot shields in a face-off with protesters outside the local government headquarters of nearby Langtang township. During subsequent clashes, at least three police cars are reported to have been overturned, and a police station damaged. Locals said police responded by placing guards at several local villages overnight.
The Luoding government, in the message posted on its website on Wednesday, called on residents to stop blocking roads, vandalizing property, and "disturbing public order."
Residents said they were already annoyed at pollution caused by the cement factory, according to the Global Times; and they said they had not been consulted about the incinerator project, which one said was located within a kilometer of people's homes.
Protests were reported to have ended by Thursday, although some residents reportedly initially expressed suspicion that the halting of the project might only be temporary.
The clash is the latest in a series of demonstrations against waste disposal incinerators located near heavily populated urban areas, which have highlighted environmental tensions caused by the rapid growth of China's consumer economy -- and of resultant waste. Last year, a similar project in Hangzhou in eastern China was suspended following public protests. And there have been a string of protests against incinerators planned for the Guangdong provincial capital of Guangzhou in recent years.
Some experts say the protests are an example of "Nimbyism." Ma Jun of the Institute of Public and Environmental Affairs in Beijing, told the Global Times that using high temperature furnaces like those in the cement works to burn waste released relatively little pollution. However, he acknowledged that some pollution was inevitable, and that to avoid future conflicts there was a need for "more transparency and information disclosure," and public consultation about such projects.
A series of environmental disasters has fueled public concerns about such projects in China -- with the Internet and social media information is now much more easily available to residents even in rural areas.
The Guangdong protest came as authorities in neighboring Fujian province announced they had finally extinguished a fire at a chemical factory, which had been burning for more than two days. Officials said the fire, at the Taiwanese owned Dragon Aromatics factory in Zhangzhou, was put out early on Thursday morning. It had initially been extinguished on Tuesday but reignited a day later.
According to the China Daily, the company makes some 13 percent of China's output of paraxylene, or PX, which is used to make plastic bottles and polyester fibers – but which can be harmful if absorbed into the human body. The paper quoted local officials as saying that "no excessive pollutants" had been detected in local water supplies. However, it said more than 29,000 people had been evacuated from the area as a precaution.
The PX plant was relocated to Zhangzhou after protests in the nearby city of Xiamen, where it was originally due to be built, in 2007. This week's explosion was the second since it opened two years ago.
In a comment emailed to International Business Times, Ma Tianjie, mainland China program director at Greenpeace East Asia, said local governments in China, should "re-think their approach" and stop being "active promoters" of petro-chemical projects. Ma said that in order to regain public trust, local officials should instead "serve more as a steward of due process," guaranteeing "the public's right to know and to participate in decision making" regarding such projects. However, the Global Times emphasized that China needed such projects to develop its economy – and the profits they bring to local economies mean that they have long been popular with the country's local governments.
© Copyright IBTimes 2022. All rights reserved.
FOLLOW MORE IBT NEWS ON THE BELOW CHANNELS