China Coronavirus Quarantine Center Collapses: 10 Dead, 23 Still Trapped
KEY POINTS
A hotel being renovated in Quanzhou, China, collapses while 80 people were inside
Fifty-eight of these people were under quarantine for COVID-19
10 are confirmed dead while 23 others remains trapped under tons of concrete
Rescuers continued to dig out tons of concrete and steel in what is looking more and more like a vain effort to pull out more survivors from the collapse of a hotel in the port city of Quanzhou in Fujian province, China, which housed some 80 people -- 58 of them patients under quarantine from COVID-19.
The Ministry of Emergency Management confirmed the 7-storey hotel was being used as a coronavirus quarantine center. It said there were some 80 people inside the building when it came crashing down Saturday evening. The ministry said nine people escaped after the collapse, but 71 were trapped. The death toll now stands at 10.
Rescuers have pulled 48 people from the rubble (including the dead), of whom 38 were sent to hospitals. At least 23 remain trapped underneath the debris of the hotel, which was reportedly structurally unsound. Among those rescued were a young boy, his father and mother. Apart from the coronavirus patients, there were also 16 hotel staff and six employees of a car dealership inside the building at the time of the catastrophe.
The building had opened in 2013, and converted into a hotel in 2018. Local authorities said the hotel owner began working on renovating the first floor in January.
More than 1,000 firefighters and other emergency responders from the Fujian Fire Department are on site and have been working for more than a day to find more survivors.
"We are using life detection instruments to monitor signs of life and professional breaking-in tools to make forcible entries," said Guo Yutuan, squadron leader of the Quanzhou armed police detachment's mobile unit. "We are trying our utmost to save trapped people."
The preliminary investigation revealed the building's first floor was being renovated at the time of the collapse. Quanzhou authorities said construction workers called the hotel's owner minutes before the collapse to report a deformed pillar. It was too late to warn the building occupants to evacuate before the pillar gave way. The owner of the building has been summoned by police, according to state-owned media agency Xinhua.
Witnesses said they heard a loud bang and thought it was an explosion. They were horrified to see the hotel near them collapsing. The incident has angered some city residents, who seem to resent their city being used as an evacuation center for COVID-19 patients. Quanzhou is located some 960 km southeast of Wuhan, the epicenter of the COVID-19 outbreak in China.
"There is frustration because this is an example of heavy handed restrictions being used to protect the community from the coronavirus," said Al Jazeera's Katrina Yu reporting from Beijing. "At the same time, it is having devastating consequences for people who were waiting to go through their quarantine before being released."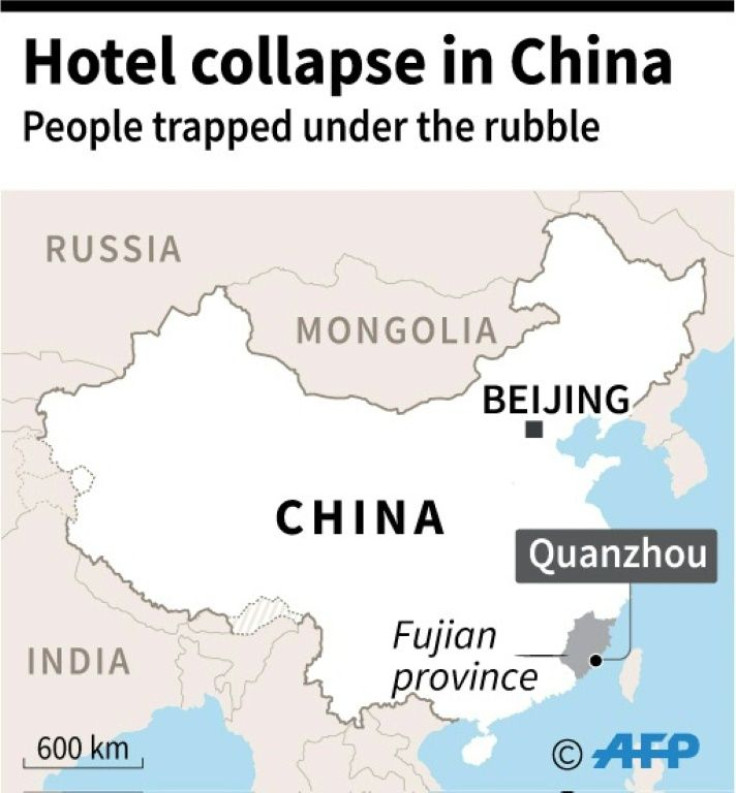 © Copyright IBTimes 2023. All rights reserved.