China Decides On Double-Digit Hike For Military Spending In 2014, Its Highest In Three Years; Japan, US Concerned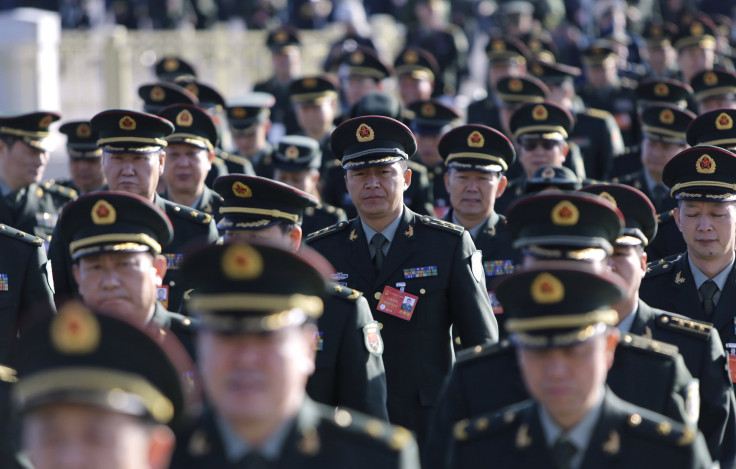 China announced Wednesday that it will ramp up its military spending for 2014 to mark the highest increase in three years, much to the concern of its neighbors, according to reports.
A budget report prepared by the National People's Congress, or NPC, estimated the expenditure for national defense at 808.23 billion yuan ($132 billion), an increase of 12.2 percent. Beijing has been increasing expenditure on the People's Liberation Army, or PLA, with double-digit hikes, as it seeks to increase its influence in the Asia Pacific, as witnessed by its escalation of territorial disputes with Japan and other neighbors.
"We will resolutely safeguard China's sovereignty, security and development interests," Premier Li Keqiang reportedly said at the opening session of the NPC. "We will comprehensively enhance the revolutionary nature of the Chinese armed forces, further modernize them and upgrade their performance, and continue to raise their deterrence and combat capabilities in the information age," Li added, according to Reuters.
Last year, China increased its defense budget by 10.7 percent. The Asian giant's move to increase defense spending at a time when other countries, hurt by slowing economies, are cutting back, has raised concerns in Tokyo, which has been in a territorial dispute with China over islands in the East China Sea. Shortly after the announcement was made, Japan expressed concerns over the absence of details in the increase in military spending declared by China.
"The transparency of China's defense policy and military capacity, or lack thereof, has become a matter of concern for the international community, including Japan," Yoshihide Suga, Chief Cabinet Secretary of Japan said, according to AFP.
Analysts also reportedly believe that China's military expenditure is much more than what is declared officially. According to AFP, the Pentagon estimated China's defense spending in 2012 to have been between $135 billion and $215 billion.
David Helvey, U.S. deputy assistant secretary of defense for East Asia, said Tuesday at a U.S. Senate committee hearing, that the Pentagon was looking to build "healthy" ties with the Chinese military, but wanted China to be more forthcoming in its declarations about its armed forces, according to Reuters.
"We remain concerned about a lack of transparency regarding China's growing military and its increasingly assertive behavior in the maritime domain," Helvey said, expressing concern about China's assertion of sovereignty over 90 percent of the South China Sea, which is rich in oil and gas, Reuters reported.
The U.S., which approved a defense budget of $633 billion for 2014 in December, tops the list when it comes to defense spending.
© Copyright IBTimes 2023. All rights reserved.