China Devalues Yuan By Nearly 2% To Boost Flagging Exports; US Dollar Rises, Stocks Mixed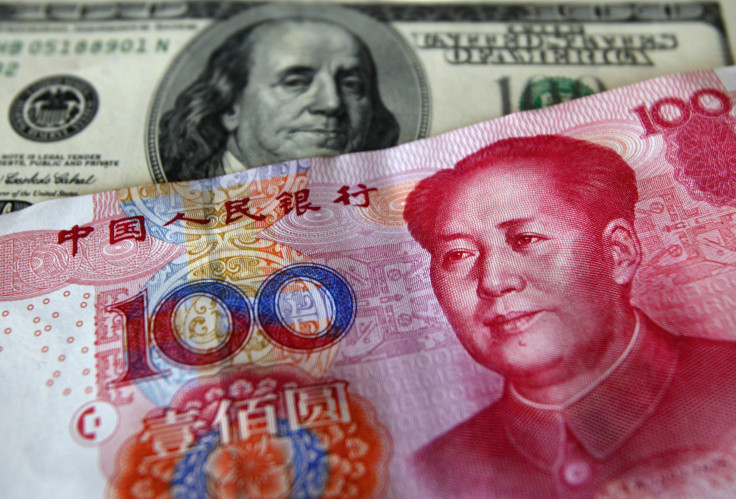 China on Tuesday sharply devalued its currency amid weakening exports and slowing economic growth. The latest move by China's central bank -- which it described as a "one-off depreciation"-- left the yuan almost 2 percent weaker against the U.S. dollar.
The move by the People's Bank of China (PBOC) is a significant one in that it highlights the Chinese government's concerns about falling exports amid an overheated real estate market, which have in recent weeks contributed to major volatility in the country's stock exchanges, prompting several major measures to stem the rout and pacify investors.
"Since China's trade in goods continues to post relatively large surpluses, the yuan's real effective exchange rate is still relatively strong versus various global currencies," the bank said, in a statement released Tuesday. "Thus, it is necessary to further improve the yuan's midpoint pricing to meet market needs."
The PBOC maintains tight control over the country's currency -- setting a daily rate for the yuan versus the dollar. The yuan is allowed to fluctuate by 2 percent based on the previous day's trading. However, on Tuesday, the center of the trading band was set 1.9 percent below Monday's level -- weakening the midpoint to 6.2298 per dollar, compared with Monday's 6.1162 mid-point. This makes it the biggest-ever one-day adjustment to the midpoint in a decade.
"It looks like this is the end of the fixing as we know it," Khoon Goh, a Singapore-based strategist at Australia & New Zealand Banking Group Ltd., told Bloomberg. "The one-off devaluation of the fix and allowing more market-based determination takes us into a new currency regime."
The move comes just days after China's exports reported a drastic slump -- falling 8.3 percent over the past year in July. A weaker currency is likely to help China's exporters. However, the move might reignite criticism against the Chinese government -- which has, in the past been accused of keeping its currency artificially low -- and increase pressure on central banks around the world to devalue their own currencies.
Following the announcement, the Shanghai Composite Index was down 0.4 percent -- trading at 3912.8 -- a day after posting its largest daily percentage gain in a month. The smaller Shenzhen Component index was up 0.1 percent. Hong Kong's Hang Seng index was up 0.96 percent. The dollar index, which measures the dollar against a basket of currencies, was trading up 0.3 percent.
"The risk is that depreciation triggers capital flight, dealing a blow to the stability of China's financial system," Tom Orlik, chief Asia economist at Bloomberg Intelligence, reportedly wrote in a research note.
© Copyright IBTimes 2023. All rights reserved.