China Economy: EU Chamber Of Commerce Criticizes China's Failure To Implement Promised Reforms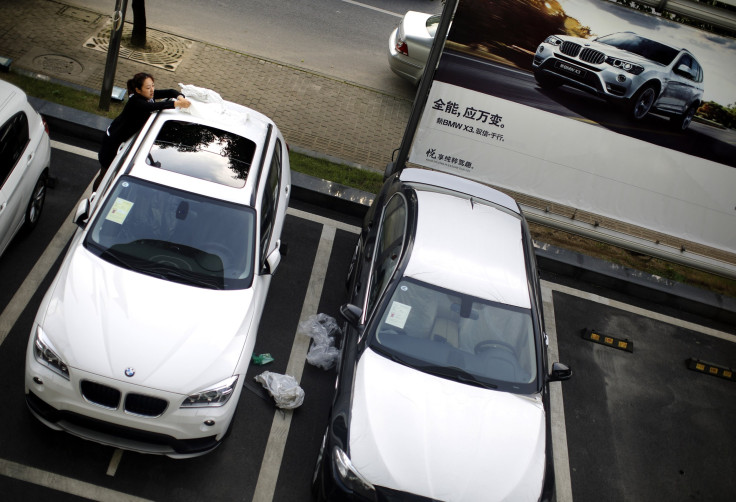 SHANGHAI -- The European Union Chamber of Commerce in China said Tuesday that China was failing to implement market reforms it said were needed to boost the country's slowing economy – and called on China's government to "change its old ways" and show more trust in foreign businesses.
The EU Chamber's annual report – "European Business in China – Position Paper 2015/2016" -- based on a survey of 1,800 member companies, said China faced "worrying underlying problems" that needed urgent attention. It noted the slowdown in China's GDP growth rate to 7 percent in the first half of the year -- its slowest since the global financial crisis of 2009 -- and said that European businesses' margins for "earnings before interest and tax" were "more likely to be greater outside China than they are inside China" for the third year in a row. Cumulative investment in China by companies from the European Union is estimated to be worth around $100 billion -- but official reports say that Chinese investment in Europe last year was greater than investment in the opposite direction.
The report said that while China had pledged in November 2013, in an official "decision... on deepening reform" that it would give market forces a greater role, reduce the role of state enterprises, and make the country's economic growth less dependent on public spending, in practice there had been "slow progress" and "few substantive market driven reforms."
On the one hand, it said Beijing's official statements "have never been more encouraging to business." And the report did acknowledge some areas of progress, including a relaxation of rules on foreign companies in "Free Trade Zones" in a few Chinese cities, the implementation of Intellectual Property Rights courts in major cities such as Beijing and Shanghai, and the streamlining of approvals for investments in a few sectors such as petrochemicals.
Yet beyond these, it said that while "reforms are happening in many areas," including a reduction in bureaucracy for registering businesses, "they are primarily of benefit to domestic Chinese companies." The Chamber said European business was left "asking to what extent China really considers it as a part of the reform effort." It described this situation as "reform and closing up" – a twist on China's official slogan of the past three decades, "Reform and opening up."
Ease of Doing Business Index in China | FindTheData
In particular, the report highlighted the Chinese leadership's increasing emphasis on security over the past year. The authorities have passed or drafted several new laws related to state security, NGOs and the Internet; the EU said such "overwrought concern with national security issues" and the "very vague" definitions written into these laws often made the legal picture less clear and had created a "great deal of uncertainty for business," causing a loss of confidence and damaging the "credibility of the Chinese marketplace."
The report also suggested that, in some cases, worries about the slowing economy were delaying the implementation of planned reforms. It cited planned rises in the price of drinking water as an example, saying delays in implementation by local governments worried about angering consumers had led to a loss of revenue for suppliers, and was leading to lower-quality service as a result.
Joerg Wuttke, president of the European Union Chamber of Commerce in China, who launched the report, said he was "very concerned that reform momentum has been lost," and that "the country is even closing off altogether in some areas of its economy."
He said China urgently needed to "move ahead with the promised reforms" and give private business, including foreign business, a greater role in tackling what he called "an unbalanced economy" and allow it to help "solve the systemic issues that risk derailing its economic transformation."
Specifically the EU Chamber called on the government to allow businesses to invest in more areas of China's economy – several key sectors, including telecoms, media and utilities are controlled by state-owned enterprises, and remain off-limits to foreign investors. The report called, for example, for a relaxation of rules that limit foreign automakers to two joint ventures each for passenger cars and commercial vehicles, in which they are allowed to hold a maximum stake of 50 percent. Similar rules also apply to auto parts manufacturers. Insurance, banking and healthcare are other areas where the EU highlighted restrictions, including joint venture requirements and other limits.
The report also suggested that moves such as the government's bailout of the country's stock markets during their steep falls of the past two months appeared "to run contrary" to the 2013 pledge to deepened market-based reforms. It said "a fundamental change in the mind-set of many senior policymakers" was required.
The strongly worded comments are relatively unusual, given that foreign businesses in China have tended to avoid offending the authorities for fear of losing out on a major market. However, the report is not the first time that the EU Chamber has criticized the environment for doing business in China. Over the past year it has also highlighted official controls on the Internet as having a negative impact on foreign companies, for example. However the latest comments are further evidence of the growing frustration of some foreign investors, at a time when China's government appears increasingly concerned about strengthening social controls, and the slowdown in the nation's economy is reducing some of the allure of China's economic boom for foreign companies.
© Copyright IBTimes 2022. All rights reserved.
FOLLOW MORE IBT NEWS ON THE BELOW CHANNELS