China Economy: Yuan Currency Depreciation May Be A Sign Of More Serious Problems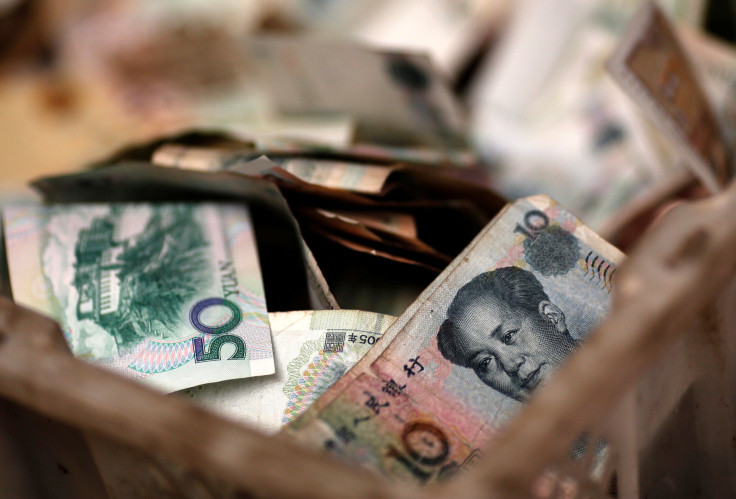 As the Chinese government struggles to control outflows of its currency, the yuan has fallen to its lowest level against the dollar in six years, Reuters reported, peaking at 6.81 yuan per U.S. currency on Friday.
The Federal Reserve's decision to delay hiking its interest rate target may save the yuan from potentially hitting a stable 6.80 to 6.90 per dollar exchange rate by the end of January 2017, but the speed of the currency's drop in value has hinted at something more serious than an effort to bolster exports.
In a sign that the world's largest economy is facing a wealth drain, 60 percent of China's highest net worth individuals plan to buy property overseas in the next three years, according to a study by the Hurun Research Institute and Visas Consulting Group.
And Chinese businesses appear to be following a similar pattern. Last year, Chinese outward direct investment (ODI), or the amount firms invest in capital outside of the country, surpassed foreign direct investment (FDI), the value foreign firms invest in capital within China, according to the Chinese Ministry of Commerce. While China's ODI has been growing since 2002, the amount rose 18 percent in 2015, to a value of $145.7 billion, auditing service KPMG found.
"Many Chinese companies are 'going out' to acquire expertise, technologies and high-quality products to respond to increasingly sophisticated domestic demand," a KPMG news release said.
The reason behind the drain, wrote Barron's Asia executive editor William Pesek on Wednesday, may be wealthy citizens' efforts to mitigate the impact of depreciation on their holdings, but it could also be a sign of something worse.
"One possibility: Beijing's elites see a cacophony of economic cracks," Pesek wrote, referring to the Chinese government's dubious economic growth indicators. "Like magic, Beijing pulled a 6.7 percent figure out of its hat in the third quarter."
Concerns have also mounted over China's debt crisis. In the first quarter of 2016, the ratio of China's debt to its gross domestic product reached 30.1, a 24 percent increase from the first quarter of 2015, according to the Bank of International Settlements.
Taken together with the tumbling value of the yuan, these factors have investors worried for not only China's future, but that of the world economy, as well.
© Copyright IBTimes 2023. All rights reserved.
FOLLOW MORE IBT NEWS ON THE BELOW CHANNELS